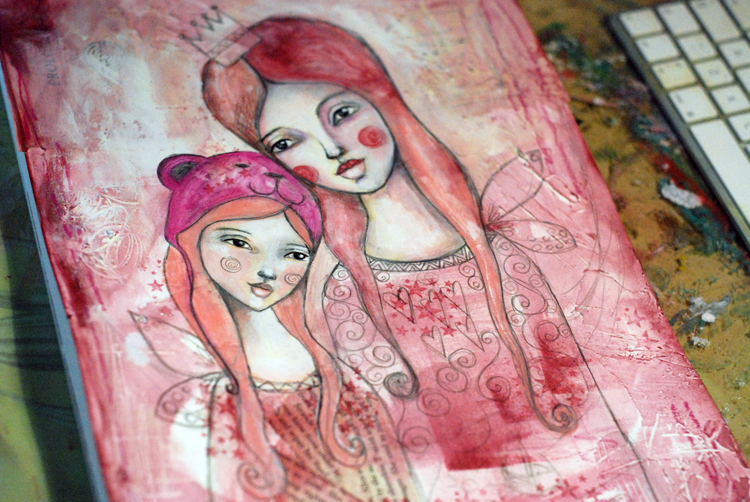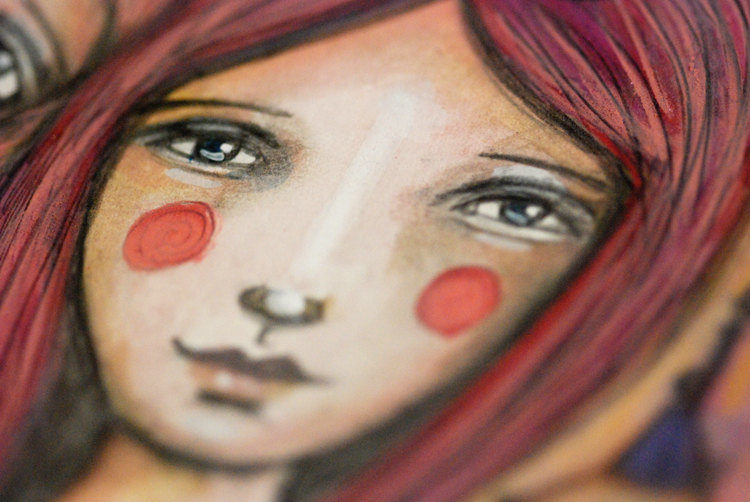 I'm working on this monochromatic piece which I'm tentatively calling '50 shades of pink' ;). Kidding. I started the second book of the '50 shades of grey' trilogy but I was so bored, I haven't looked at it since I started 'A Discovery of Witches' (Deborah Harkness) while I was in Spain. Granted, I've not actually had the time or energy to read *any* book, but I am unlikely to go back to the world of Ana and Christian's spanking sexcapades (yawn).
I love working monochromatically and in muted tones, however, I almost always end up with more contrast than I initially aimed for. Ha. It's like I can't help but put more colour in.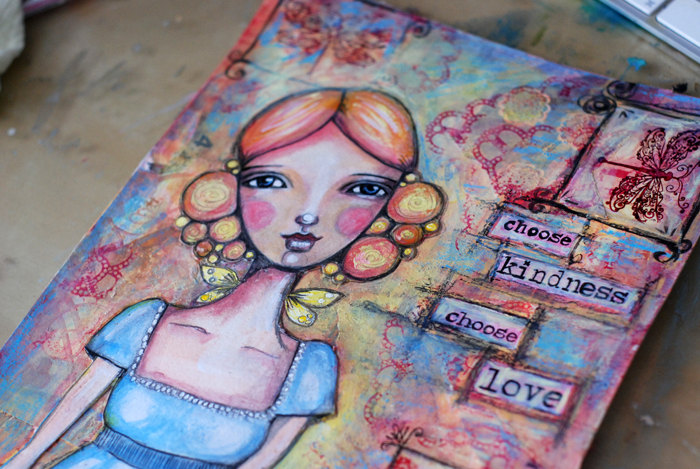 I've been using modeling paste to create interesting texture. There is something so satisfying about creating messy/ layered/ textured paintings. I'm not sure why layering and texture making speaks to me so much. I think it speaks to the child in me, also, there is something poignant about the symbolism of layering and textures. To some people the below might just look like a total mess, but to me, it does something to my brain! It delights me! I call it: 'art porn'. Ha ha!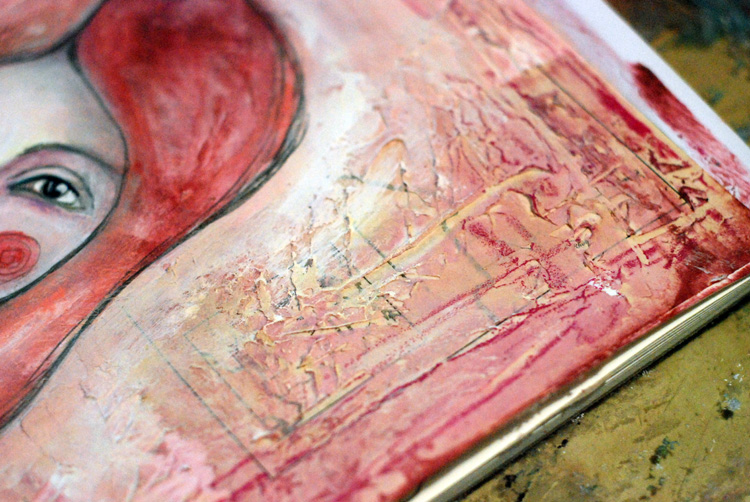 I've also really been liking the faces of my girls lately. Whoever I draw, they all come out with kind, caring and loving expressions on their faces. It's like they are kind to me, like they are guardian angels of some sorts. :)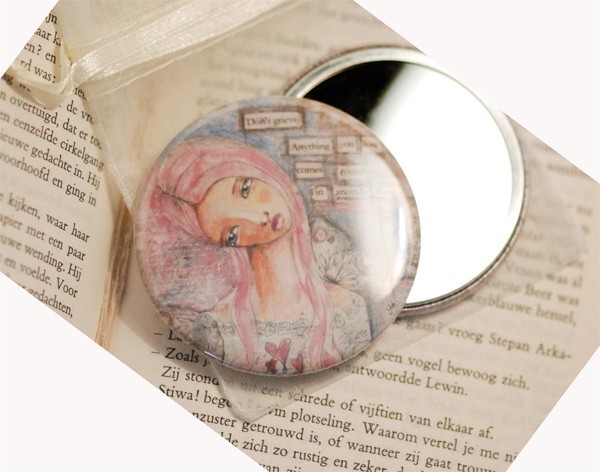 Iris posted this cartoon on my Facebook wall: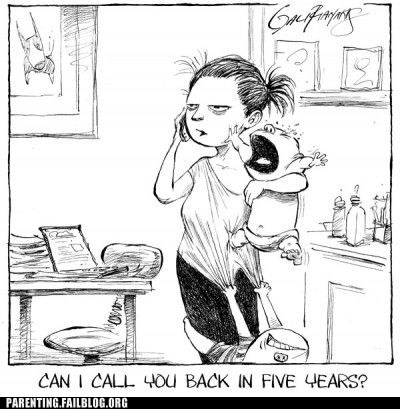 And I can't believe how accurate this is. I am seriously often in that position: screaming baby in one hand, whining toddler pulling down my trousers. Bags under my eyes, hair uncombed, asking someone (through the piercing screams) to call me back later. The only thing that is missing in this picture is the puke/ poo and banana smear on the clothes. Yes people this is the glamourous life style of a work-at-home mummy of 2 under threes.
I do really love this cartoon. It captures the moment so perfectly, it really makes me smile and feel understood somehow. Others go through this too. :-)
In other exciting news, my art work was featured on the cover of Wild Sister Magazine! Woohoo! :) I feel so humbled and excited to have been asked! My painting (You are a Sacred Being) looks so pretty on the cover, lookit: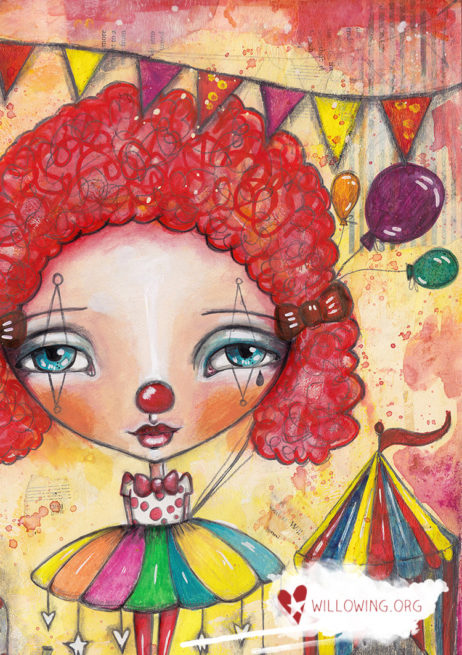 (You can buy your own copy/ download by clicking on the image).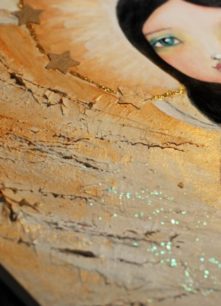 For my August Life Book lesson I have prepared an in depth exercise to work on childhood trauma. It's a sensitive, tender month on Life Book. Whenever I  think of the trauma some children go through, it hurts me deeply. Pain and suffering in general isn't easy, but when it hits kids who are so innocent and in need, it hits me harder. 
So I've been working on this lesson with extra attention, care, tenderness and mindfulness. On Life Book, students can choose to do the healing exercises or not, no one has to do them (or anything for that matter). They can simply focus on the art techniques if they find the healing/ personal development stuff too overwhelming. But I've had feedback from many of the students saying that the personal development stuff has made a huge difference in their lives. :-) Big yays allround for that. It's so rewarding for me to know that Life Book has impacted at least a few people in the way that I intended. Wow, I am so lucky to be able to facilitate artistic/ creative growth AND personal growth too. :) Never even mind my own personal and creative growth! :D
Here are some images of the art work I created for the childhood healing lesson this month, I created a heavily textured page with an acrylic's transfer of an image of me as a child, placed in a little 'safe' house. The little doors were created separately and symbolise 'safety'. :) 
There is a lot to this lesson. A lot of symbolism and care for the inner child. Can't write it all down though too long! :)
If you too want to experience these kinds of lessons and another multitude of lessons from other fabulous teachers, you still can.
Did you know that now, 7 months into Life Book, people are still joining Life Book on a daily basis? It's awesome. All videos from the beginning are still available and will be available until March 2013. Registration for LB 2012 closes on September 30th though, so if you still want to join in on 2012, you can do so until the end of Sept.) But, if you want to join a course like this from the start and experience the fabulous community attached to it, maybe wait until registration for Life Book 2013 which opens on Oct 1st 2012). Wuzzah ♥! :D https://www.willowing.org/life-book/