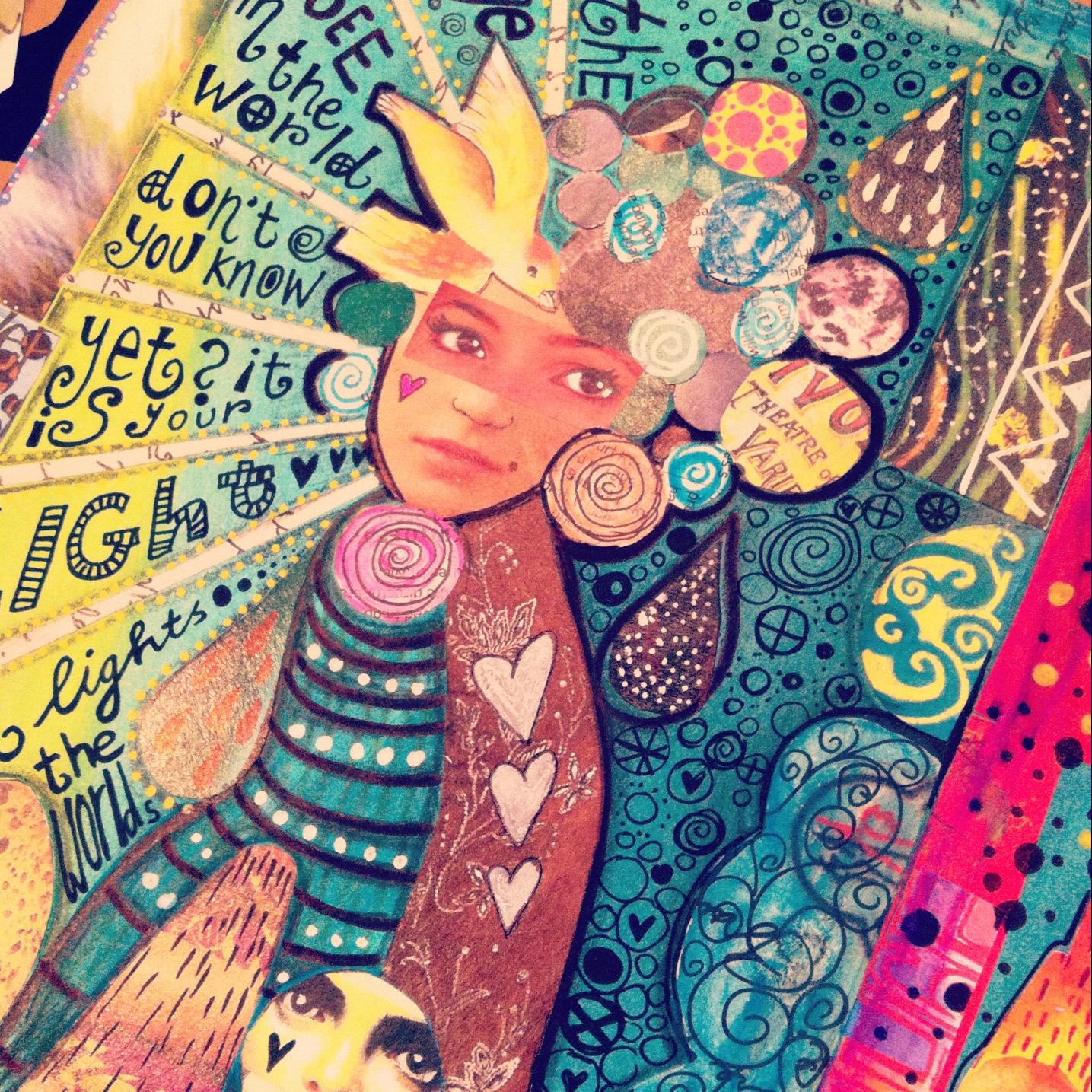 Al right beautiful people. The house is a complete disaster zone, I am UP TO MY NECK in unanswered emails and comments and have tons to do before Monday when Life Book 2013 goes on sale, but my fingers, body, mind and soul are all ACHING to do a little write up of the amazing art retreat I went to last week! So I am going to do a brief write up here and let the photos speak for themselves!
I took the whole family and an awesome friend (Sarri) along with us (I don't recommend this as it means your energy is scattered but I had no choice in this matter as Elliot still breastfeeds, and it's also fun in its own way, but more about this some other time).
We stayed in a gorgeous place in Somerset called: Croydon Hall. On the way there, we passed Stone Henge: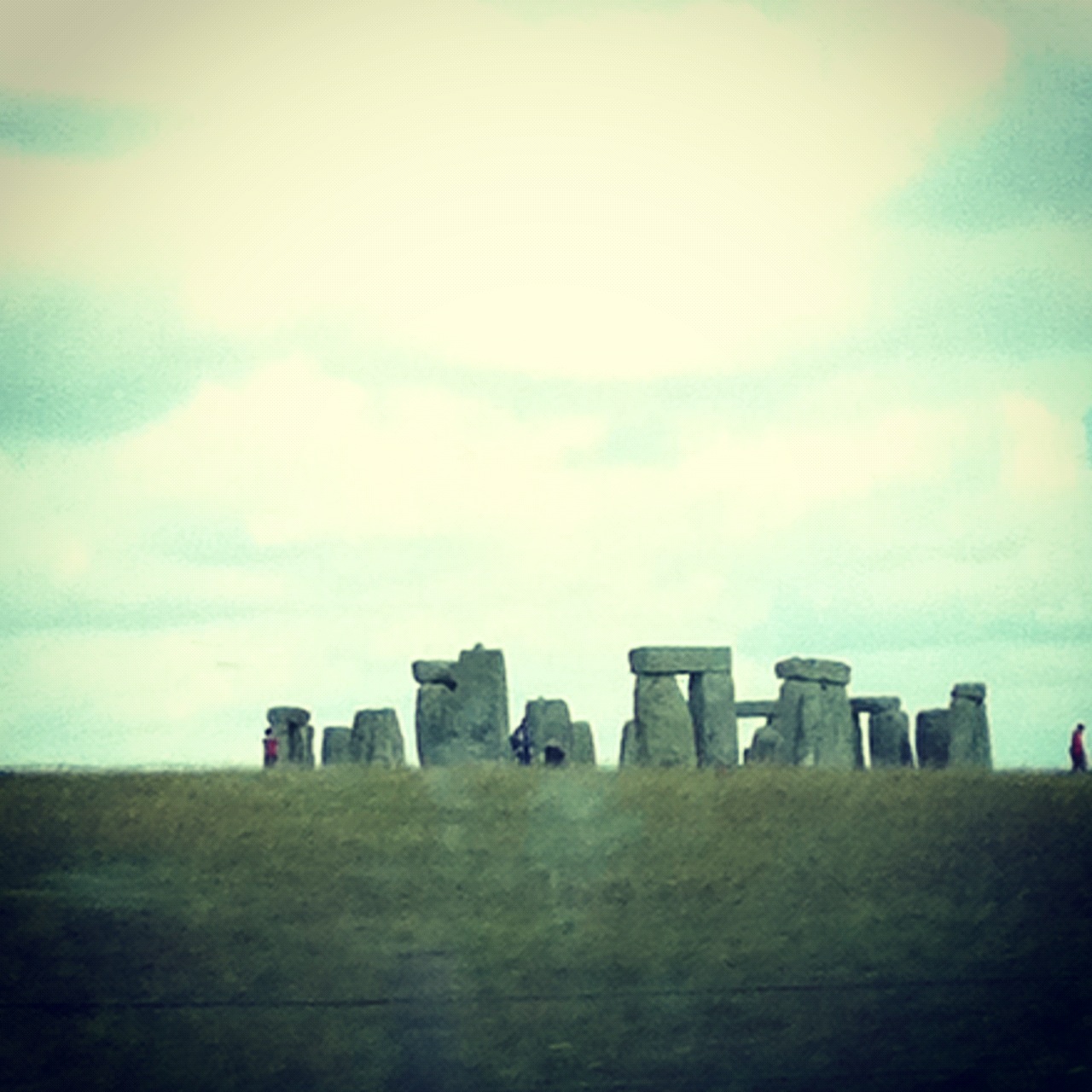 Frustratingly, Dylan kept throwing up (car sick) on the way there, so we had a few stops to clean him up, but we made it to Croydon Hall in time to meet all the awesome souls there.
This was the view from our room: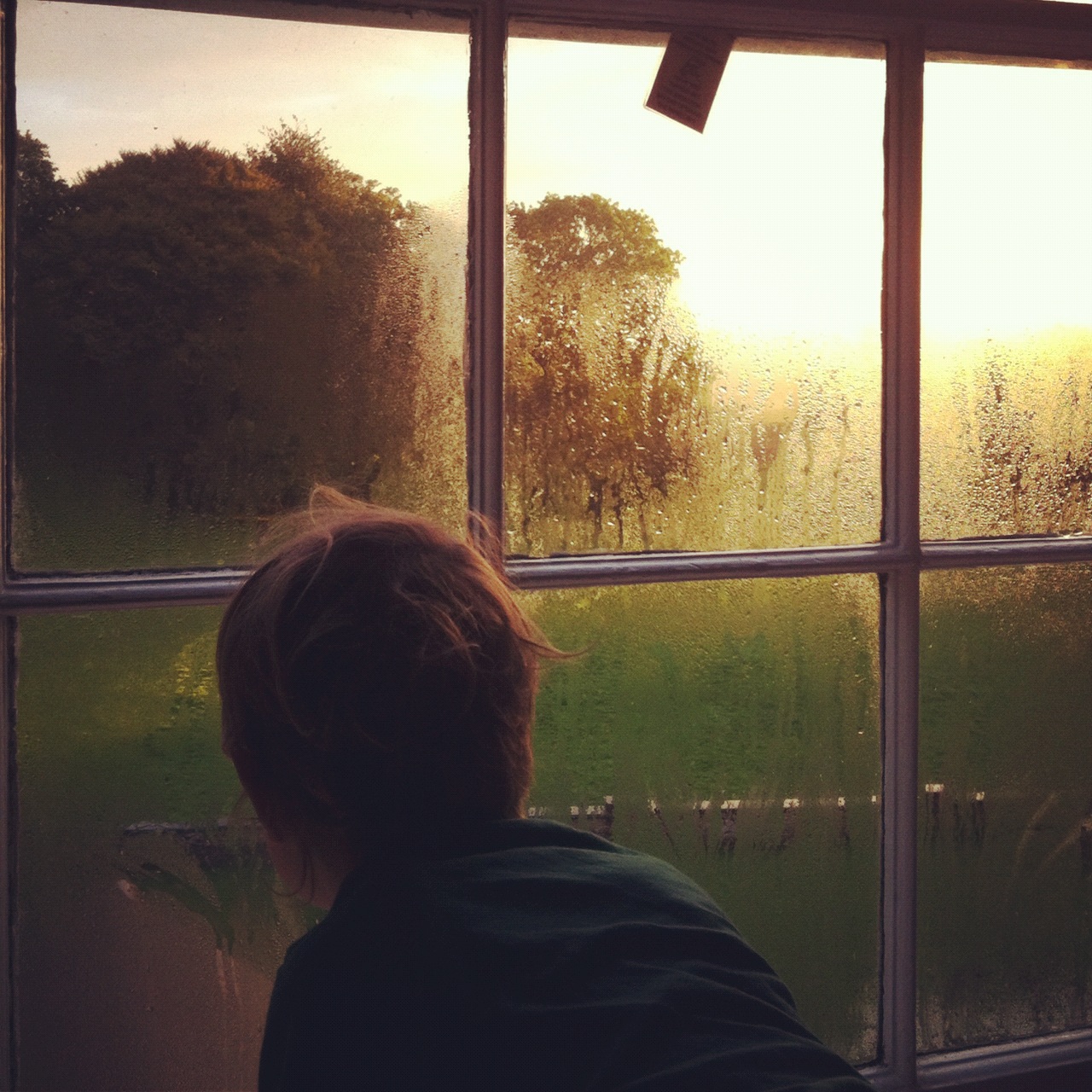 It was truly an amazing place and they served the most amazing food!
Ok, then it was time for the art classes! We were taught by the most awesome teachers namely: Teesha Moore, Flora Bowley and Orly Avineri (if you've not heard of these people yet, go clickie their linkies as they will blow your mind!) :). Madelyn Mulvaney was also teaching but I did not take her class. She has the most wonderful energy though, so gentle and beautiful!
Though the look of their art is wildly different in style, interestingly, their approach to art making -in many ways- was quite similar.
Some of the things I've heard said by these teachers:
"It's all about intuition"
"Let the universe create through you"
"Try not to let 'mind' interfere too much"
"Let go, don't get attached"
"Go with the flow"
"We're just learning, don't get attached"
"We are all the same"
"Look at what works in your painting"
"It's all about the process"
And so on. I loved their open and authentic approach to the creative process so much.
Class specific.
Day 1 – My Class with Teesha. I was with Teesha on the first day. My impression of Teesha in a few words:
Raw – Authentic – Deep – Soulful – Sensitive – Beautiful – Caring – Passionate.
Teesha brought with her all her journals and to touch them is like touching a piece of her soul. That might sound a little, I don't know, contrived? But it was like that, there is so much in her journals, it really felt like an honour to be touching them and looking at them and taking them all in. Breath-taking.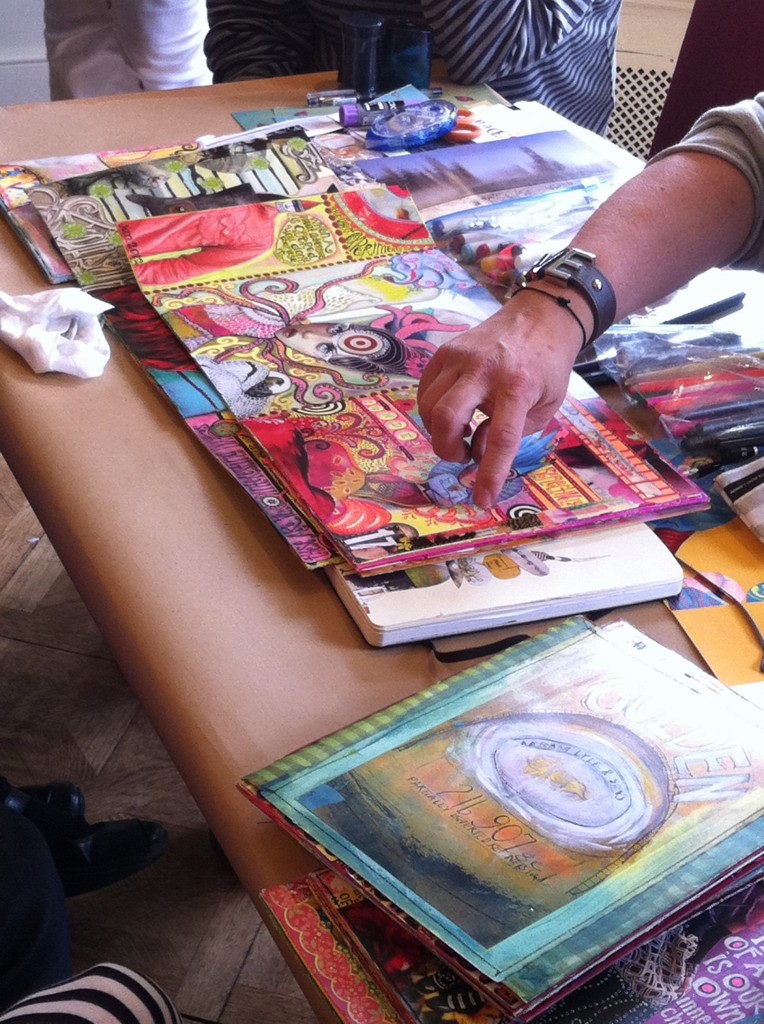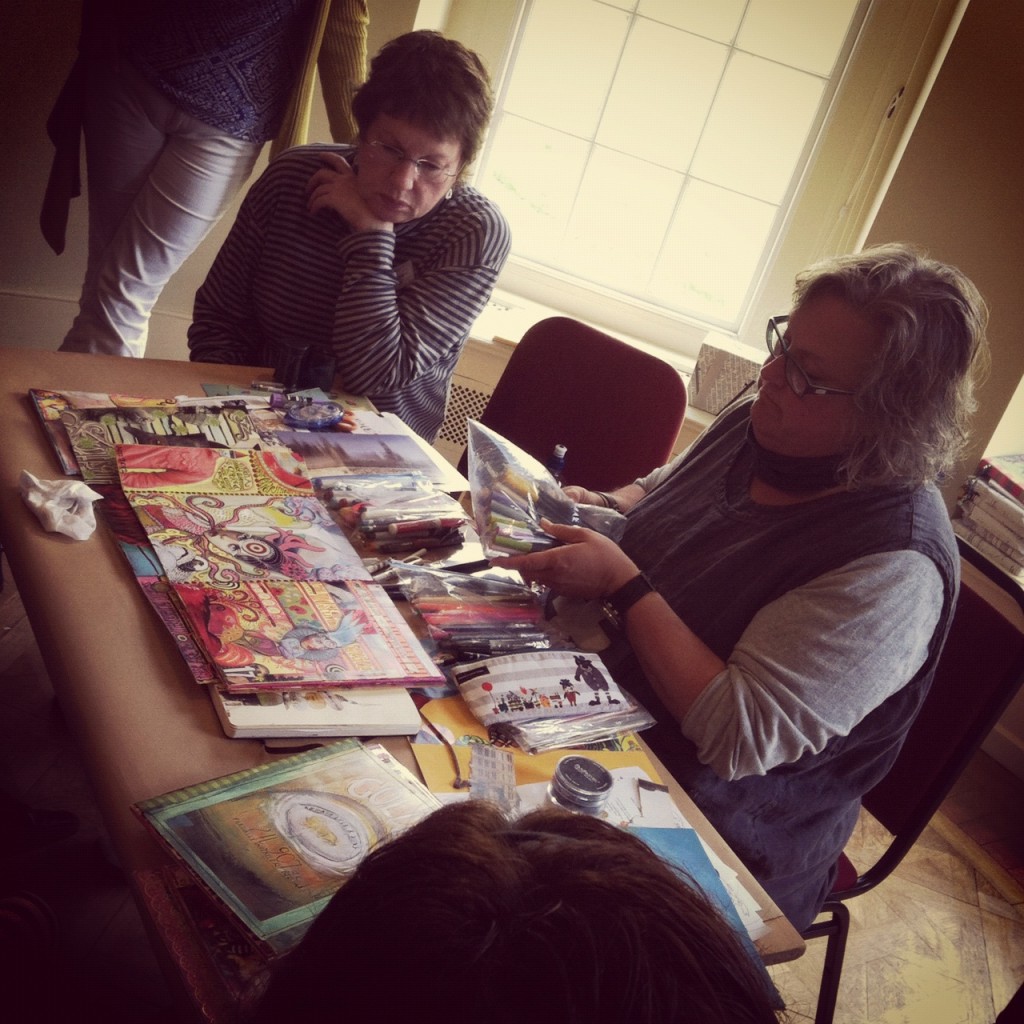 While we worked on our pages, Teesha shared bits from her life and her approach to art. I was particularly moved when she told us how she has seen an energy healer who told her that she has 6 spirit guides and that she all of a sudden noticed that she had drawn/ collaged them in her journal through her 'stacking method'. But there was so much more that Teesha shared that was inspiring and moving. :) I enjoyed my class with her a lot and learned so much!
Here are the 2 pages I created during her lesson: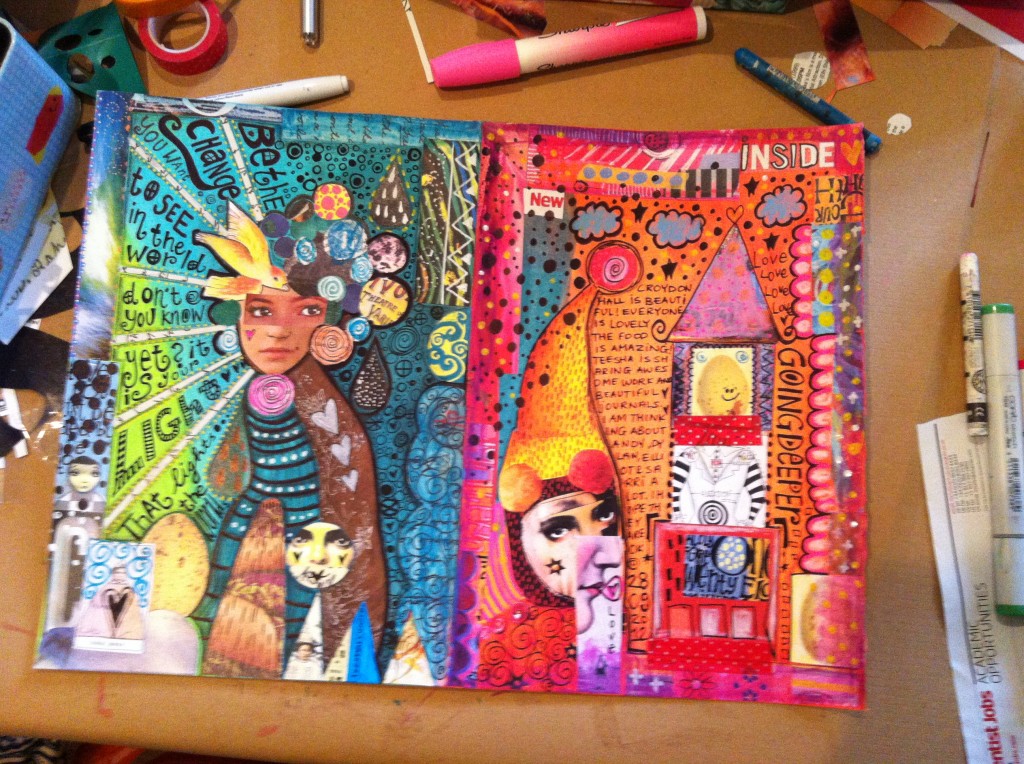 (Sorry pic a bit blurry)
Then, Dylan developed his dreaded wheeze again and on the Friday to Saturday night we had to call an ambulance for him (his oxygen saturation was really low: 86)! We were all awake at 3am. Don't worry, he's fine, but it meant that the sleep was even worse than usual! (The ambulance guys (NHS) were simply AWESOME btw!).
Dylan with nebuliser: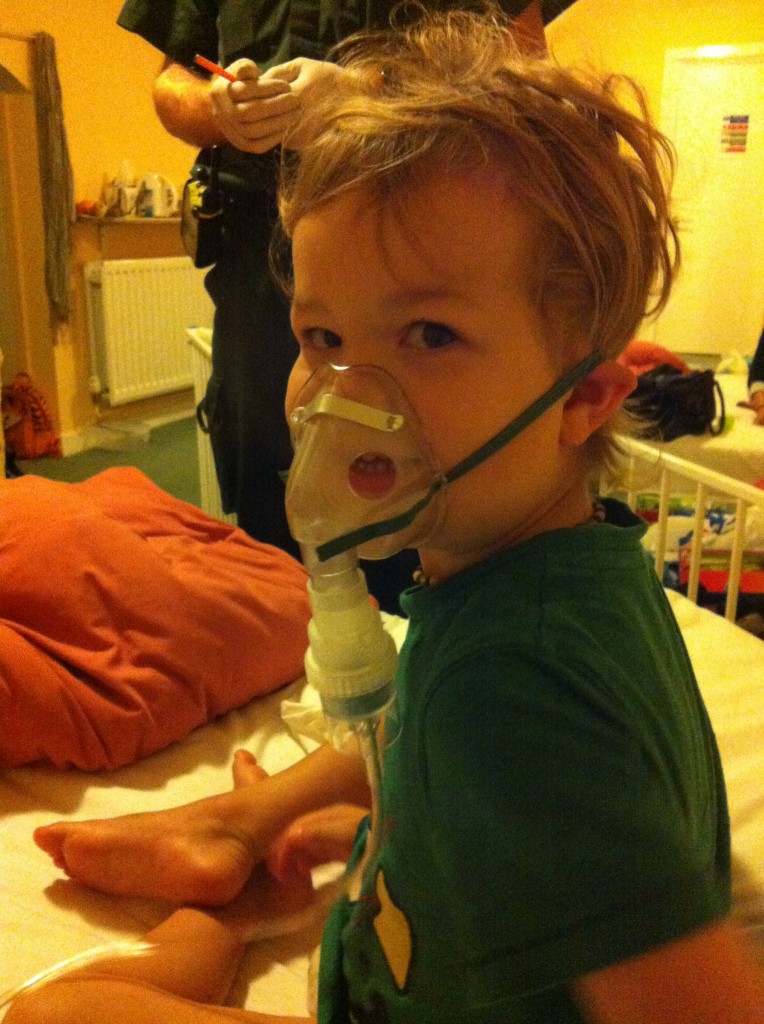 Day 2 – My class with Flora. My impression of Flora in a few words:
Soul Deep – Beautiful – Inspiring – Spiritual – Playful – Expressive – Grounded.
Well now, Flora is something! From starting us off with a beautiful ritual in which we are invited to 'let go of that which doesn't serve us' and 'committing to something for the day' to encouraging us to 'get into our bodies through dance' (yes, we danced around the room together!) and then – I kid you not – making us paint with our eyes closed and – I kid you not again – teaching us non-attachment by starting on a painting and then passing it on to the person next to you to paint over (GASP!), this was nicely pricking forks into the edges of my comfort zone big time. And oh, don't you love it when people do that for you? Such awesome life lessons hidden in there.
As many of you know, I turn to zen, non-duality, Buddhism to ground and for my spiritual/ life needs and Flora melds her approach to teaching and creation so beautifully with some of  the non-dual/ zen/ Buddhist teachings. :) A perfect reminder for me in many ways.
This is the -unfinished- painting I ended up with in Flora's class: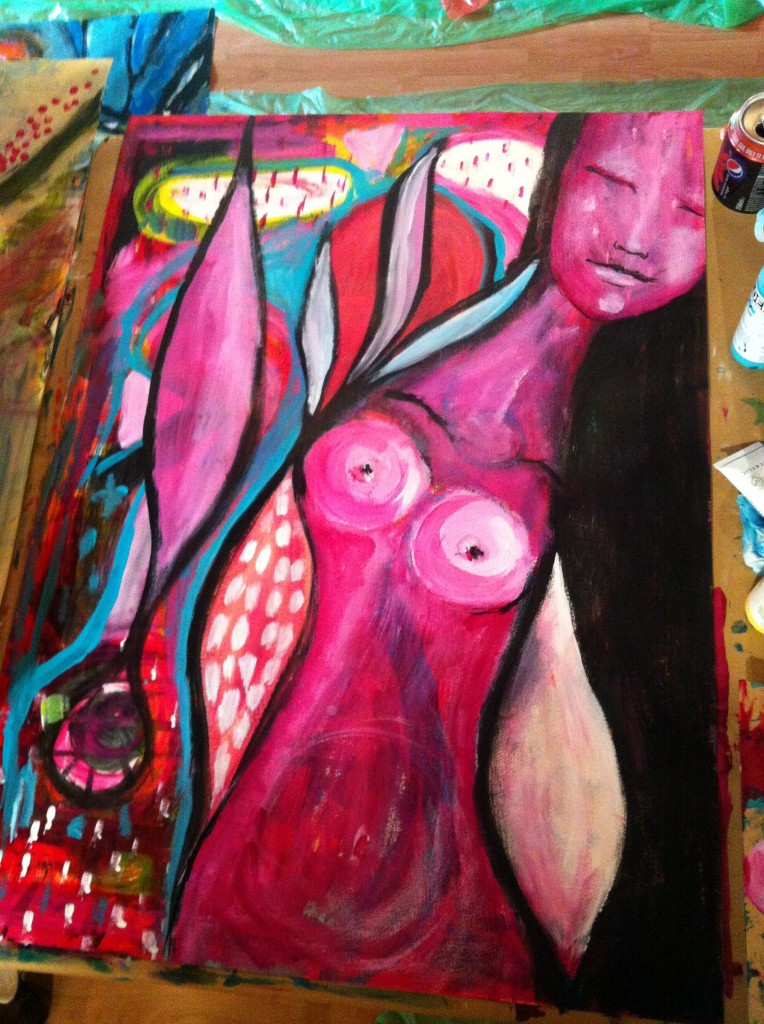 I wanted to work more on it, but there was no more time. I might work more on this painting here at home.
And here is a little collage of images taken during Flora's class :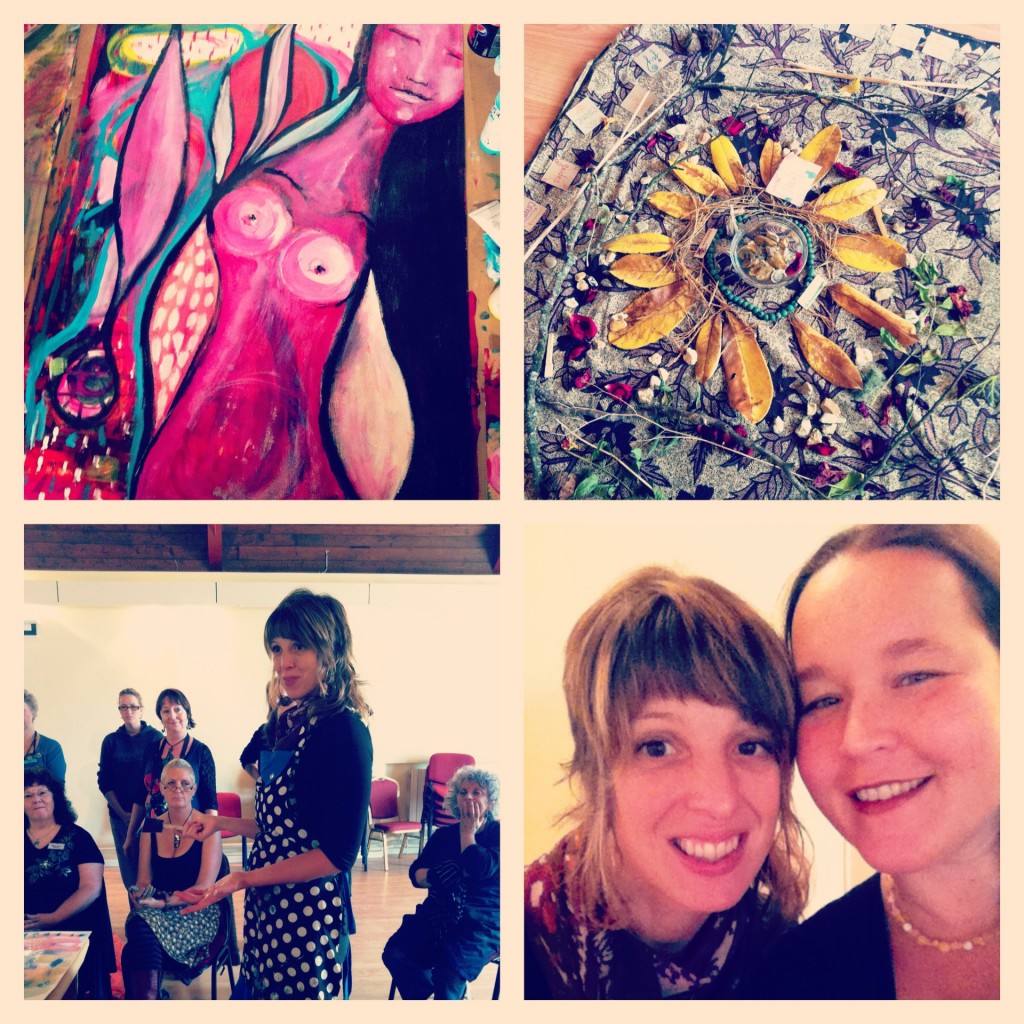 On Saturday night I had a stall to sell some of my prints/ postcards and to let people know about Life Book 2013! :) I loved connecting with so many of the other retreat go-ers that evening. Elliot was meant to go to sleep in the pram but was HOWLING so ended up breastfeeding and sleeping on my lap, ha ha. Here is the proof of that one: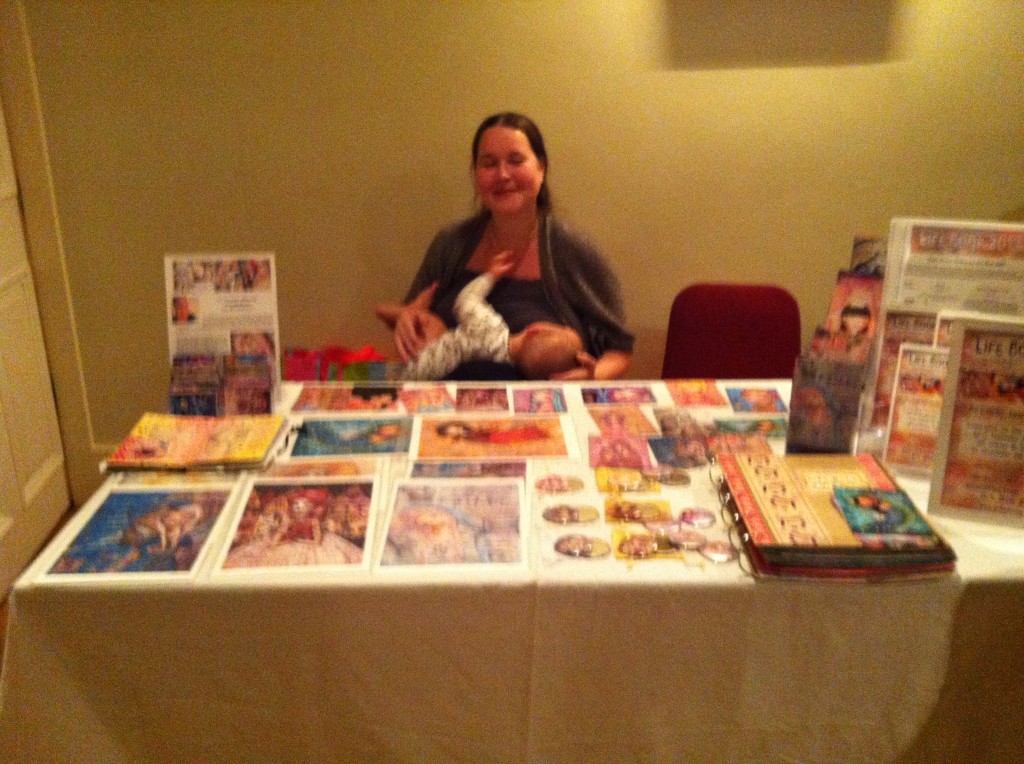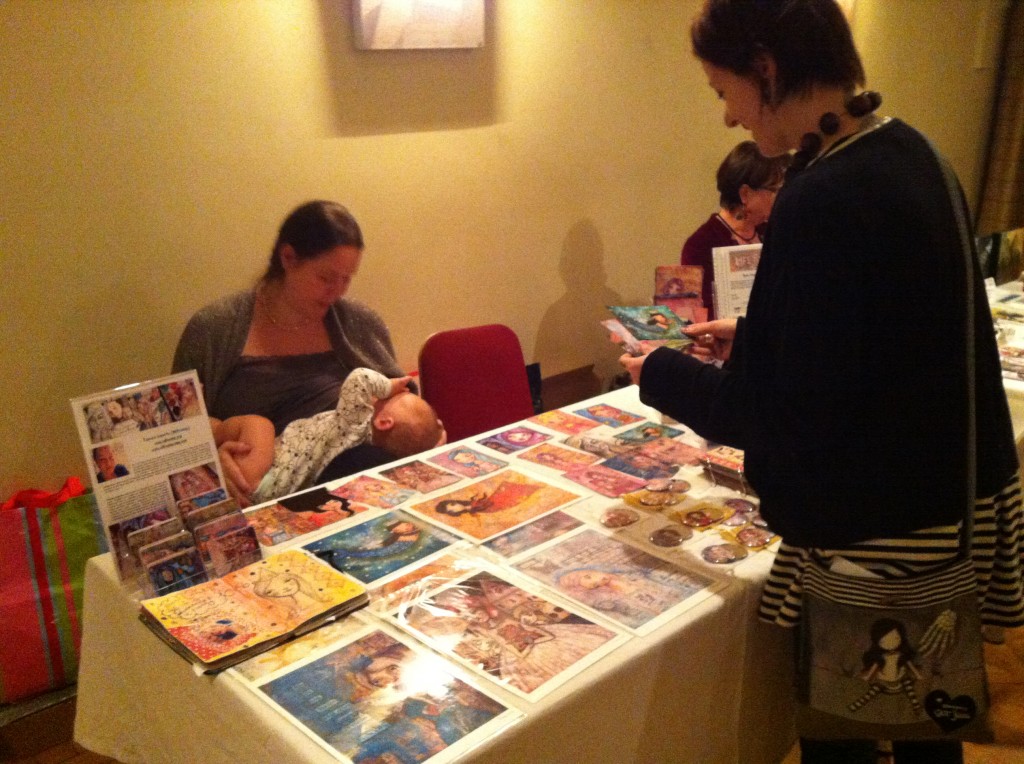 I ended up sitting next to the awesome Jeanette House a lot of the time! Her stall was next to me too! :) It was super fun to get to know her a bit better! :)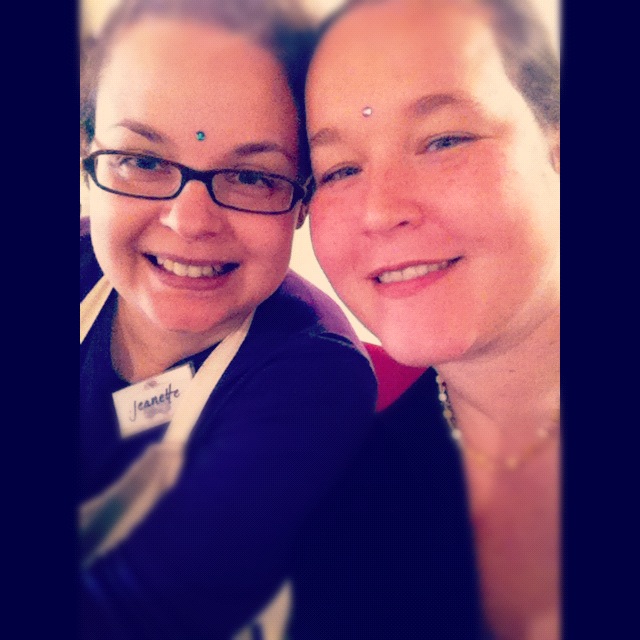 This is me and Jeanette wearing bindis which we were given in Flora's class. :) 
By the time Sunday arrived I was seriously exhausted. Sleep was hard to come by and everything was high energy for me (while I had none). I  ran from class to a meal to kids to class to kids to try to sleep but getting none back to class etc. So poor Orly didn't get the best me possible, though she wisely commented on the fact that being tired helps with 'getting out of the mind', and boy do I need to get out of my mind! A 'problem' I've had most of my life.
Day 3 – My class with Orly. My impression of Orly in a few words:
Intense – Deep – Beautiful – Serious about Art – Humourous – Attentive – Caring.
Orly is deeply passionate and serious about art journalling. She tells deep soul stories through her pages and invites you to do the same. She "commands" students pay attention to their inner world but not through mind. Instead, through body, through feeling and work from there into the pages. She took us through her techniques step by step, encouraging us to build layer upon layer symbolising your inner layers. The theme of the lesson was 'maps' and it was like we were each mapping our souls onto the pages. I thoroughly enjoyed Orly's class.
This was one of the spreads I ended up with during her class: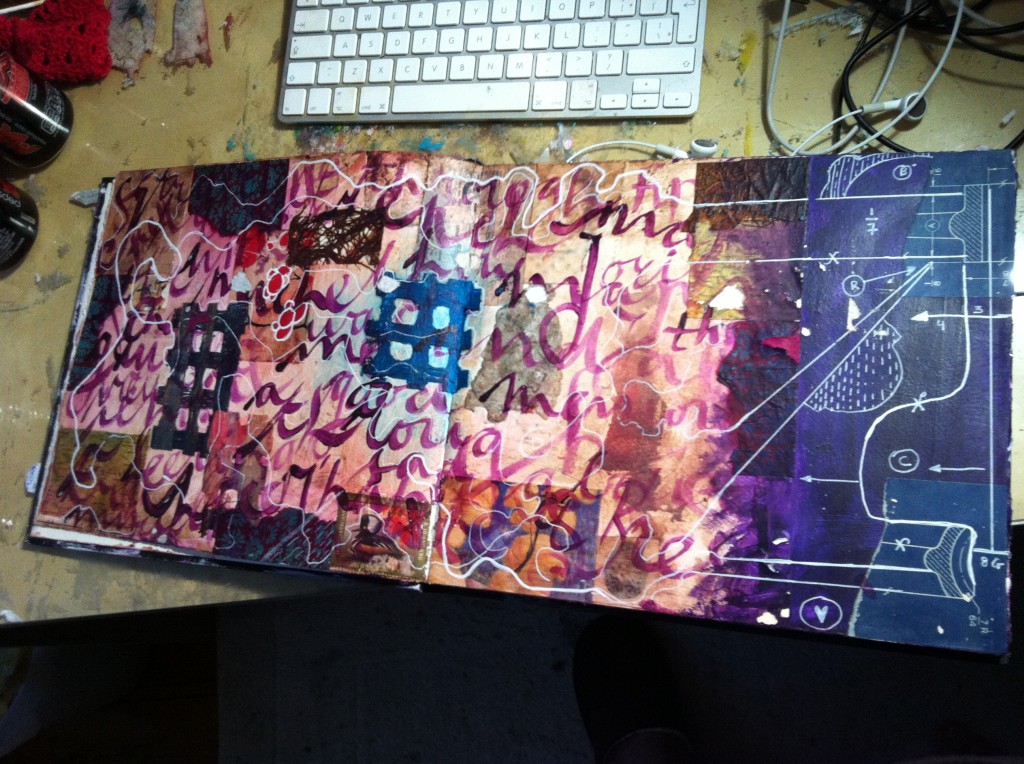 Each class functioned as a mirror for me. Reminding me of deep soul lessons I keep having to learn. This is what made the lessons invaluable to me. The techniques taught were awesome, the camaraderie from all the other retreat go-ers was inspiring and the place it was held at was stunning.
I thank the amazing Erin Faith Allen for organising this awesome retreat, it was deeply magical! Just wish we had more time to spend with each other. I also thoroughly enjoyed meeting many of the people I'd known online before and now in 'real life' (you know who you are!).
Ok, that's it for now, a fairly shortish write up, just wanted to share at least *something* with you guys while it's still fresh in my memory. :))
Namaste and lots of love!  x