Ola snuggabugs! I hope you guys are all less snot-infested than I am. I'm so sick, eugh, it's getting annoying. Little kids just keep bringing in the bugs, it's tiring, but I know that this too shall pass.
On with the happy news! I'm back with not 1 but 2 Willowing Arts [printable] Calendars for 2013! Woohoo! :)
Last year the printable calendar was hugely succesful! For those who don't know: I offer my calendar as a printable so that I can make them affordable for all of you lovelies! (If I order mine from a printing place and resell them, it gets really expensive for all involved, but if you print them yourself I can make it affordable, yay!). You can print them yourself however way you like and once you're finished with the calendar you can keep the bits of art as keepsakes!
Fun no? :)
So, this year I'm offering 2 different kinds. 1 That is portrait, the other is landscape. The portrait one includes details of my paintings but not the full paintings, the landscape one includes the entire paintings. See below what the calendars look like.
Hope you will buy one or 2! If you buy them both you get a bit of a discount.
Enjoy lovely ones and a deep heartfelt thank you for always supporting me. I'm so lucky and blessed to have you in my life! <3
Willowing Arts Calendar  2013
Landscape – ONLY £3.99 (GBP)

Buy now – Landscape Calendar

Only £3.99 GBP
(approx $6 USD)
Or buy the Portrait Calendar – also only £3.99 GBP
Buy now – Portrait Calendar

Only £3.99 GBP
(approx $6 USD)
Or buy them both for only £6.99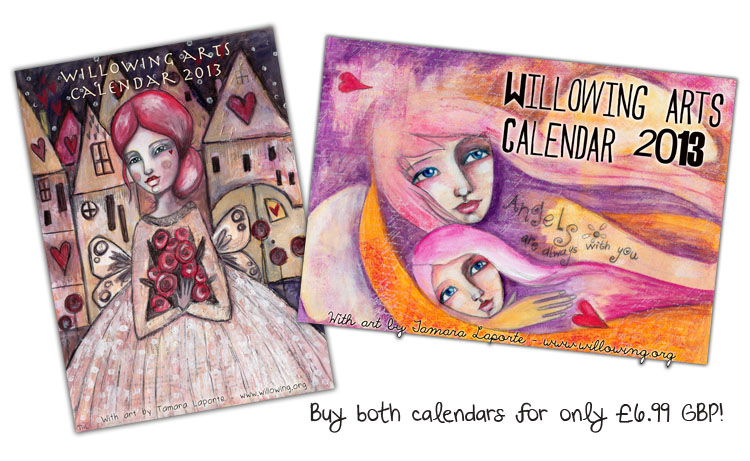 Buy both calendars!
ONLY £6.99 GBP
(approx $11 USD)
Once you sent payment through, you will receive an automated email with the download link(s) in it.
Thank you groovy friends!
Big hugs,
Tam x