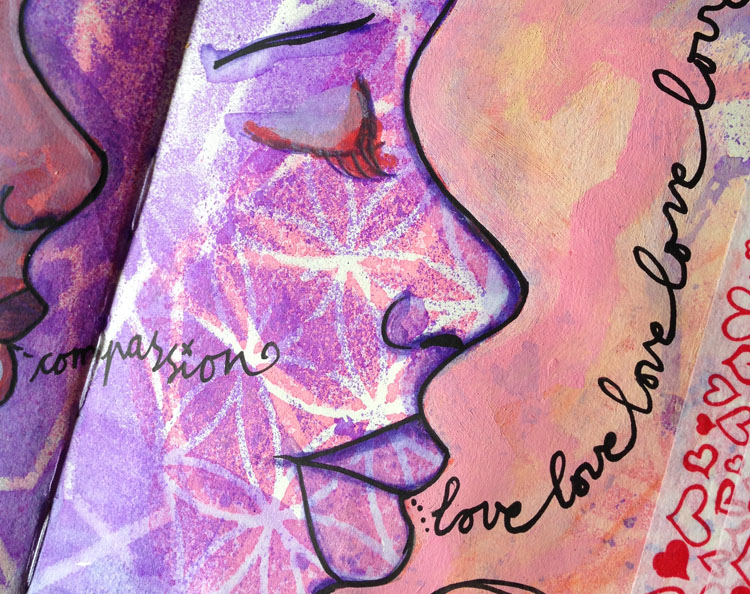 Hello friends! Wow, lately it's blog hop central over here! I love getting involved in testing out new products, giving out shout outs to awesome artists and shops and share with you how I create my art! :) (If you're a supplier of art supplies and ever want me to demo them for you or be part of a blog hop, do email me! (willowing AT gmail.com).
So without further ado! I was invited to be part of a blog hop to show off the fabulous new stencils produced by www.artistcellar.com. These specific stencils are the 'Artistcellar Signature Series" designed by Jane Davenport! Jane is a good friend of mine, a fabulous artist and also teaches on Life Book this year! Her lessons are SO super popular. :) Her lesson went up only 2 weeks ago. :) (Just a reminder that you can still sign up to Life Book – there is enough time to catch up!)
Anyhoo, I personally love her art too and was delighted to hear that she had some stencils out. You get 4 of them in a pack and they feature faces and facial features in her style that you can use and play with in your art journal (or in a painting). The cool thing is that even though the designs are clearly and recognisably Jane's, when I started working over the stencils, I found the faces came out 'me' looking. :) So you can still make the faces really your own and not be too worried that the face is 'too someone else's style' if you know what I mean!? :) I did a little video of the process below.

BTW!
Artistcellar are giving a way 1 set of the stencils to one of you! 
If you want a chance to win, leave a comment below telling me why you'd love to own a set of Jane stencils!
(Give away will close on 14th March 2013 – Winner announced on 15th March 2013)

Here are the other artists taking part in the blog hop, do check out what they've done with the stencils! It's fun to see how everyone else is using them! :)
Sunday 3/3 – Artistcellar  (www.artistcellar.com/wp)
Monday 3/4 – Teesha Moore  (www.teeshascircus.blogspot.com)
Tuesday 3/5 – Jeanette House  (http://www.jeanettehouse.co.uk/blog/)
Wednesday 3/6 – Dawn Sokol  (http://www.dblogala.com/)
Thursday 3/7 – Tamara Laporte (www.willowing.org/blog)
Friday 3/8 – Effy Wild  (http://effywild.com)
Saturday 3/9 – Kass Hall (http://www.kasshall.com/)
Sunday 3/10 – Mindy Lacefield  (http://www.timssally.com/)
Monday 3/11 – Jane Davenport (http://www.janedavenport.com/
And if you have the stencils and you're doing some art with them do leave a link to your blog post in the comments too! I've love to see how you use the stencils! :-)