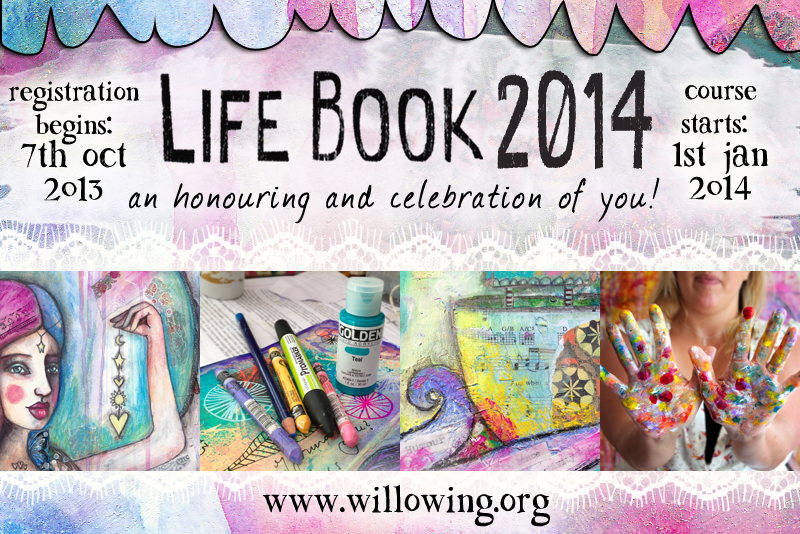 Hello oh beautimous groovy artsy amigos of mine!
You know I appreciate you guys deeply right? I so very much love being part of this awesome creative community, it fills me with joy and yayness every day to know that so many of you/ us are  sharing our art and our light in this world. It's a true pleasure and honour to be doing the job that I do, running classes helping people dig deeper and evolve spiritually/ personally. Wow, I'm counting my lucky stars every day. And I also must thank you guys for that. Without you, I wouldn't be able to do what I do, so just remember that: you are loved, you are appreciated, I care about you.
Now then, all that did not really have much to do with the topic of this blog post! Well maybe a little, because I'm about to start my blog hop for Life Book 2014, and I often feel emotional and grateful when I think of Life Book. It's such a precious project to me. It does so much good in the world, it's enriching so many people's lives. :))) So yes, it's super dear to my heart and I would love everyone to be able to be part of it.
So, to celebrate the kick off of this blog hop I will be giving away
3 spaces on Life Book 2014!
All you have to do win a space is leave me a comment below and let me know why you want to part of Life Book! :)
This give away is now closed, the winners have been announced as:
Joyce
Amy Weaver
Tawana
But you can still enter give aways on the other teachers' blogs!
And hang on! If you want an even greater chance to win a space on Life Book make sure that you follow the blog hop! All the teachers are giving away one spot on Life Book 2014!
Here is the blog hop list, make a note of them:
13th Sept 2013 – Tascha Parkinson – www.timewithtascha.blogspot.ca
14th Sept 2013 – Lesley Riley – www.lesleyriley.com
15th Sept 2013 – Alena Hennessy – www.alenahennessy.com
16th Sept2013 – Kat McBride – www.KatCanPaint.com
17th Sept 2013 – Carla Sonheim – www.carlasonheim.com
18th Sept 2013 – Jane Davenport – www.janedavenport.com
19th Sept 2013 – Danielle Daniel – www.danielledaniel.com
20th Sept 2013 – Jennibellie – www.jennibelliestudio.blogspot.com
23rd Sept2013 – Kelly Hoernig – www.kellyhoernig.webs.com
24th Sept 2013 – Micki Wilde – www.thesecrethermit.blogspot.co.uk
25th Sept 2013 – Kate Thompson – www.fracturedangelics.blogspot.com
26th Sept 2013 – Flora Bowley – www.florabowley.com
27th Sept2013 – Anna Dabrowska – www.tworzysko.blogspot.co.uk
28th Sept 2013 – Steven Speight – www.speightoftheart.com
30th Sept 2013 – Serena Bridgeman – www.serenarty.com
1st Oct 2013 – Dyan Reaveley – www.dyan-reavely.blogspot.co.uk
2nd Oct 2013 – Effy Wild – www.effywild.com
3rd Oct 2013 – Carissa Paige – www.carissapaige.com
4th Oct 2013 – Marieke Blokland – www.bloknote.nl
5th Oct 2013 – Christy Tomlinson – www.christytomlinson.com
6th Oct 2013 – Traci Bautista – www.treicdesigns.com
7th Oct 2013 – Mika Diaz – www.mikadiazmixedmedia.com