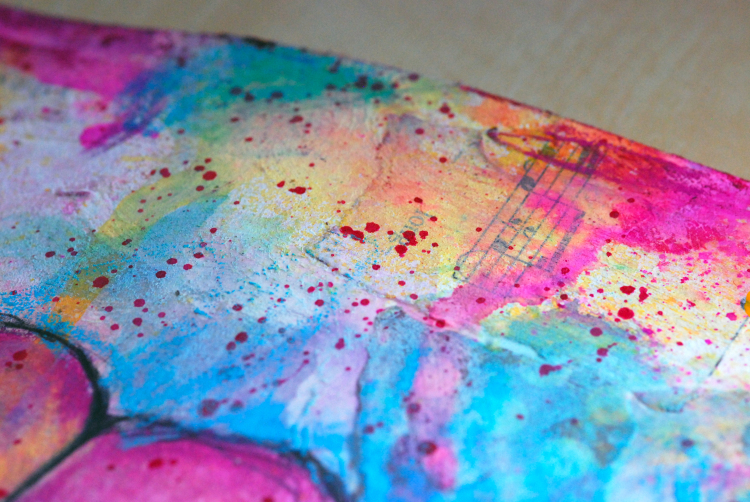 Hello guys! Over the next couple of months I'll be sharing a bit more about Life Book, what it means to me, and how it came into existence! I'll also be sharing some of the Artist Interviews we've run in past years, share snippets and timelapses videos of some of my lessons, showcases of my art work AND share some Life Book Love Stories by previous and current gorgeous students! :) Yay!
When I first 'designed' Life Book I was (still am) passionate about bringing art, celebration, healing and personal growth together to inspire and support people from around the world to grow both artistically and personally. It is my own personal life journey to find more self-acceptance and inner peace and I encourage others to do the same. I believe that through truly becoming more loving towards and more accepting of ourselves we make the world a happier place, because happy people do happy things while unhappy people tend to do unhappy things.

Life Book creates an environment where people are able to explore & express their inner world while simultaneously developing their artistic abilities. They learn to channel their emotions into a piece of art and find creative ways to transform pain into a softer healing. Life Book has monthly themes that guide the participants through the weekly offerings, all themes are in the spirit of celebration, honouring, healing and growth.

Some weeks go deep, others are more light-hearted, some offerings are personal, others are playful. Each participant is encouraged to 'use' the lessons to their benefit in a way that they see fit. If something doesn't resonate with them, they can simply move on to another offering or only do a part of the lesson and ignore the segment that doesn't speak to them.
In the very first month of the first ever Life Book in 2012, participants were encouraged to 'celebrate their Goddess super powers' (or read: to celebrate their positive qualities). Here is a time lapse video with snippets of that lesson:

When you sign up to Life Book 2014 and if you choose one of the extreme packages you can include all of my 2012/ 2013 lessons too! :D You would get access to the above time lapse video, but then the real-time version.
Here are some detail shots of the final page created for that lesson:
Here is a detail of the PDF that came from that lesson (my PDFs are usually between 5-12 pages long):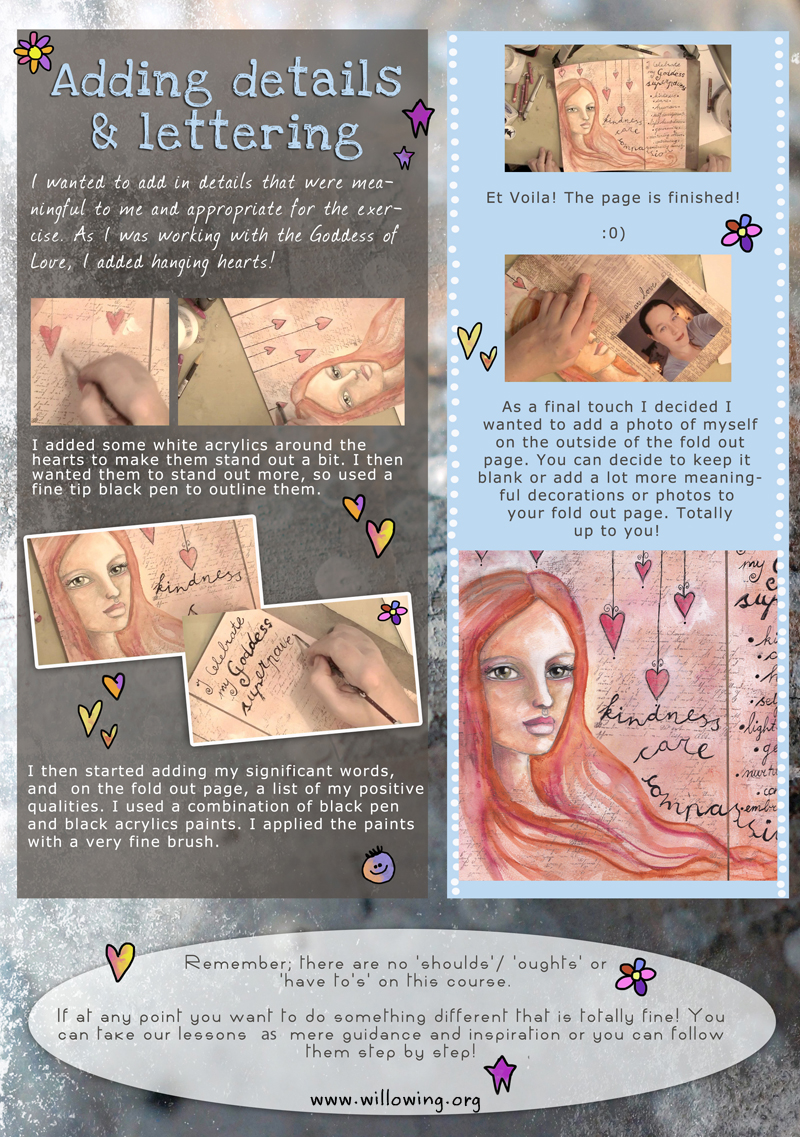 As part of my sharing more in depth about Life Book, I'll be sharing some "Life Book Love Stories" from some of the wonderful participants whose lives have been touched by Life Book, today, I share Simone's Story. :) Thank you Simone!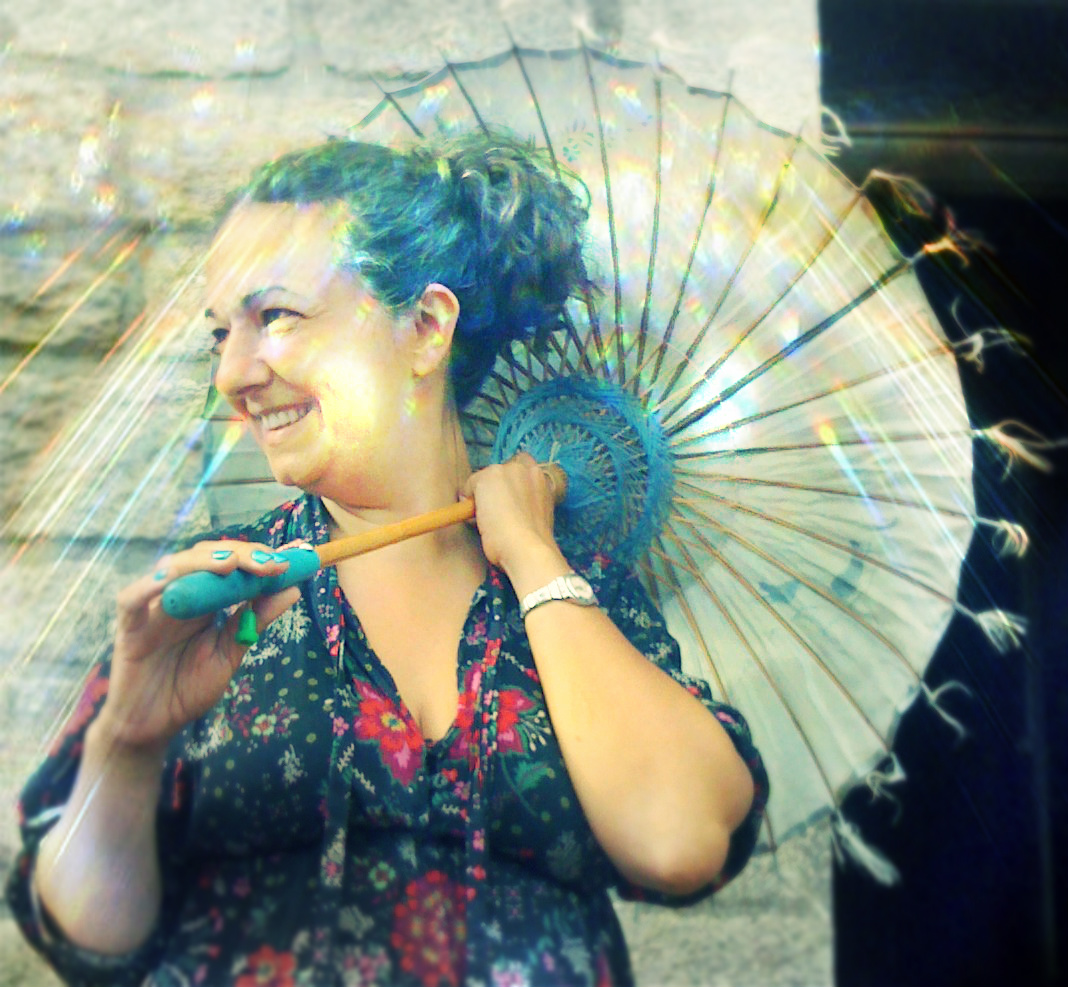 Can I say it again? Oh please, let me say it again!… Tam & her Life Book classes changed my life! Totally, it totally changed my creative life, in the most surprising, unexpected and joyful way. 
How? When I started Tam's Art classes I was that lonely and insecure musician, that had left her dreams behind her, that had for years stopped painting or drawing because she thought she wasn't good enough, and that was also not even sure about how to be strong enough to pursue music.  And then with Life Book, the magic happened! I got trapped into the "process" of creating. What mattered wasn't the result any-more, what mattered was to experiment, to play with new techniques, re-ensured by super generous teachers, sharing their tips and encouraging, and by other supportive students. Because Life Book is also about a safe place, where I felt I could start to post my own paintings/drawings. Something I would never do before, ever. I wouldn't even let my friends see my paintings.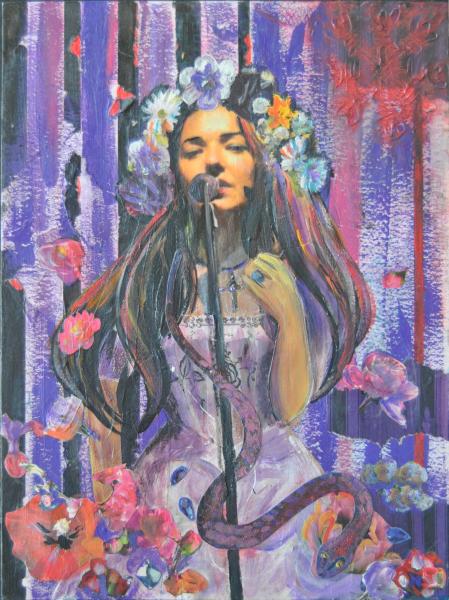 By digging into the exercises, by exploring the treasures within me, by putting words on my paintings that were reflecting my inner thoughts, step after step I started to gain confidence. It was mind-blowing how I suddenly opened-up to my true self. I allowed my self to show off to the world. I allowed myself to write on my paintings "shine" or "you are loved".  The first weeks were totally intense, I felt I was connected with my self like I never had. The February lessons from Life Book 2012 were all about celebrating Yourself. From Tam's mixed media class, I made a self-portrait based on collage elements. I remember that particular day as if it was yesterday… My first thought was that "no, I don't want to use a picture of mine"… But I put those thoughts away, and just painted, just followed the video, listened to Tam's deep and re-ensuring voice… I had started at the sundown, and I painted non-stop until the afternoon, and it was like being alive again. Celebrating Me! I felt healed, I felt gorgeous, I felt proud, I felt powerful like I hadn't been for years.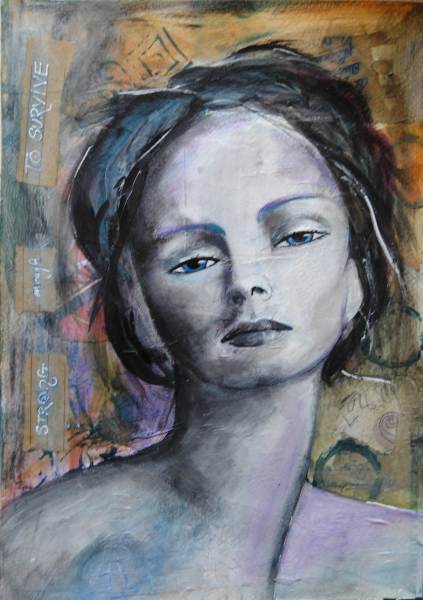 I gained confidence at many levels, including regarding my music. I started to work for a new album, and when I started recording I already knew I would use my Self Portrait somewhere on the cover. Can you believe it? Me showing my true self to the world?  I kept on playing with the lessons, I loved Effy Wild's lesson about writing a letter for our future self. Wyanne's with wonderful watercolour technique… I could quote any of them!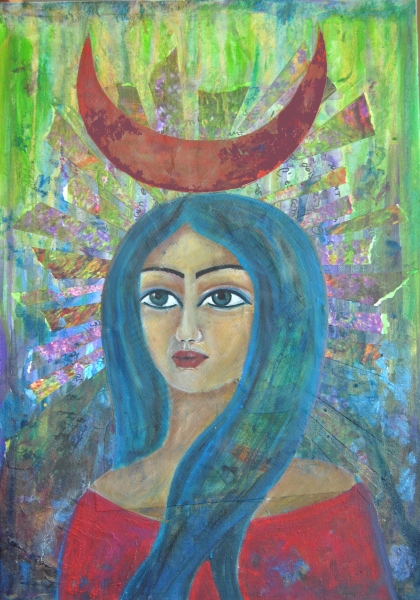 Every lesson was an adventure! In June I digged into the catch up challenge. I went back to all the lessons I hadn't done, Jane's lesson "Honouring My Past" came at the perfect time. I was almost finishing the recording part of my album, and it was so healing to get back to what I had done in the previous years, I collaged old pictures of mine on stage, press releases from previous projects… it was like a magical process. Making New with the Old. All of a sudden, in front of my eyes, I could see clearly that yes, I had to honour and be proud of my past, this was what was making today. And guess what? Once it was finished, then, I realised it was the ideal colourful cover I wished for my album! And yes, yes, I dared to use it!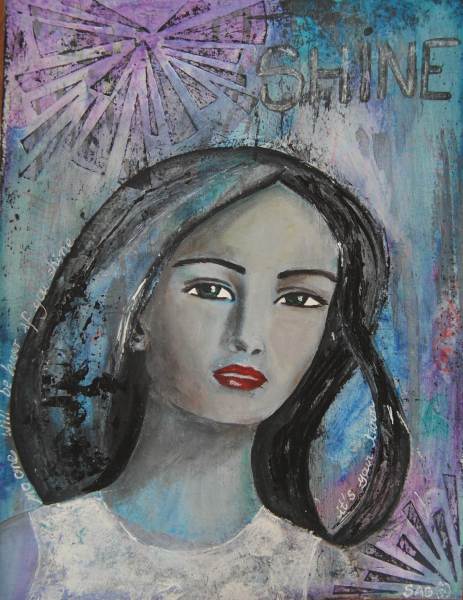 My album was released in September 2012, I got very nice reviews about the music, but most of them will also mention my Art Work. It's always a double reward when people will mention that the cover adds extra personality to the music.  I'm now starting to consider selling my Art-Work on-Line. This is my next big step.  Life Book isn't just about painting or drawing, it is so much more than that… Life Book is about changing and creating your life! That's how I feel it now! Thank you Tam, Bedankt, Obrigada, Merci, Trugarez Vraz, Dankje, Tesekkürler, Grazie… 
Simone shared more of how her Life Book experience impacted her life in this video (it made me CRY!!! in a good way, of course!) :D Note: she starts in Dutch for about a minute but then talks in English, so stick with it! :) 
You can find out more about Simone and her music here: http://astrakanproject.com/

So, would you like to experience the magic of Life Book 2014 too?
OVER 700+ AMAZING PEOPLE HAVE ALREADY JOINED!
Come SIGN UP HERE! :D
WE WOULD LOVE TO HAVE YOU DARLING!