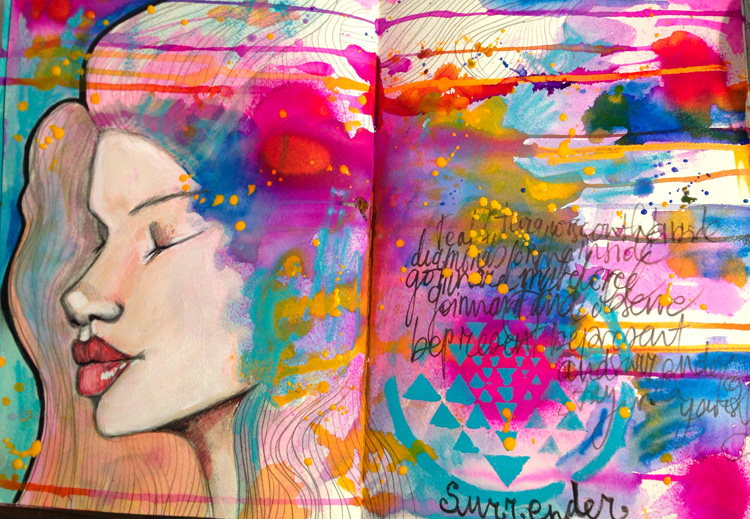 Yo yo yo faithful readers! November, December & January are always really really busy months for me with a new Life Book beginning (you can still sign up btw, the first week has been MIND BLOWINGLY, FACE-MELTINGLY AWESOMEBALLS), so it takes me away from writing blogs and being generally internet-sociable, but I thought I'd take a moment to look back on my year and maybe even set some goals for 2014. :)
2013 was a mixed year for me. Fabulously awesome stuff happened business-wise and art-wise, but I struggled more with all my personal demons around health, childhood stuff & food. I also continued to grapple with the difficulties of parenthood and became reacquainted with depression and dug deeper into my shadows.
For me 2013 was a year of confrontation (self-confrontation) while I was trying to hide, it's like life is continually trying to hold up a mirror right close up by my face while all I've been doing is close my eyes, put my fingers in my ears and go: 'la lalalalaaaal ala lalallaaaaa' (lol).  I'm the queen of evasion and escapism when it comes to my own issues. But, nearer the end of the year I made steps to see a therapist which is helping with facing some of my hard stuff (all childhood related). Art helps me work out stuff on a daily basis, but it felt right to seek more help from a professional to help me heal and transform on deeper levels. So yay me! I've seen therapists before when I was younger and really LOVE it. It's wonderful to have an independent person (who is objective about what you're sharing) listening to you and give you empathy and insights. I'm totally someone who is PRO-therapy and would  encourage anyone who feels embarrassed or who has a judgement of 'going to therapy' to go anyway. It's basically like having a buddy who you can talk to, but then a buddy who knows how to best help you and say the 'right things' (if you get a good therapist, that is). Anyhoo, just wanted to loudly and proudly let you know that I  think therapy rocks (always have) and if you can go; go! :) (We all need more empathy & ears that listen, right?)) :)

Here are some of my 2013 highlights:
Ran Life Book 2013 which was beyond amazing (I produced approx 11 in depth lessons for it and ran the whole shebang – it's a massive undertaking, few people know how mental it can get behind the scenes).

Had 2 sets of stencils released with Artistcellar (so awesome!)

Taught on a 'Call of the Wild Soul' Art Retreat in Glastonbury with Erin, a nourishing and deeply inspiring experience. 



Recorded a song with Gracie for charity (to be released in 2014) (itching, ACHING to release this!) Keep an eye out!


Ran Radical Wellness/ Summer Portrait Series as new classes




Taught on collaborative courses; Angels in my Studio & Artsy Ornaments – Great fun!

 

Recorded Flightless Bird, American Mouth by Iron & Wine  (one of my most favourite songs ever) 
Made a beautiful Mixed Media Art Doll Angel (LOVE doing art dolls!)



Made many new paintings and art journal pages:


 

My self employed business became a limited company; Willowing Arts Ltd – woohoo!

Prepared everything for and started selling Life Book 2014. We started LB2014 with over 2100 people; amazing does not do that figure justice.

We hired a full time employee (yay Gracie) and Andy (magical husber) became co-director of Willowing Arts Ltd




We moved into an amazing house in the amazing country side (we rent it, btw, some people seem to think we own it, I wish! But living here is an amazing blessing).
15. I stopped breastfeeding Elliot at the age of 2 (VERY big deal for me because it meant that:)
16. I started weaning myself off steroids (still on them at the moment though) and went back on my old medication which will contribute to better health.
So like many of us I totally suck at setting myself goals or making new year's resolutions. That said I enjoy choosing my "word for the year" and I try to 'make plans'. So I say things like: "this year I will aim to …." (I know that from a  goal setting perspective this might be way too vague but look, right now I'm all about taking it easier in 2014) so I'm just going to try to do certain things while my main aims are:
Becoming healthier both psychologically and physically &

Taking it easier by reducing my workload and creating more me, husband, friends and family time.
So, first up my word is: 'presence'. As in: presence to my feelings, my thoughts, my needs, my now, my world. It's my attempt at continuing to support my journey to NOW. (And being less evasive/ "escapy" it's a word, really ;) ).  My sub word (because I do always find it hard to only choose one is: surrender, which goes together really well with 'presence' ie: surrender to your feelings, surrender to now, surrender to your world etc. :) I've been making art incorporating these words already (in the first lesson of Life Book we listen to a meditation which helps guide you to your word of the year.
Other things I'd like to try and do this year:
Learn Final Cut Pro

Run my Business Course

Run Fabulous Faces 2

Sleep a lot

Learn more about how to create awesome abstract art

Spend more time with Andy

Spend more time with Dylan & Ellie

Sing more with Gracie, record more songs

Read more books

Go away to a warm place for the Christmas period

Do many more of the Life Book lessons offered by guest teachers myself

Run an NVC course with Andy for Dylan's teachers at his school

Make more and larger paintings on canvas

Release my charity project

Sew some soft toys out of Dylan and Ellie's old clothes

Print an instagram photos book on blurb with family pics
Well, I think that will do for now! ;)
Classes I've signed up to, things already organised for 2014:
Online classes I've signed up to (though I resisted soooo much initially because I worry I don't have time looking at how this year went but hey, then I was like: must do this, must do this! ha ha): Studying under the Masters (Jeanne Oliver), Carla Sonheim's Year of the Fairytale, Kelly Rae's Mixed Media Course – very much gonna try and do the lessons as much as possible even though I know I'll struggle for  time. :)
I have a mini break scheduled in Feb at Centre Parcs which should be good fun with the kiddos!! They have amazing family things to do there.
I'M GOING TO BALIIIIIIIIIIIIIIIII!!!! I know: insane. It will be my very first ever holiday alone without kids since Dylan was born! I'll be going on Flora Bowley's art retreat in Bali (end of March) and I'm pinching myself every day that I'll be going. My parents are Indonesian originally, so I'm going back to my (very far away) roots basking in the sun and the gentle loving guidance of Flora's awesomeness! :)
I have also booked a retreat with Pauline Agnew in Ireland for September at the end of the year. I've admired Pauline's work for a while now and can't wait to learn from her and visit Ireland for the first time! I've never been there before! The kids are finally coming to an age where I can actually DO things and go on mini breaks and retreats (was almost impossible before because of sleep arrangements and our choice to do 'attachment parenting').
So, I think I'm well on my way to having organised things that will relax me, yay! :D
What about you? What is your word of the year and your aims (if any?) :)
Thanks for reading moonbeam!
xoxox