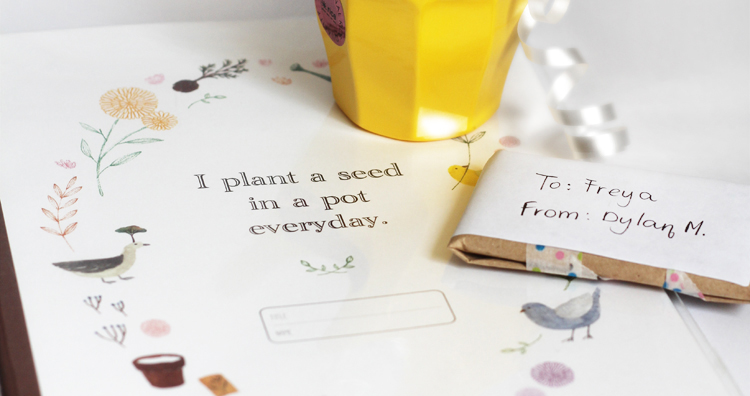 Haha. You might be like: hang on, is this Tam's blog? She doesn't usually write about eco-friendly stuff! True dat batman, but guess what? I have little kids and I live on earth so eco-friendly gift ideas are something that concern me and I had a REALLY awesome idea the other day that I thought I'd share with you guys seeing that many of you also have young kids AND/ or it might inspire you to try out more eco-friendly gifts for older children or grown-ups too! :)
Now that Dylan is almost 5 (hang on! when did that happen?!) he's going to a lot of friends birthday parties (we had 3 just this weekend). These are super fun, but I'm getting a bit fed up with buying plastic toys many times each year which we all know; will be played with for about 5 minutes and then end up in land-fill some years down the line, which is super depressing and scary. I've obviously always known that plastic stuff, if not recycled, ends up in the precious earth's ground, but it hit me home recently really strongly when I saw this article on the Huffington post:
I suppose being the visual person that I am, it really hit me when I saw all that waste, ALL that waste, eugh, it's so depressing … Anyhoo, as usual I thought, well, what can I do? And one of the things my mind went to (in addition to the usual: recycle and buy less)  was the kids and the plastic toys. I wanted to buy eco-friendly gifts instead of plastic toys, so I went searching online and couldn't find much (there is a business idea for ya btw!), so I went to one of my local shops in Lewes which is awesome, it's called 'Wickle' and it's really unusual and unique. Their focus isn't particularly on eco-friendly products only but they do have a bunch of eco-friendly things.
One of the items I bumped into was these lovely packets of 'Matchstick Flowers' and Matchstick Herbs' (I just found their website here). They're little matchsticks with 1 seed at the top of them and you just stick them in a pot or the ground and they grow a flower or some herbs! So fun! Kids love to be able to plant their own flowers in this way because they can hold the stick and literally 'plant it' into the ground!


They also sold these little note-books with lovely illustrations on the front and a title which said: "I plant a seed in a pot every day" –
Perfect gift-set combination right? So I also bought some little pots (these WERE plastic btw, couldn't find any clay or wood, but if you can, you an easily replace them to be even more eco-friendly).
And I also added in some soil in a little bag with a pretty ribbon for presentation and BAM: a more eco-friendly gift than just a plastic toy.
I know that this gift could be more eco-friendly, don't get me wrong (def get a clay or wooden pot instead and you could use recycled paper tissue to hold the soil and maybe a cloth ribbon for presentation), but I think it makes a good start in also getting the kids to think about nature, growing plants and flowers and avoiding buying toys that will end up in land-fill. :) Yay! :) I was ever so pleased with myself ;).
Hope this inspired you to get some eco-friendly gifts for your kids or their friends too! :)PS. For extra eco-points, use recycled wrapping paper.

Do you know any great shops or sites that do eco-friendly gifts for kids, please leave me the link below in the comments, I'm gonna need them for the years to come! :)
Big hugs x
Look, Dylan & Elliot got one too, we're now eagerly waiting for the flowers to pop their little heads out ->