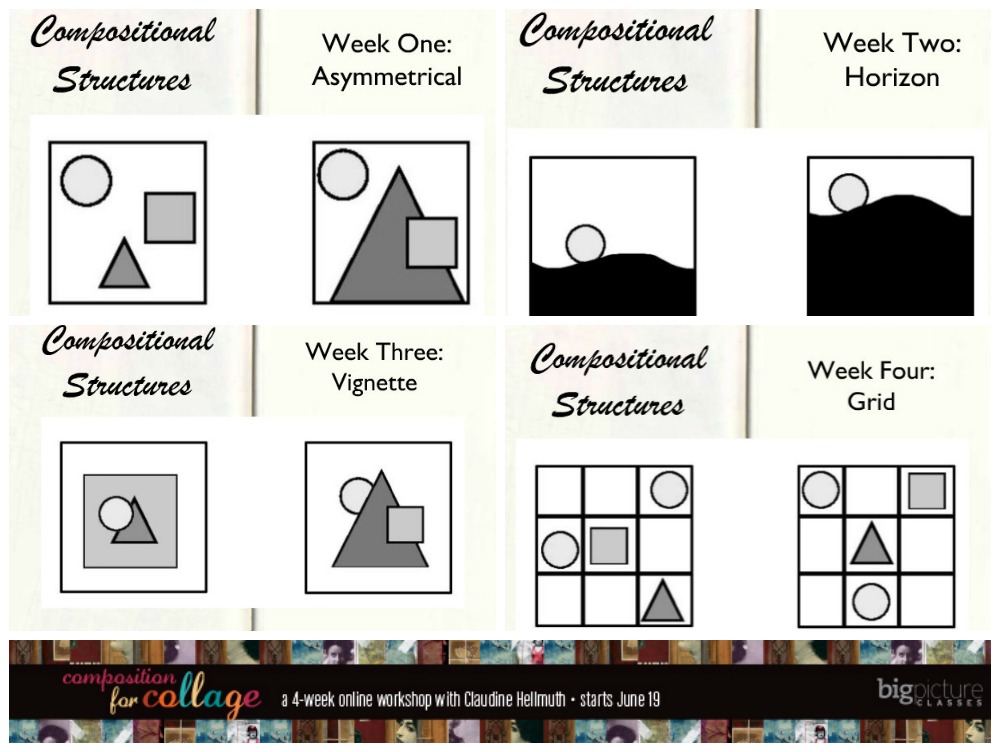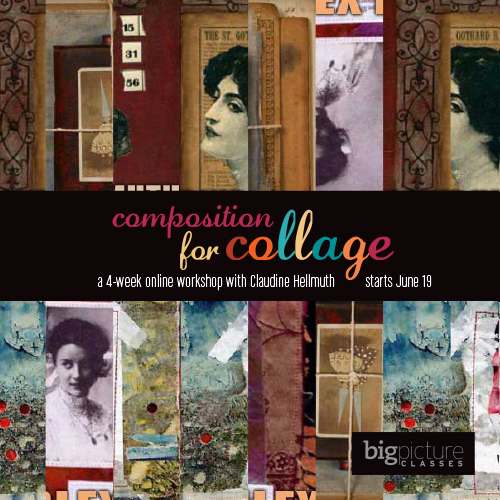 Gosh, like I said before, it's totally GIVE-AWAY CENTRAL around here you guys! :) Many of you might be familiar with Claudine Hellmuth, she's an amazing collage artist whose work I ADORE! :) I was able to interview Claudine for Life Book this year and she is just the loveliest person! :)
So she contacted me and asked me if I might like to give away a space on one of her up and coming courses hosted by 'Big Picture' and as you all know I love a good give-away, so here we go! *does a little give-away dance*
To enter the give-away leave a comment below telling me why you'd like to win a space on Claudine's course. Here is the information about the course: (I'm totally gonna sign up myself, I really want to deepen my understanding of composition!):
A message from Claudine about the Class: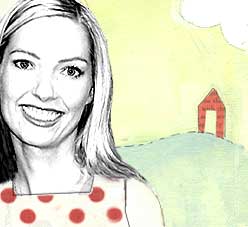 "My online class , Composition for Collage is back by popular demand! We last ran this class in 2012 and now it is updated and available for registration again! 
You are in for a treat with this class!! If you sign up we'll be spending 4 weeks together, from June 19th – July 17th — you'll come away refreshed and loaded with new inspiration and ideas! Think of it as an arty summer camp for your creative soul!
This online class isn't just a blog with a password. It's Audio, Video, Slide Shows, Handouts, Message Boards and more. I will be there with you to guide you along and it will be a truly interactive experience – and here's the best part – I comment on EVERY SINGLE artwork that is posted in the gallery, so it's a great chance to get one on one feedback from me about your work!"
Composition for Collage with Claudine Hellmuth
Visual Tips and Techniques to Enhance your Layouts, Journals, and Projects
http://www.bigpictureclasses.com/compcollage.php
About the Class
Have you ever felt drawn to a photograph, scrapbook layout, or wall display without really understanding why? Have you ever struggled with a project that doesn't feel quite right, but you don't know how to fix it? In both scenarios there is a specific element at play—composition!
In the world of visual arts, "composition" is the placement or arrangement of the visual elements in a photograph, painting, print advertisement, or scrapbook page. It's the foundation of your design. In Composition for Collage, Claudine Hellmuth will help you elevate your art as you explore the FUNdamentals of artistic composition. You'll spend four weeks playing with symmetry and asymmetry, focal points and focus, vignettes, horizon lines, and more.
Regardless if you are a scrapbooker who's just starting to dabble in mixed media, or if you're already comfortable creating altered artwork, you can learn to take your own designs from cluttered to clean and avoid common compositional pitfalls!
Learn more and register here or leave a comment below to win a space! :) (Winner will be announced early next week! ) :)