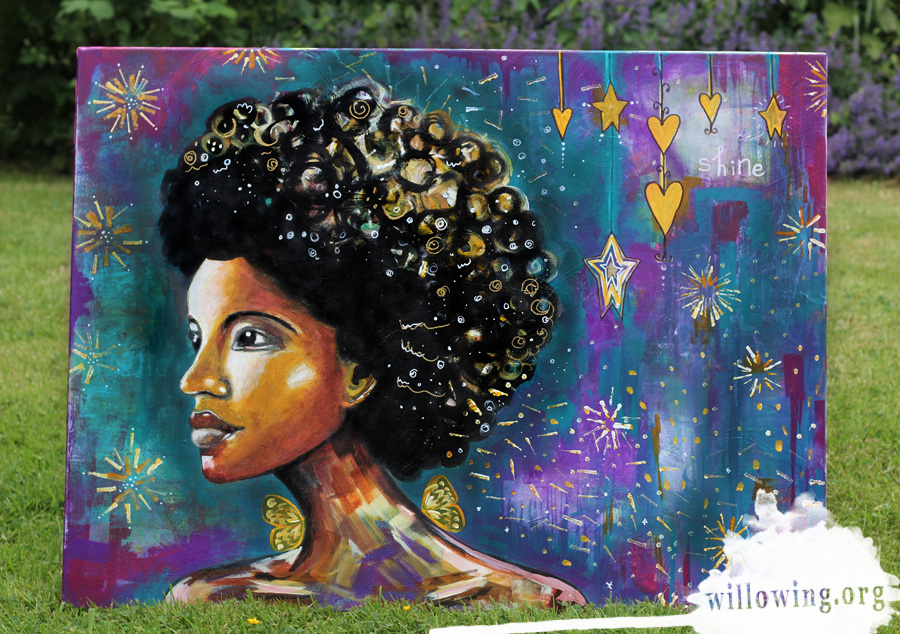 Hi guys! :D Thank you all so much for entering the soopah fun give-aways last week! Woop woop! You can't enter anymore now, but fret not, I'll probably run another give away pretty soon! In the mean time, heeeeeere are the winners!
*DrumRoll*
One Set of Pocket Stencils goes toooooo:
Fay Yunus
who said: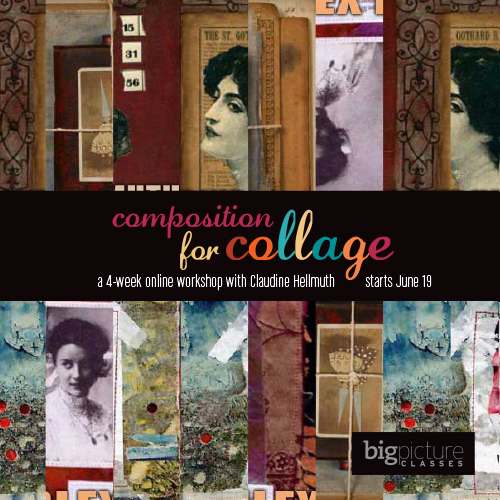 And the space on Claudine Hellmuth's Composition Course goes to:
Iris
who said:

Congratulations!! Pls contact me on willowing.arts AT gmail.com to claim your prizes! :)
****
In other blog stuff I want to talk about: don't you guys hate how photos of your art usually, most of the time, look 10x worse than your art in real life. It's one of the banes of my existence, in addition to the fact that peanut butter has WAY TOO MANY CALORIES IN IT, DO YOU HEAR ME PEANUT BUTTER, SO UNFAIR.
I'm pretty good with Photoshop and touch up my photos to look more like the real thing, but it SUPER annoys me that even my very serious Canon 60D SLR distorts the colours of my paintings, even outside in daylight. Lemme show you what I mean:
I've been working on an African Lady on large canvas with acrylics, when taking a photo with my iPhone, this was the outcome:
The colours in the background are pretty accurate, but the browns/ reds on her face are too saturated compared to the reality
You can see in this image that the orange and reds are more brown;
So today I took some photos with my Canon 60D outside and this is the un-retouched photo first: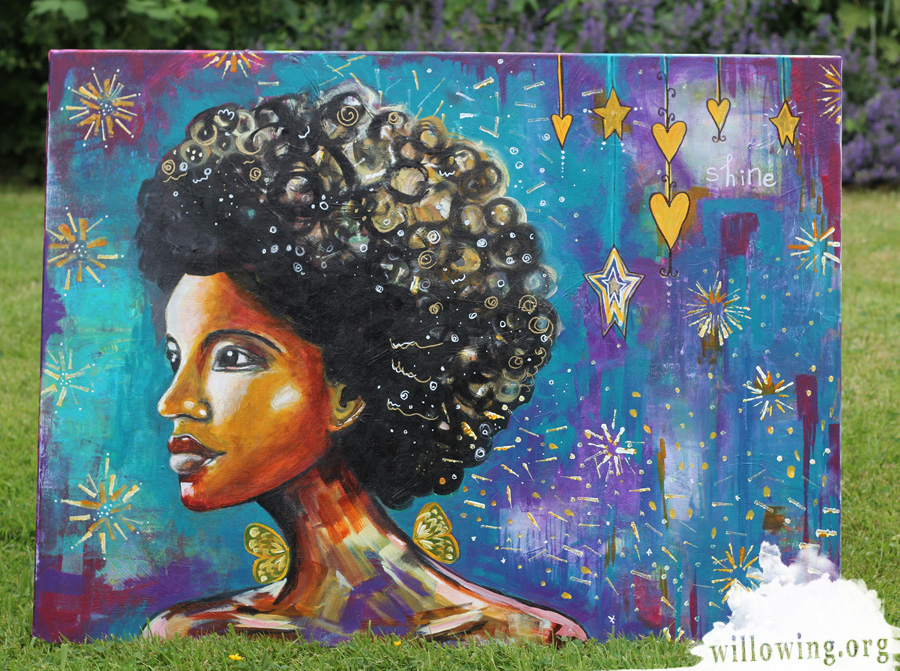 So the frustrating thing with this is that the blue colour in the background, in real life is a dark (cobalt) turquoise, it's like a dark(ish) sea green, not the happy teal/ semi blue it tries to be in this photo at all. The turqoise against the brown skin is super beautiful in real life, but is totally lost in this image. Also the black in the hair is totally more saturated in real life, again the reds and oranges in the skin are actually a more muted brown.
So after quite some time in Photoshop, I managed to get it to this point:
Still not a totally accurate reflection of the real thing, but a lot closer. I simply wished you guys could come see this painting (and my other paintings) in real life, it's so much prettier than even my best touched up image! :) I LOVE connecting online and spending time online, but when it comes to sharing my art, I truly wish we could all just pop round each other's houses, admire each other's art works and have some tea! :D
Thanks for dropping by moonbeam! :)