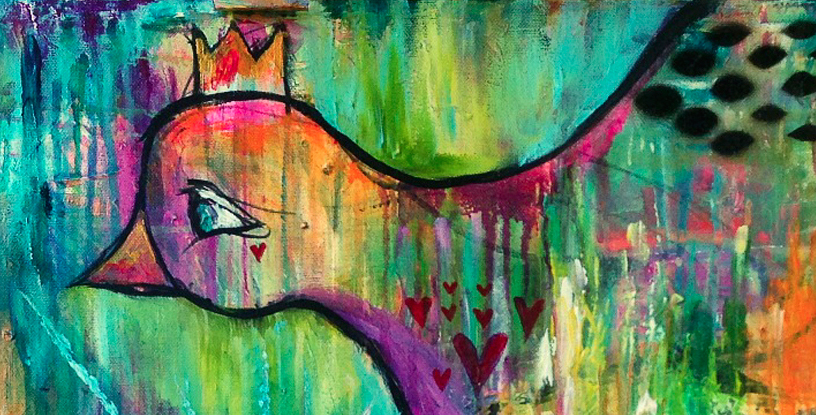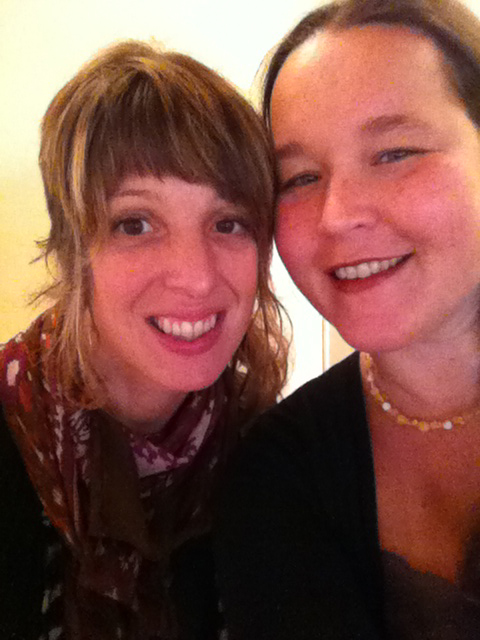 I first met Flora Bowley in September 2012, I had convinced Andy to take me and 2 little toddlers and a friend all the way to Somerset so I could experience a 3 day art retreat organised by Erin. The 3 teachers were Orly, Teesha and Flora. The weekend was chaotic and crazy for me with 2 tiny children there, but it was immensely wonderful to meet Flora (and the other teachers too). We all spent only a day with each teacher, so we didn't spend that much time with each teacher, but Flora's approach and teaching style then already had a huge impact on me. Here we had someone who didn't only teach art techniques, but also went deeper.
She compared the painting process to living life and in fact emphasised how there wasn't much difference between how we paint and how we live. The struggles you may bump into as painter, you may also find show up in other areas in your life. And the challenges you are trying to overcome in your life, might also be mirrored in the challenges you're trying to overcome in your painting process.
I felt excited and moved by her attention to ritual, taking moments to let go of the things that didn't serve us and dancing around the room to loosen us up.
Then when we started painting, she asked us to do a whole host of things that really challenged and frustrated me (lol), like: telling you to pass your painting over to the person next to you and for them to paint on your painting (to experience and learn detachment), to paint with your eyes closed (to create spontaneously and not to focus on outcome and planning), to add shapes and pattern randomly without much planning (to learn about intuition and letting go).
All those things were challenging & frustrating to me, because one of the biggest issues I have in life is: wanting to be in control – like ALL the time (while I know that 'having control' is a big fat illusion and I strive to 'let go' and 'accept what is', I still like thinking I can control some things in life ha). I also have a real issue with trusting my intuition (like it never does anything for me, my mind, now there is a friend, but my intuition: eugh, always lets me down).
And as you can see Flora was nicely picking at those little scabs, so of course I was feeling resistant. And when I notice resistance rising up in me, I usually know it's a good idea to move towards it (for a faster route to semi-enlightenment ;) and to work it through it because ya know: what you resist, persists baby, right?!). Ha.
So I went on a retreat in Bali with her. :) Yep, I am a masochist I am! ;) Totally kidding of course, the experience was completely magical, but yes, I had to 'sit in the fire' a bit as Andy likes to say. Move beyond my comfort zones. It's always scary to go and paint with a bunch of strangers and bear your soul open. It takes courage to move into the bits that are uncomfortable and painful. But I went in with an open mind and heart and it was one of the best experiences ever! :) 
Bali (the first holiday on my own since having children (!)) was like a little rebirth for me. Of course, for a large part this was about learning more about painting, but, as I said a few times on the retreat: I think I was there a lot more for the life lessons. For me it was deeply spiritual & emotional. I had some mega shifts happening for me related to childhood stuff and limited beliefs about myself.
The retreat and space was beautifully held by Flora, Lynx and Rachael, so it was safe to express yourself as needed and the group of women were all hugely supportive of each other if something came up for anyone. The retreat was both creative AND therapeutic.
The days were structured in such a way that Flora would do a demo session in the morning and then in the afternoons we'd paint following her demo (ish).
On one of the mornings Flora started to add imagery to her painting, before that, she'd been doing a lot of layering and mark-making which felt really uncomfortable to me (as it looked like it was all intuitive and as I said before: I like control and don't trust my intuition much) so when she started adding imagery I could feel some kind of relief inside of me like aaaah, I know this, now 'we're getting somewhere', and then: yay Flora started adding a portrait to the painting: aaaaah, great, I know this even better, this is great, I am feeling totally relieved now – and then all of a sudden BAM Flora starts to PAINT OVER THE PORTRAIT giving me a little mini stroke. Here I'm thinking 'I'm finally safe', but naha: she's painting over it!!
So afterwards I asked her: why? why did you paint over the portrait? She goes: 'because I didn't like it and I'm going with what I like'. So in that moment I said the group: "Ok, I will do a portrait today and set myself the challenge to 'paint over it'".  Of course, this was not the point of the demo, but because I wanted to learn to let go of control and let go of attachment I set myself that challenge…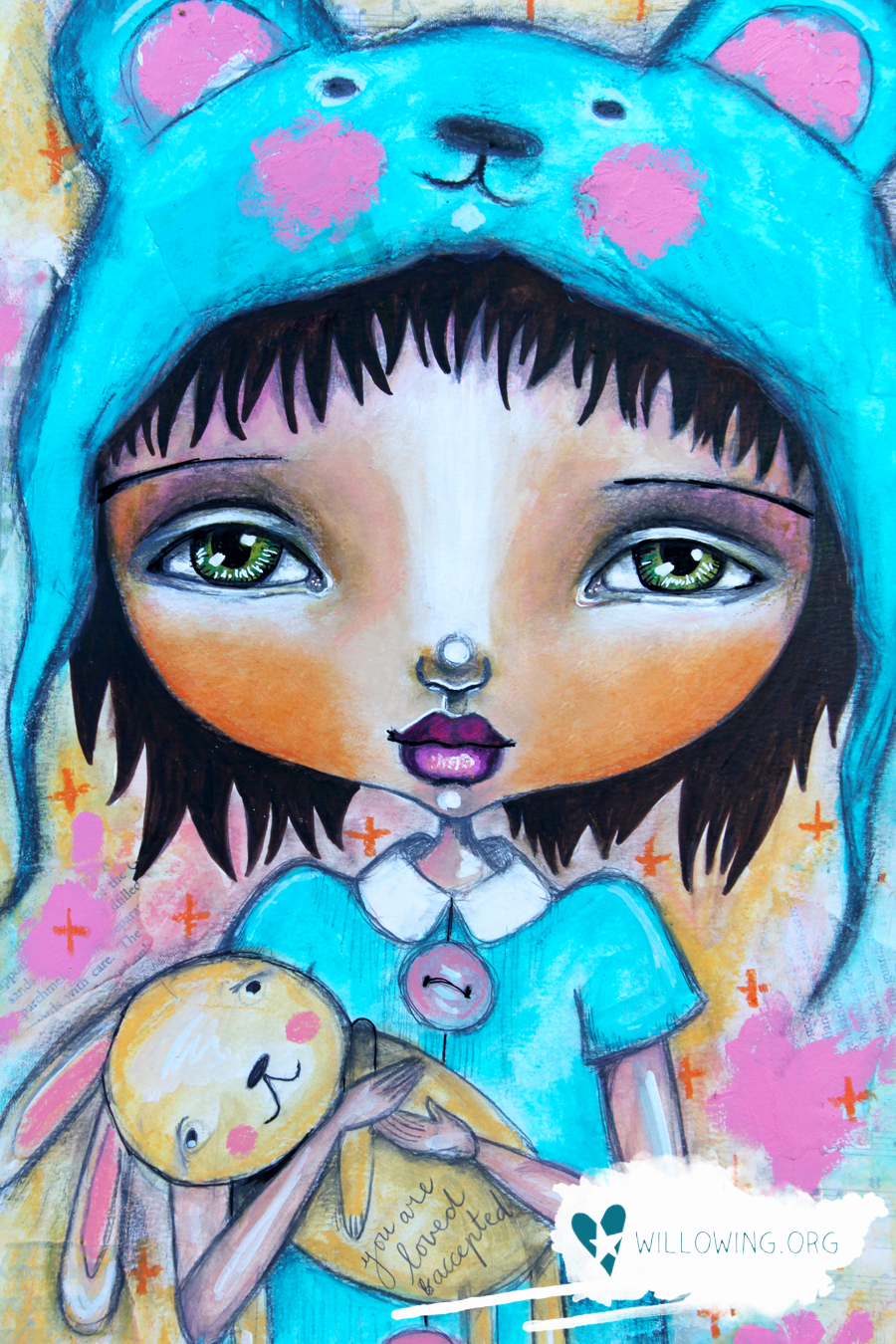 Then, 2 'big things' happened for me that afternoon. First, I started working on a painting that had a lot of layers on it and I didn't enjoy the previous layers at all. So I stood there a bit lost, thinking: 'whatamIgonnadonow?' Then I remembered my portrait challenge, so I looked and look at this painting with all the layers and all of a sudden I see a bunny rabbit face in it. Now many of you know that I often draw cute little animals like elephants or bunny rabbits as 'mascots' to 'support' the female figures I draw. I've come to see them as a representation of the friends I would've liked to have had as a child but did not have. (I was bullied a lot as a child). The mascot animals represent a sort of rock/ support for me in my paintings.

So, I see this bunny rabbit, and I'm like, mmh, ok, it's not really a portrait, but well, the rabbit has a face, so I'll start trying to bring this rabbit face forward and maybe go over it later. So I'm doing that, and all of a sudden this song pops up on the playlist: 'Apparently' by Random Rab:
And some of the lyrics are:
"Are we letting go now" – and it repeats this over and over and over and over; 'are we letting go now, are we letting go now, are we letting go now'  – while I'm staring at this bunny rabbit in my painting. And then the tears started falling as to me, the message in the moment was: 'you are ready to let go now of the pain of the childhood, and you don't need this kind of support anymore because you are strong now, you can be your own support, you can let go now, you can let go now'. No wonder I'm bawling my eyes out… That was a huge healing moment for me. It all felt incredibly serendipitous and meaningful.
So I accepted that message and let go of the bunny in that moment and I started painting a [human] portrait.
We were all walking around and checking out each other's paintings here and there and people kept asking me: "so, are you gonna paint over it?" And I started to feel resistance coming up again, I had a nice portrait going, I spent quite some time on the detail and I really did NOT want to let go of it. I did not want to go over this portrait.
People were kind and understanding about it. They said: that's ok, you can change your mind, but I was a little frustrated as I did want to let go of control and 'doing it my way', so, I decided to start working on a different painting and set myself the challenge to work mostly abstract and not to include a portrait or any other obvious imagery.
 This was hard for me. I find abstract super hard. But I started and thought to myself: well, what do I like? What do I want to see now? And in someone else's painting I'd seen earlier she used a lot of light, pastel colours which I felt really drawn to, so I thought ok: let's just start with pastels. And that eased me into it, what I saw was pleasing. After a while, I did a thing which is new to me too: I started asking people for advice.
This was also hard and new for me because I'm usually the one that teaches and I don't ask for advice/ guidance. So when I did and just opened up to the ideas of others (without any fear or judgement of myself) I felt super proud and inspired. I loved incorporating some of the ideas (Lynx in particular inspired me) and started REALLY enjoying working on the abstract painting. I loved it so much, I'd completely forgotten about the portrait painting!

(The above type of abstract including geometrical shapes is TOTALLY out of my comfort zone, but I really loved working on it). 
So the rest of the afternoon I spent exploring more geometric shapes and just continued playing and trying new things, it was very liberating.
When we started our session the next morning, I took one look at the portrait and had not more interest in furthering it, I was COMPLETELY ready to let go and go over it.  And so I did! I did! I did! That was basically incredible for me. I had worked hard on that portrait and really didn't think I was going to let go, but I did. A major learning in there for me. It transformed into the below bird painting which I LOVE so much! :)
Bye bye Portrait;
That's just one example of a deep shift in me that happened there; I dared, was brave and learned to 'let go' :) (I'm considering to tattoo 'let go' on my arm). More happened of course, we went snorkelling, had amazing food, chatted, laughed, visited some beautiful scenery, splashed in the pool, sang and so on and so forth.
So the experience was of that kind (for me); a lot of sharing with wonderful women, deep shifts happening, releasing old pain, transforming, learning to let go and surrender. Pretty magical and amazing!

It has also really helped me to finish off canvas paintings I've been stuck on for ages. I'm more daring, bolder and able to try out new things without being too attached to certain outcomes, colours or shapes. Since I've come back from Bali, I've finished and started between 6-10 canvases!! :)
I haven't really mentioned the friendships created and connections made yet. The group of women were just wonderful, I'll cherish the chats, hugs, laughs, deep conversations for the rest of my life! :D
Here are some people photos:
(apparently I have a kissable face ;))
And here some stunning Bali scenery:
I hear Flora will not be going to Bali next year, but I know there are other artists too who are running retreats there (Tracy Verdugo, Jane Davenport amongst others – I think!), and you can always catch Flora in her Portland studio, making da magic happen! ;)
I hope you enjoyed this post (I mean to write it ages ago but ya know stuff got in the way). 
Lots of love, Tam x