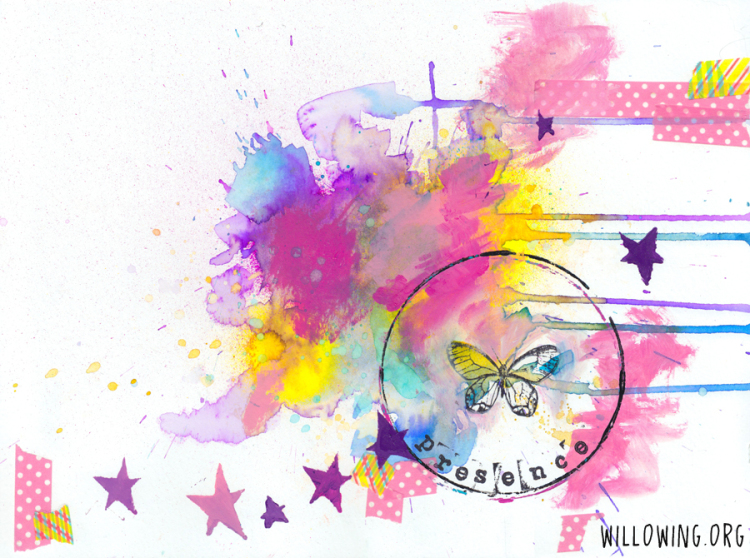 Hey my beautiful special bunch! :)
Whew, I've finally found a bit of quiet time to recover from another house move and running an awesome art workshop with Miss Jane Davenport! Not gonna lie to you: having both events so close together meant I was super stressed, the art workshop and meeting Miss Jane really was just fantastic but the house move on top was crazy! The move was unexpected, the lady who owned the house had to sell it unexpectedly due to medical reasons so the last 4 weeks have been a crazy whirlwind of stuff! But the (fairy) dust is finally settling a bit and I managed to do some work today while still surrounded by boxes. The new house is amazing: spacious and welcoming. The new garden has a little fairy forest in it so the kids are loving it.
My studio is also a a lot bigger so Gracie and I have some more space to breathe too. It's all good, though I'll miss the old house and garden a lot. It's a very different feeling when you're forced to move rather than choosing to move!
Anyhoo, I wanted to tell you all that Life Book 2015 (eeeeeeh) is being fully prepped as we speak!! The teacher team has been formed (OMG they are awesome) and will be announced in September (until then is my preeeecious secret! ;))) We will be giving away lots of spots and doing blog hops and the likes etc! :) (Registration will open -as always- first week of October, but I will of course announce it everywhere I can, for up to date info on ALL that I do, sign up to the newsletter babes :))
And to celebrate the coming of Life Book 2015, I'm allowing access for FREE to one of my LB2014 lesson (Ink Spray Love)! No catch, just free from me to you! I would be super grateful, of course, if you shared it with your friends on Facebook and twitter (fairies will bless you my friend, if you do so! ;)) and let them know they can get their hands on this lesson too. Thanks in advance darling! <3 You are loved. x

So, here you go! Enjoy! :)
Life Book is my most precious project to date, it's enriching so many people's lives on a daily basis, I'm so proud of it, how it's grown, the teachers contributing to it and the students who embrace this feast of art and personal development lessons! :D
Anyhoo, here is one of the lessons that was published this year. This gives you a good feel for what kind of lessons I contribute to Life Book each year and my style of teaching. We do ALL kinds of things during Life Book! I usually share a lesson each month on my latest passion. That particular month I really wanted to share my love for spray inks! :)
This lesson has got a LOT in it, I talk a bit about composition, we work with the awesome spray inks I love so much and I show you how to do a profile portrait too! If you are not on Life Book this year already you can get this one lesson for  FREE for 1 week ONLY! :DDDD Enjoy mah babies! :D And remember to share this post with your friends! (Share buttons at the bottom of this post).
And hopefully, I'll see you on Life Book 2015 too! :D (In the mean time, if you've been super inspired and was always on the fence of joining LB2014: you still CAN join, no problemo, sign up here).
Hey ho beautiful friends! :)
WOWSA, your enthusiasm and excitement in response to Marieke's lesson last week has left me reeling with joy! It's been super fun seeing all your sugar divas flying into the Facebook group! :D I'm glad you had so much fun! :)
Well, as promised, this week I wanted to share my spray ink obsession with you and show you some cool ways you can make wonderful drippy/ splattery art with it!

Please bear me with as I could not contain my excitement again and wanted to share 2 projects with you, I know it's more than you "asked" for, but I just couldn't help myself! The first project we do this week includes spray inks, but also: we look at 'composition' and the use of 'negative space' and how this can impact your work. Together with colour, composition too is an important aspect to consider when creating art, so I'll hope this will help you start thinking about composition.
In the second project this week, we'll create more beautiful ink work and I also include a semi-side profile.
Theme wise, we are going to be 'celebrating our positive qualities'. As many of you know, I feel passionate about helping people become more loving towards themselves and find more self acceptance too. At times, this passion is misinterpreted. Some people wonder why there is so much focus on 'self-love' (as opposed to 'other-love') and at times people mistake my ideas around self love, for 'arrogance, self-indulgence or pride' while in fact it's super far away removed from those ideas). If you want to understand more why I think 'self-acceptance is crucial to your own wellbeing AND that of your friends and family and the rest of the world', have a read of a blog post I wrote about this very topic a while back. :) Here is an excerpt from that blog post:
" … It's not *JUST* about me wanting to feel happier and more at peace and confident inwardly and all that. That is a huge part of my motivation, of course, I want me, you, all of us to be happy and self-confident and full of strength & joy. But, my dudes, it's not only that. This self love and self-peace, my goodness; it spills over into the world and onto others and will literally make the world a better place. The maths = You loving yourself = World better place. For serious. Let me elaborate:
I think that people who lack self-love, who lack a sense of self-safety and a sense of inner peace are at the root of most of the world's problems. Yes, I  think huge wars, the chase for more power and wealth, abusing and exploiting others to gain more for ourselves, neglecting and abusing animals, ruining the environment etc etc all have unhappy people at the root of it. I'm not saying that all unhappy people are causing huge wars, nope, some try to find other ways to create more happiness within them (meditation/ self-enquiry/ therapy/ arting it out/ singing etc are only a small hand full of examples how some deal with their unhappiness) but I'm saying that I bet your bottom dollar that those who create wars, do harm etc; are deeply unhappy on the inside and they are trying to fill the void with all sorts; external power, wealth, food, drugs etc.
And I'm not judging those people, to be clear: I strongly wish they would choose different methods to fill their inner voids, but I can totally understand they have that inner void and that they are clumsily (and at times with great harm to others) trying to fill it. Sadly, current society is set up in such a way that many/ most of us do end up with inner voids and so many of us battle with this problem. Some are more aware, other less. I wish and send all who struggle with the inner void; love and more specifically: a sense of inner unconditional love for themselves, a sense of inner peace and strength about who they are which is: a divine & pure spark of the universe (yes you!).
In contrast: those who are happy, are doing great inner work and have a sense of inner peace and self acceptance tend to create projects in the world that are life-enriching! They are kind to others and themselves, they are usually forces of light and positivity. They have a positive impact on all they meet. People who have an inner confidence and self-love can see others for who they are, they are better equipped to deal with conflict and difficult scenarios. They are less likely to choose violent methods to sort out problems, they promote peace, love, light and are general light-beamers all round.

To summarise: unhappy people do unhappy things and happy people do happy things."
To read more click here.
***
So today I'm encouraging you to look at your own positive qualities as way into celebrating & honouring yourself. Doing this is only one small tool to help you look at what positive stuff you bring to the world. I also hope it serves as a step towards more self-love & self acceptance. I explain it all in the videos and PDFs. :) 
Have a wonderful week everyone! 
I can't wait to see your spray ink mayhem goodness, hee! :) 
xox 
Tam x 
Life Book 2014 – Week 6
Spray Ink Love Celebrating Your Positive Qualities with Tam
Spray Ink Love – Introduction & Hello!

Video Review: https://vimeo.com/user14575102/review/85520448/dd710071c2
Spray Ink Love Introduction to Composition & Negative Space – Part 1

Video Review: https://vimeo.com/user14575102/review/85550305/964b07bf96
Spray Ink Love Introduction to Composition & Negative Space – Part 2

Video Review: https://vimeo.com/user14575102/review/85557967/4364733b96
Spray Ink Love Main Lesson – Part 1

Video Review: https://vimeo.com/user14575102/review/85557968/bc3b61bcf6
Spray Ink Love Main Lesson – Part 2

Video Review: https://vimeo.com/user14575102/review/85586985/084b07e177

If you want to download the videos please do the following:

1. Click on the video review link under the video

2. No password needed

3. Navigate to the 'download' button under the video

4. Choose which version you want to download

5. Right click (don't left click as that doesn't work in some browsers) on the video link and choose 'save target or link as'.

Supporting PDFs
(To download the PDFs please left-click on image and a download should pop up, if that doesn't work right-click on image and choose 'save target or link as:)
Spray Ink, Composition & Negative Space:
SprayInkCompositionNSpace.PDF
 
Spray Ink, Celebrating Positive Qualities, Semi-Side Profile

SprayInkLove-SideProfilePosQualties.PDF