Hey awesome creative friend! I just sent out my newsletter with the following info in it and thought you bloggies (it's a word) might like to hear about it too! :) —>
How are you doing over there? :) I hope life is treating you with sunshine and daisies and lots of free time to create! :) Gracie and I have just returned from a a wonderful weekend of art making in Oxford with a group of like-minded women, it was so very inspiring and nourishing! :)
Today I wanted to share a new free time-lapsed tutorial with you that I created for an awesome digital art magazine called

HeArt Journal Magazine

! :) It was so fun to create this! I used a 'paint over collage' technique that I absolutely LOVE doing! (You can sign up for

a more in depth class HERE

too if you like what you see in this free tutorial today).
Watch the video here: 
I feel very blessed to have been published in heART Journal Magazine, definitely check it out, you can get it on iPhone, iPad and Android too! :) 
To celebrate that I'm in the magazine, I can also offer you a FREE issue of the magazine (yayyyy!) here follow the instructions on how to get your free issue:
Get your free issue of heART Journal Magazine today!
Simply download the app on iTunes https://bit.ly/heARTMag or
Google Play  http://bit.ly/Heartjourna
Then on your device follow these directions using subscriber code: heartsharing (case sensitive) 
Install the App on your device

Launch the Magazine

On the Home Page, Tap on the Yellow subscribe button

Tap on the Current Subscribers button                                  

Enter this: heartsharing (case sensitive)
You will now be able to download a free issue to heART Journal Magazine. Remember, the code is case sensitive. For help with the coupon code, email heartjournalmag@gmail.com. This code is good for 4 weeks please use before October 1st.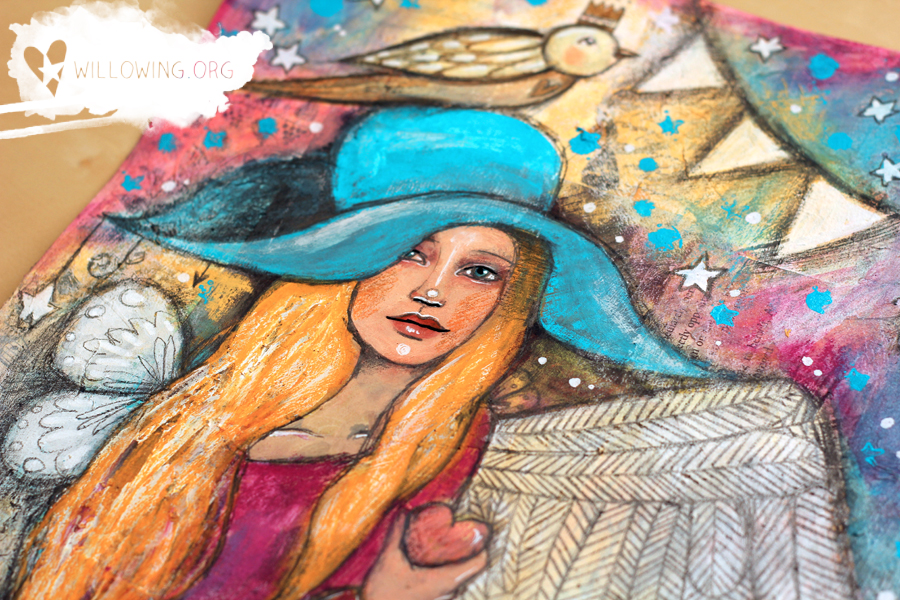 In other news:
  NEW  CREATIVE GROUP ALERT! :)
Inspiration Inklings is a new group where I'll be posting free inspiring tutorials that you can use as prompts to keep your creative juices flowing, yay! :)
Work in for this group will be posted in the


Come join the Willowing & Friends ATC swap for September! The theme is: 'Recycle, Reduce, Reuse – JOIN HERE if you want to swap. :)   
Have you joined my free 4 week art & healing course yet? Almost 4000 beautiful souls have already joined it and have gained awesome art skills and personal growth from it! You can join it here, for free, from me to you, enjoy! :-)   
ENJOY BEAUTIFUL PEOPLE! THANKS FOR SUPPORTING LIL OLD ME! :)