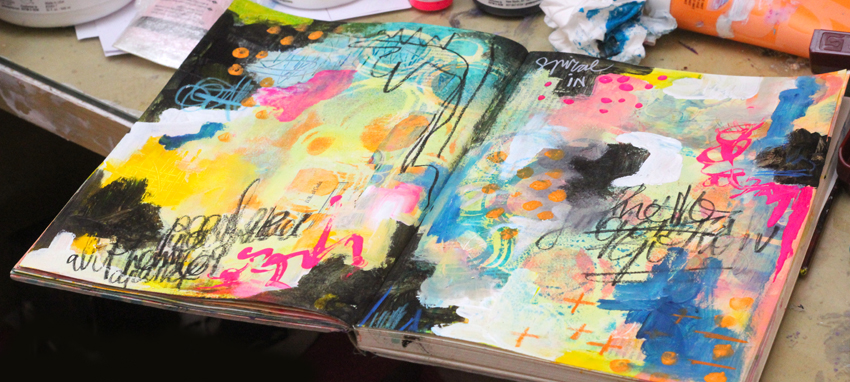 Hey everyone. Here a quick update with some fun things before Life Book 2015 goes on sale on Monday (We've been totally hunkered down in our Willowing HQ bunker to get everything finalised, so. much. work. but. so. so. exciting. and. fun!) Eeeee!! Exciting!!
I went on an art retreat in Ireland last week (and I'm gonna write a proper [more in depth] post about this soon) and having been with Flora for another 3 days plus spending time with Pauline Agnew and Melinda Cootsona had me explore and enjoy the 'mark-making' process and creating 'abstract art' more and more again.
I've always had a fascination with abstract art but have struggled with creating it myself in a way that I enjoyed. I have a pinterest folder filled with abstract art that I love, but I've often just oogled at those paintings with a sense of 'quoi?' and afar admiration. I struggle(d) to make abstract art myself that I liked or understood. Ha. I feel like, creating 'good abstract art' is like what a 'grown up' would do. LOL. And seeing that I'm not a grown up nor ever will be one, I admired abstracted art from afar.
Until this year. Since going to Bali with Flora and exploring mark-making, intuitive painting and abstract art more and more, I have to say that abstract art is becoming less and less elusive and more and more doable! And when I was on the retreat last week I have to say that I did made some kick-ass abstract art that I really LOVE and actually UNDERSTAND. Lookit:
Nice right? (Even if I say so myself!) :) (You can view the individual pieces over here if you're interested)
I feel I've learned quite a bit over the years about colours combos/ composition/ mark-making/ intuitive painting etc which is now coming together in me being able to create abstract art that I quite like here and there! Yay!
Anyway, this is a bit of a lead in to another thing I wanted to talk about today (I'll write more about the retreat soon) and that is: Traci Bautista's awesome new book called: "Printmaking Unleashed" which includes more than "50 Techniques for Expressive Mark Making"!

Traci asked me to be part of her book blog hop which I meant to do a couple of months ago but life/ work got in the way! Feeling re-inspired to 'make marks' on the retreat, I couldn't wait to try out some of the techniques in her new book and created a fun journal page last night. Here are some of the things I did:

A peek inside the book, it comes with so many beautiful/ inspiring photos!

I started with some collage (those are Traci's collage papers she included in her package for me, yay!)
Then added some 'splats' by spraying the page with water and dropping some fluid acrylics in the water.

Mark-making in gesso with a scratchy tool (etching).

Brayering and stencils! (Those are Traci's awesome stencils!)

I have a total new fav colour combo: neon pink/ cyan blue and black!
(Black normally scares me, but I have a totally new love for it!)

Lots of marks/ prints/ stencils/ collage/ handwriting on these page.
Many techniques used can be found in Traci's book!


A close up I love! :)

It's SO freeing and fun to work more abstract. I highly recommend Traci's book! And guess what?!

I can give away a copy of her book! Yay!

Speaking of give-aways – I am so blessed that I'm part of this amazing mixed media art community and I get opportunities to give away all kinds of things and promote new classes/ books and artists all the time. There are so many amazing artists and classes out there! Which leads me to the next bit I wanted to share.

Radiant: Faces has just gone LIVE and looking gorgeous!
It's not too late to join us but if you're struggling to join,

I can give away a spot on Radiant too!!
(See what I mean, I'm like Santa Tam! woohoo!)

For my class you'll be making this cute little girl:

And lastly, but not least:


Many of you know I'm a big fan of Alena Hennessy and all that she does! :) Well, she is currently running a course with Susan Tuttle (who is an amazing artist and photographer), the course is called: Co-lab and it teaches people how to make beautiful art combining: paint, paper and iphoneography, if you sign up before Sunday you get 50% off the sales price!


After Sunday it goes up to its normal price! But also, again, if you're struggling financially to sign up, I'm lucky lucky Santa:


I can give away a spot on this amazing course!



So, there are 3 amazing prizes to be given away in this blog post!

If you want a chance to win any of them,

please leave a message below telling us how
'art-making lights you up'

I will pick 3 winners next week Friday 10th October!

PS. Don't forget to enter in all the Life Book 2015 give-aways – follow the blog hop here. Once everyone has chosen their winners I'll put up a post with all the winners in one place! Woop woop! It's like Christmas around here! :)