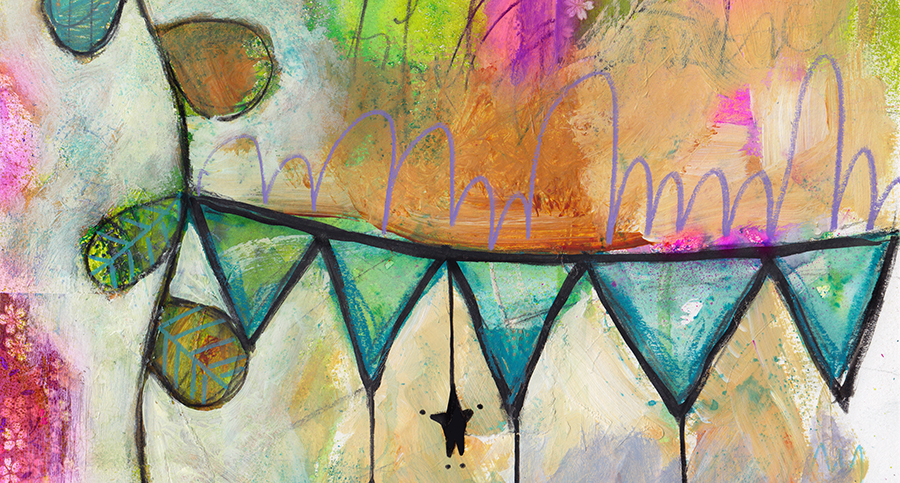 Happy Easter/ New Spring dear everyone. I've been pretty sick for the past 2 weeks, the last week had me pretty much out of action with a serious ear infection. I'm finally crawling out of that hole a little. I spent some time today scanning my latest artwork and these pages are what I show students how to make on Life Book 2015 this coming Monday. It's an in depth lesson themed around 'honouring the here and now', looking at the effect of adding black and white to your work (drama), combining angular and rounded shapes for contrast, working intuitvely and drawing/ painting a 3 quarter portrait. Materials include: collage/ crayons/ inks/ acrylics/ stencils/ pencils. I really love how these pages came out. It's a combination of some quite "directed" teaching (of the face) and intuitve painting. If you know me, you know that I'm 'quite up in my head' a lot. I'm very 'thinkie', lots of 'thinkie thoughts' dictate much of my life and I have to work quite hard on being more 'in my body'/ 'present' and 'work intuitively'. When I get into the flow of intuitive working, however, I do very much love it. It can be very therapeutic/ cathartic and very much an honouring of one's heart (over mind). :) Anyhoo, I enjoy combining some more structured work with the more intuitive work.
Next time, I will talk about how I consider myself a painter/illustrator hybrid, and how recently, I've decided to embrace both sides to me, instead of always letting them argue over  style and approach (nb: the illustrator loves clean lines/ perfection while the painter in me loves loose brush strokes and messiness). :) I like the idea of being a hybrid. Maybe I'm a paintestrator or an illustrer. ;) Either works for me. :) I've simply decided that 'I can be both' and I'm enjoying helping both sides of me 'work together'. :)
Here are some more close ups of these works.
Until next time groovy art gang.
Oh and, as always, if you want to learn how to create art like this (and be exposed to a load more different lessons/ styles and techniques), you can still sign up to Life Book 2015. We'd be oh so happy to welcome you with open arms! :)
<3