Hi Everyone! :) Tam here announcing a new feature that will be running on the blog, yay! :) My awesome friend and colleague Gracie Howle will be interviewing inspiring artists and posting the interviews (including some free offers not published elsewhere before) here on the blog every 2 months or so. I love to create art and bring amazing artists & people together in my classes, in person and on social media. As part of this drive, I really wanted to help bring more exposure to some of the amazing artists out there too! But being the busy bee I am, I've not been able to find time so I asked Gracie to take on this wonderful task and she jumped at the chance!  The first person she's interviewed is the amazing Andrea Gomoll who is incidentally, also a Life Book 2015 teacher this year. I hope you enjoy this very first 'Tea & Cake with Gracie", be sure to check out the free video tutorial as part of this interview as well! <3 xox Tam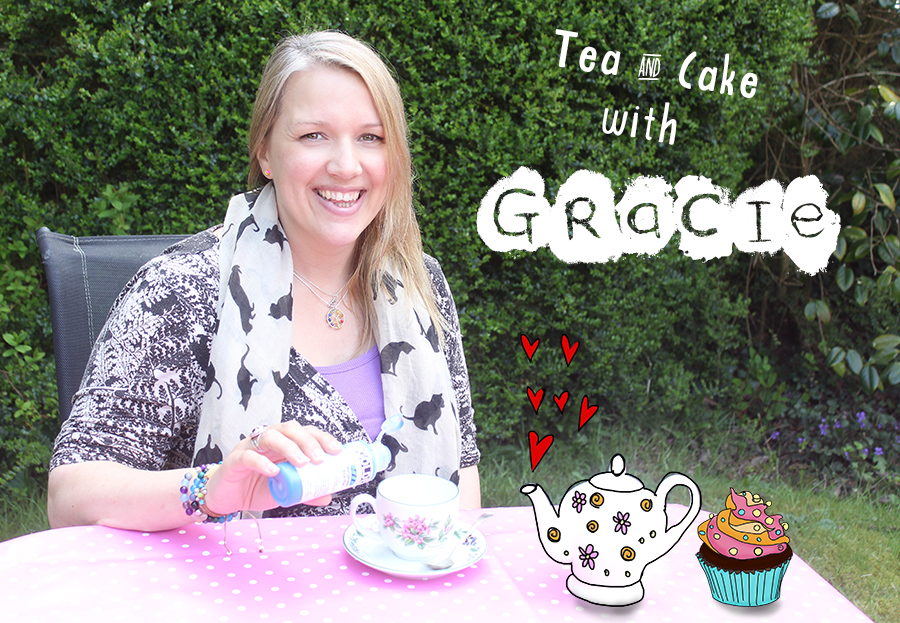 Hello! Welcome! It's Gracie here from Willowing Arts! :) Put your feet up, have some tea and cake and get ready to be inspired! :) This is 'Tea and Cake with Gracie', where I ask an inspiring artist about what makes them tick, and probe them about their art, life and loves. Sit back, relax and enjoy! :) On this first feature, I had to pleasure to interview the lovely Andrea Gomoll. :)

1. Hi Andrea and welcome to Willowing Arts! :) Tell us a bit about yourself and what you do.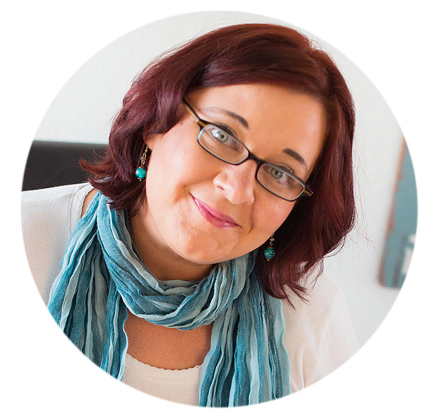 My Name is Andrea Gomoll, I live in Berlin / Germany together with my Fiancé Thomas and 3 crazy & always hungry cats. I'm a Photographer with my own Wedding Photography Business and a Mixed Media Artist and I'm loving every minute of it :)
2. You call yourself a planner addict and have a big passion for planners and journals. You even have a separate blog and Instagram account especially for planners called The Mintgreen Polkadot! Can you let us know why you love them so much and how you use them in your art process and your art business. Do you have a favourite?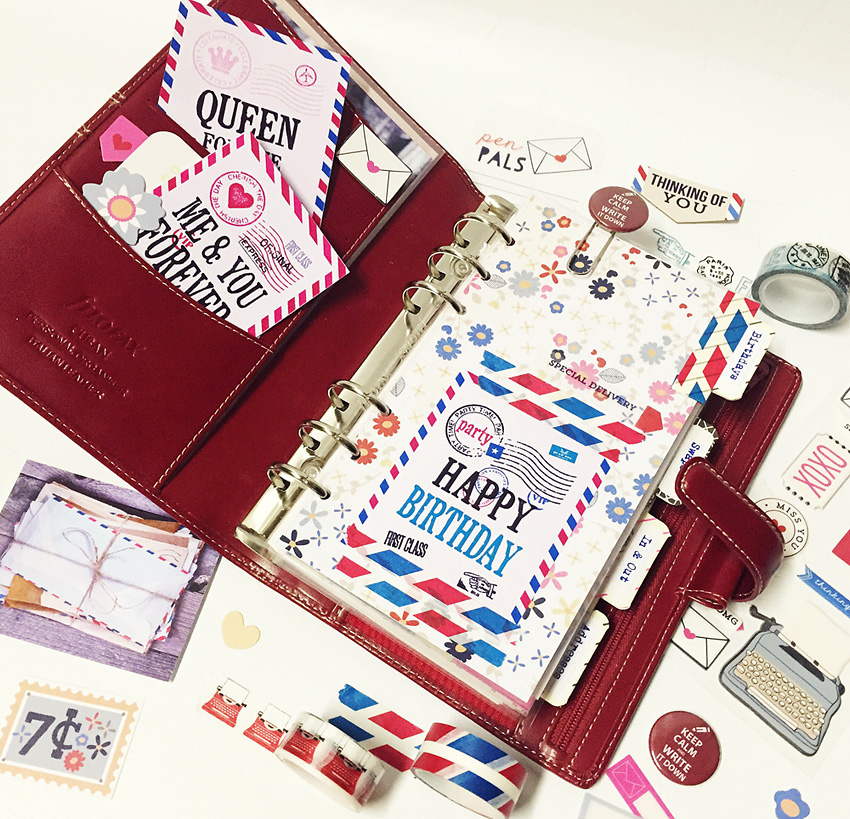 I use Planners for organizing my Life as well as for creating Art in them. I've always been a "List-Person" and a "Journal Girl" … for as long as I can remember I kept a Diary and I planned my tasks on Lists and Note-Sheets (of course they where all over the place and the List- & Note-Chaos only made it worse instead of helping me to be organized *lol*) – so I decided that I needed something to get more organized.
When I picked up my first Filofax at the end of 2013 I was in love. I was surprised about the Online Community that already existed around Planners and creative planning (little did I know how much that Community and the "Hype" would grow over the next months / years). I knew I found a new Passion which would help me to keep it all together – which not only would help me to stay more organized with all my tasks, appointments etc. – in business & private – but I also saw all the amazing creative possibilities a Planner holds … journaling, memory keeping, smashbook, artjournal, sketchbook … there are so many fun purposes you can give to a Planner. That's why it didn't take long till I got my second Planner … and third … and … well – you get the idea ;)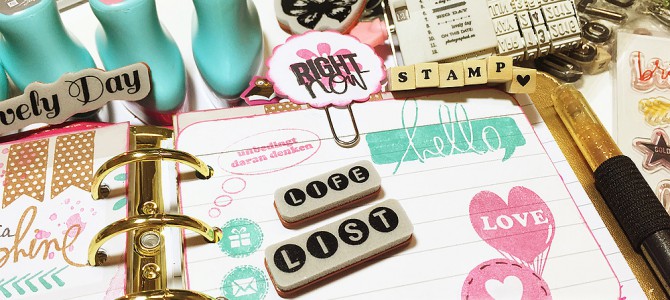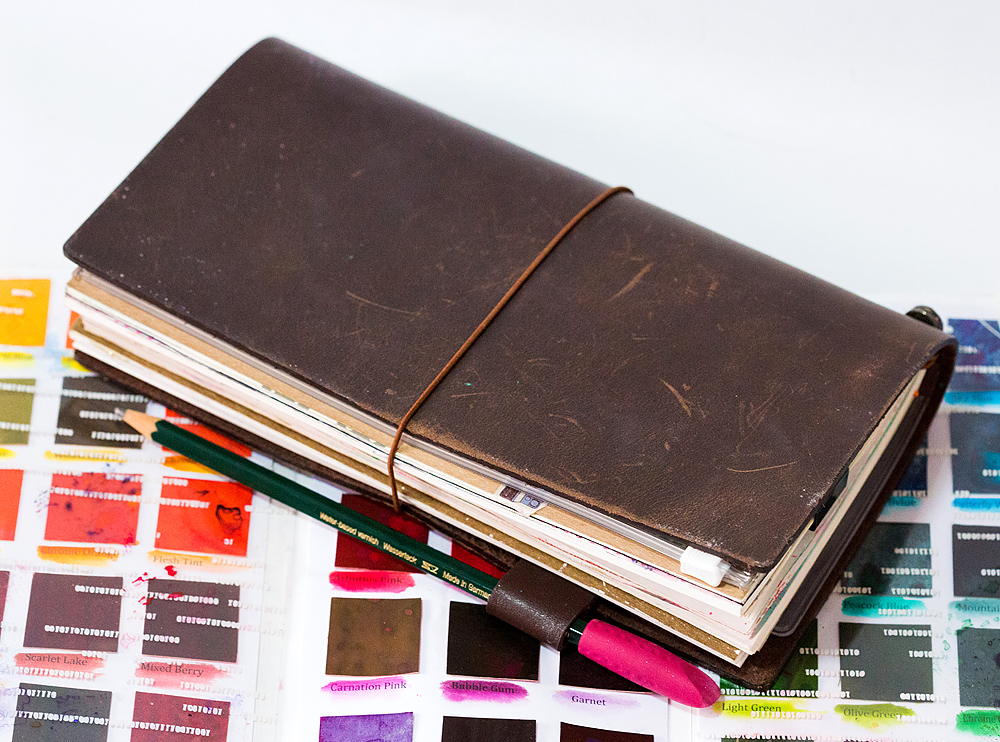 My favourite Planner is probably the Midori Travelers Notebook type of Planner. I really love the ringbound Planners like the Filofax or the Webster's Pages Color Crush Planners – but a Travelers Notebook style Planner gives me more the feeling of a Sketchbook / Artjournal – so the Midori is the Planner I'm using as my Artjournal & everyday Sketchbook. It's a very simple System but absolutely genious. You can add different Booklets to it which will be held in Place with a rubber band – and I prefer not having those Rings disturbing me especially when writing/journaling a lot or when drawing / sketching.
The Travelers Notebook helped me to take my Artjournaling in a new direction. In 2014 we lost my Dad as well as my Father in Law and that makes you think about many things in your life and it also lead my process & purpose of my artjournaling into a new, slightly different direction. Till then I did artjournaling just for artjournaling sake – most of my Pages where pretty but for me they had very little meaning in them. The last Year has shown me the importance of preserving memories – all the little everyday-moments – so lately I'm making that a focus of most of my Artjournal Pages. I use my Midori Travelers Notebook to fill the Pages with more Journaling than I ever used to and I add Sketches / Drawings & Art to illustrate. Still creating art, playing and having fun – but at the same time preserving everyday memories. And in a couple of years from now those Journals will be not only "pretty to look at" when you flip through the Pages, but they will hold so much more – they will become a little treasure because they hold your memories – the good – the bad – and even the ugly ;) This way even the small, ordinary things become meaningful.
I have a little Video for you, sharing with you the Process of some artjournaling in my Midori Travelers Notebook and I hope you'll enjoy it and maybe it will inspire you to go more personal with your Artjournaling as well …
Click the 'play button' to watch this video: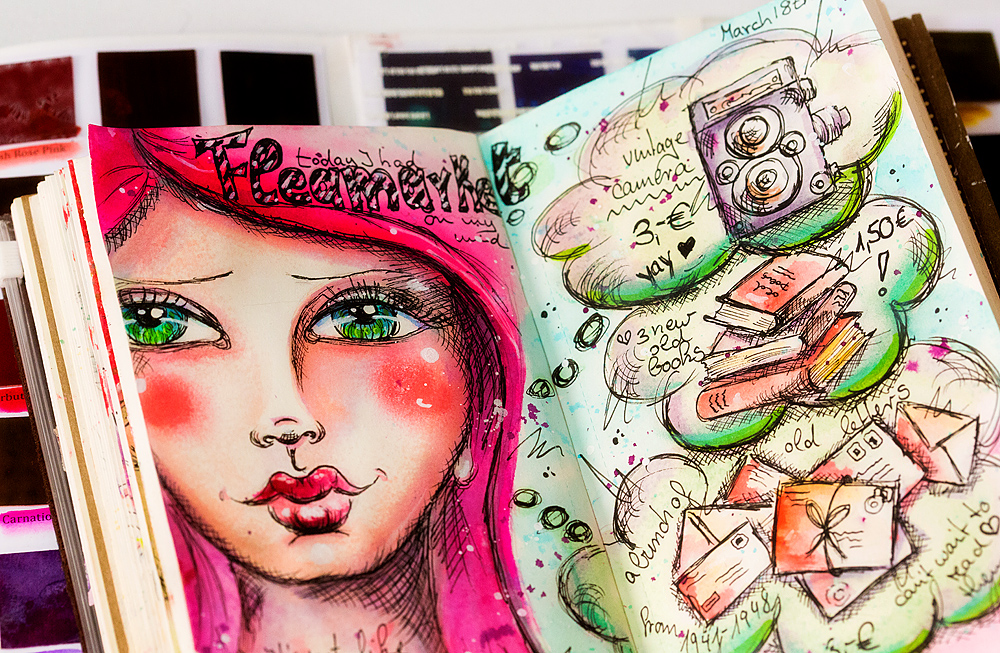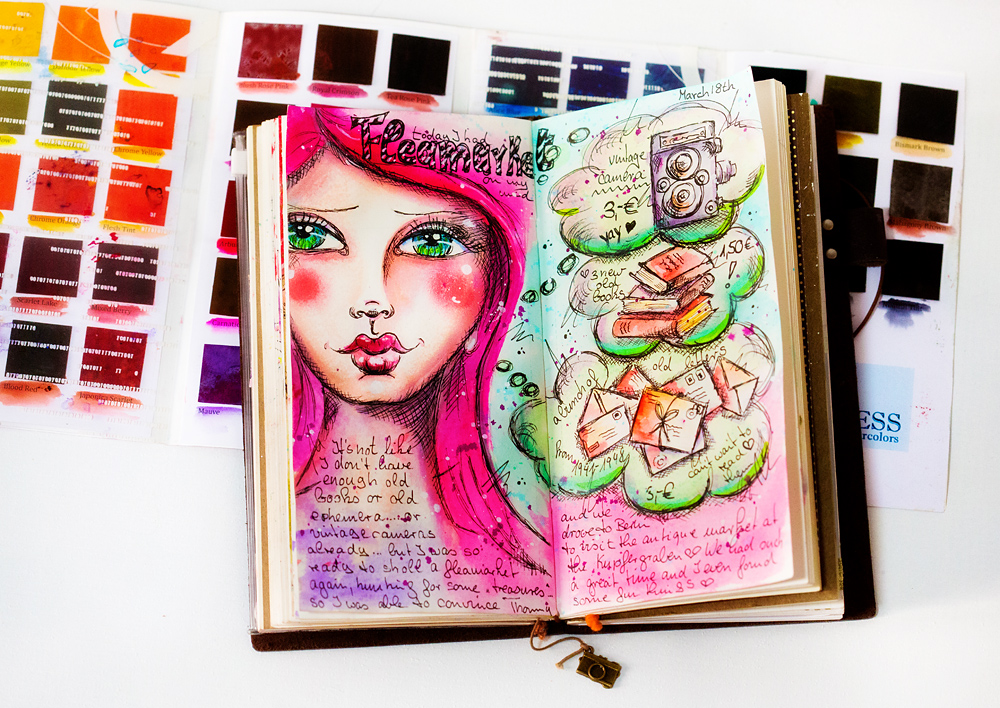 3. I follow you on your Instagram and can see your love for art journalling, you seem to journal very regularly. Tell us about the first time you started art journaling and why you started art journalling. What makes you continue to art journal?
It's hard to say when exactly I started artjournaling because it kind of was a process – I was already doing some sort of artjournaling long before I knew that it WAS artjournaling I guess. Already back in school (and yeah – that's already more than15 years ago … where did the time go?!?) I was keeping a Journal and I added collages to it of Magazine Cutouts, Tickets etc. – I doodled and added little drawings … guess it was a mix of an Artjournal & Smashbook … but I started my first "real" Artjournal after I learned about Artjournaling in an Issue of Somerset Studio, which I stumbled upon on our Vacation in the US in 2003. There was an article showing different Artjournal Pages and all the fun things people did with Paint, Ink, Markers etc. – I just LOVED the combination of Words and Art, Photography and everything in between – it was a perfect combination of everything I enjoyed (writing / jounaling, stamping, scrapbooking, drawing etc.). It seemed like a perfect solution to bring it all together, to be able to do it all and to bring together the best of all those different "art-worlds"
From that time on it was kind of an "on-off"-relationship with artjournaling …. I used to have periods where I enjoy artjournaling a lot and do it almost every day – then there are periods when I enjoy other artsy things (like papercrafting) more and neglect my artjournals for a while – but I'm always getting back to it because after a little while I start to miss that creative "no rules" outlet …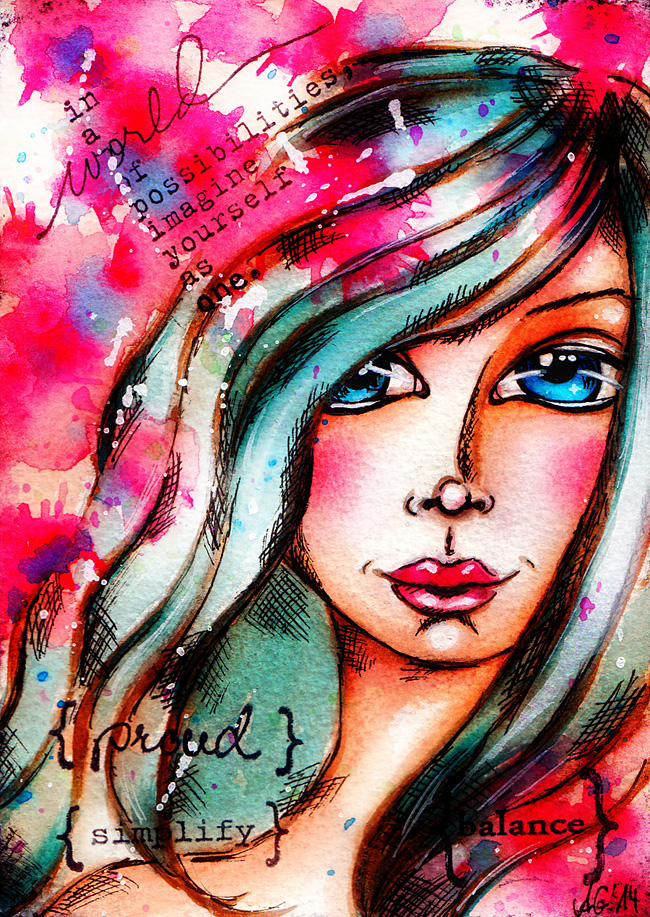 4. You also run a photography business, can you tell us a bit about that. How do you fit your creating and art journalling in with the photography business?
Yes – I started my own Photography Business back in 2008 when I quit my Job as a Media Designer in a small Advertising Agency in Berlin and it was one of the best decisions I ever made. Till last year I did Wedding Photography but also Maternity-, Newborn- & Family-Photography in a Studio – but the Wedding Photography Part grew so much over the last Years that I decided to cut back and to focus on doing Wedding Photography only starting this year – 'cause the Wedding Photography is the part that I enjoy the most. It's just so wonderful to be able to capture memories – all the big moments and all the small details – of a couple's big Day in a creative, modern Way and to take pictures and create a Book telling their story which they will treasure for a lifetime.
Sometimes it's a little bit of a "juggle-game" to "be there" 100% in both parts of my Business – the Photography-Part AND the Art-Part – but I've learned to organize it so it's working perfectly to be able to fully commit to both branches of my. What helps is that wedding photography basically is a seasonal business in Germany – most of the weddings are March-October – so during those months I of course have to put my focus on the photography part a little more – November-February I can fully & completely commit to my art. But also during the wedding season there's enough time for art … usually I spend fridays & saturdays at weddings (most of the time I'm there with my camera for 8-12 hours on a couple's wedding day) – then for the rest of the week I'm in Studio editing hundreds of Photos, designing photo books for my couples etc. – and doing Paperwork *lol* – but I always make sure I have time for some art on a daily base – even if it's only a little sketch – I just need that and I already start to feel "uncreative" if I don't do anything artsy for 2 or 3 days :) It's all a question of organization in the end, of focusing what's most important right now and of finding the right balance between what needs to be done and what you want to do ;) 
5. What are your favourite art materials to create with and why?
Even though it's a very simple Question that's really a hard Question for me – because there are so many different supplies & medias I just LOVE to use & work with and it usually changes every other week / month … I am really eclectic and enjoy working with many different supplies & combining them. One month I might totally dig Alcohol Markers, the next month I might enjoy working with Pan Pastels the most and then again that might change and my favourite media might be Watercolor …! That's one thing I love about Mixed Media Art – you can use whatever you fancy – try out & learn about new media – combine different materials and techniques in any way you like …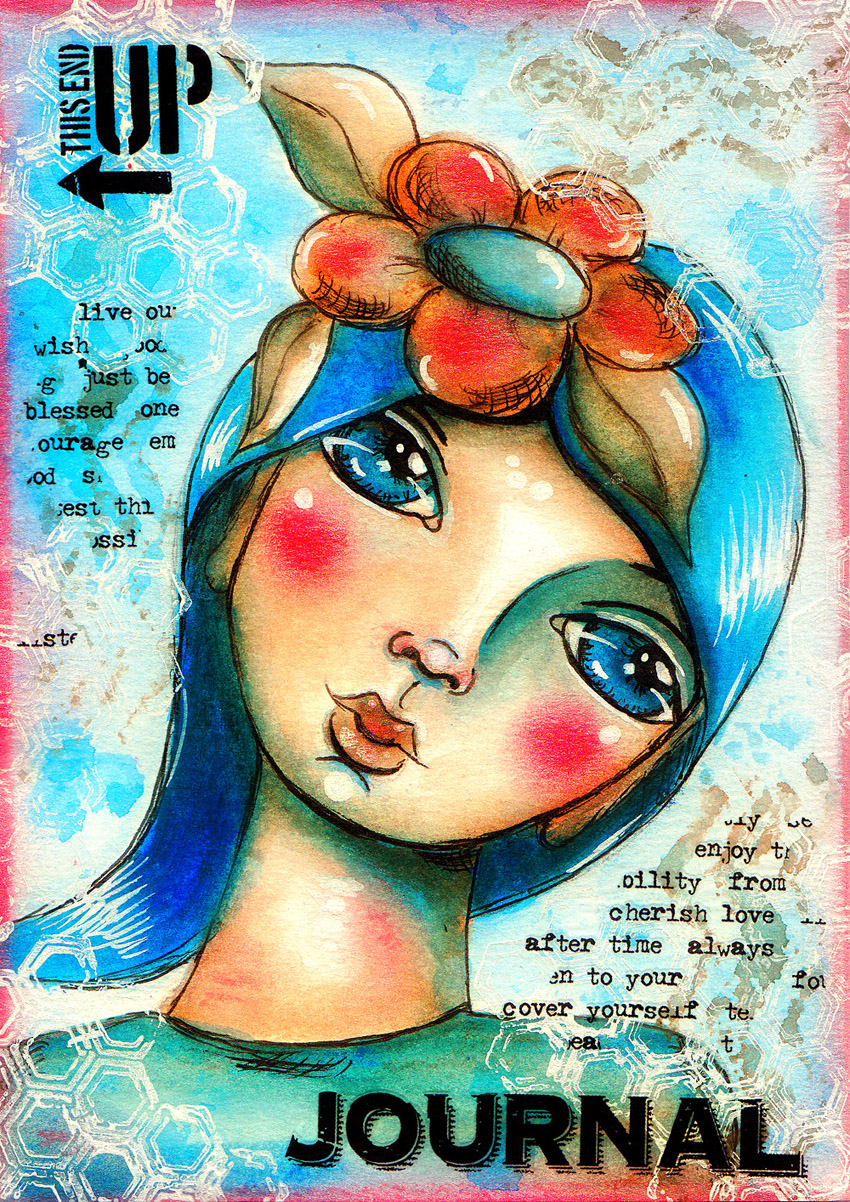 But if I would have to decide for some favourites it definitely would be Pen/Sketchmarker and Watercolors. A Pen / Marker because along with some Paper you can get creative anywhere – anytime – doodle, sketch, write, draw … And I just really really enjoy the looks you can achieve with Watercolors – you can lay down fun, bright and funky colors but you can also work very light, pastelly … I also enjoy quick Sketches in my Sketcbooks and adding some Watercolor to them doesn't take long yet it makes the sketches come to live. Another thing I love about watercolor is that you only have influence to a certain amount. Results with Watercolor always have a certain percentage of "random" – they tend to do "their own thing" and I just love that.
Another favourite Material are fleamarket finds :) I just LOVE to spend Sundays on Fleamarkets / Antique Fairs to hunt for some vintage treasures (well – treasures to ME *lol*). I'm always on the lookout for old ephemera, old books with beautiful writing or beautiful illustrations, old sheet music or old Letters / Postcards / Stamps etc. I just love the idea that something that old, that otherwhise maybe would have been thrown away get's a "second chance" and a new purpose by incorporating it into my Art – makes it so much more meaningful if there's a Letter in the Background that actually has been written with love and has been send back in the 30s – maybe it travelled half the world – it was dear to somebody – maybe somebody has read it over & over again (and it must have been of some meaning – otherwhise it wouldn't have survived for so many centuries) … much more powerful than just a printed "fake" piece of paper. I just love that idea to have those authentique pieces incorporated into my Journal Pages or Mixed Media Pieces.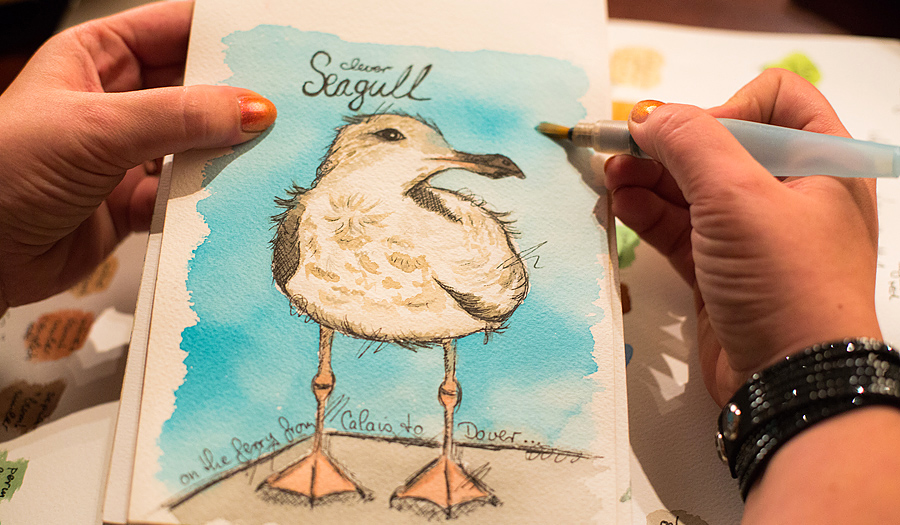 6. What inspires you and what things / people / art has made you think 'I want to paint / draw / create that'?
There are many things that I draw inspiration from. I truly enjoy Magazines (for example the Flow Magazine and Daphne's Diary) and flipping through them, looking at beautiful designs & images, reading inspiring articles – that always inspires me to create. Another thing that I LOVE to take for inspiration is – plain & simples – everyday life …! I just love to sketch everyday scenes, nature scenes, animals, plants, flowers, the changing seasons, the cup on my desk, the tulips I just bought … so much inspiration there right at your fingertips. And I love to combine those elements with my "Girls" or sketch them in a more whimsical way.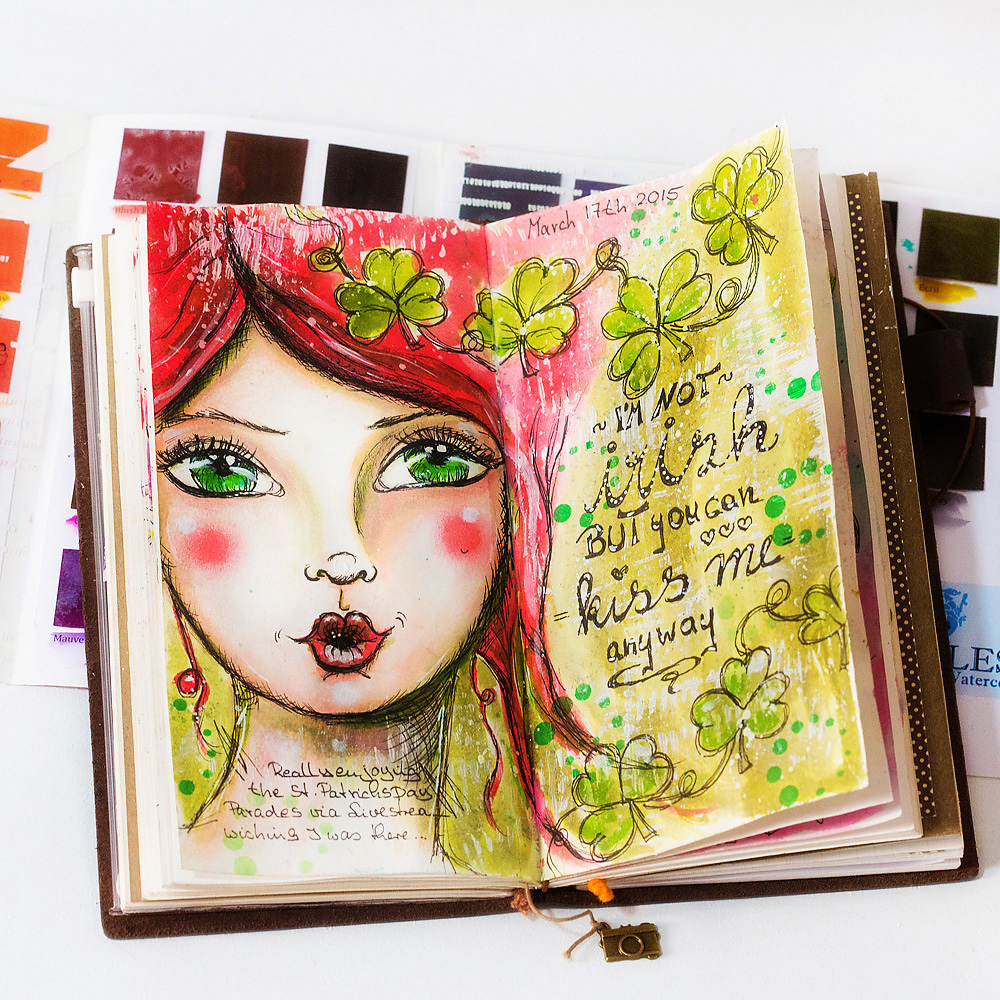 I guess once you realize that there's so much inspiration in everyday life – once you really learn to SEE all the beauty that surrounds us everyday and once you learn to use that as inspiration for your art it's an endless source of inspiration. In my Online Class "Sketch your Life" I'm talking a lot about that and showing many Ways on how to learn to sketch your life and it's so relaxing and fulfilling at the same time to really take time to SEE (because in our fast paces world we usually look at something – maybe we snap a picture – but we almost forgot to really SEE something – to spend some time looking at a scene or object, studying the colors, the shape, the lighting …) I think that's something we should really try to get used to more again – being mindful and really enjoying the small things and moments. Ever since I started to "sketch my life" there are moments everyday that make me think "I want to sketch that!" – it might be some colors that inspire me or interesting shapes – or just everyday moments that I want to remember because they had a meaning or an impact on me in one way or another … and they'll go in my Sketchbook or in my Midori Artjournal :)
If you are interested in learning how to "sketch your life" – I have a special offer for you – you can sign up for my "Sketch your Life" Online Class for a special discount Price* … you can find more Info and sign up here: http://andrea-gomoll.de/class_special/ – (* this special offer is valid for 3 Weeks of the Blogpost being published)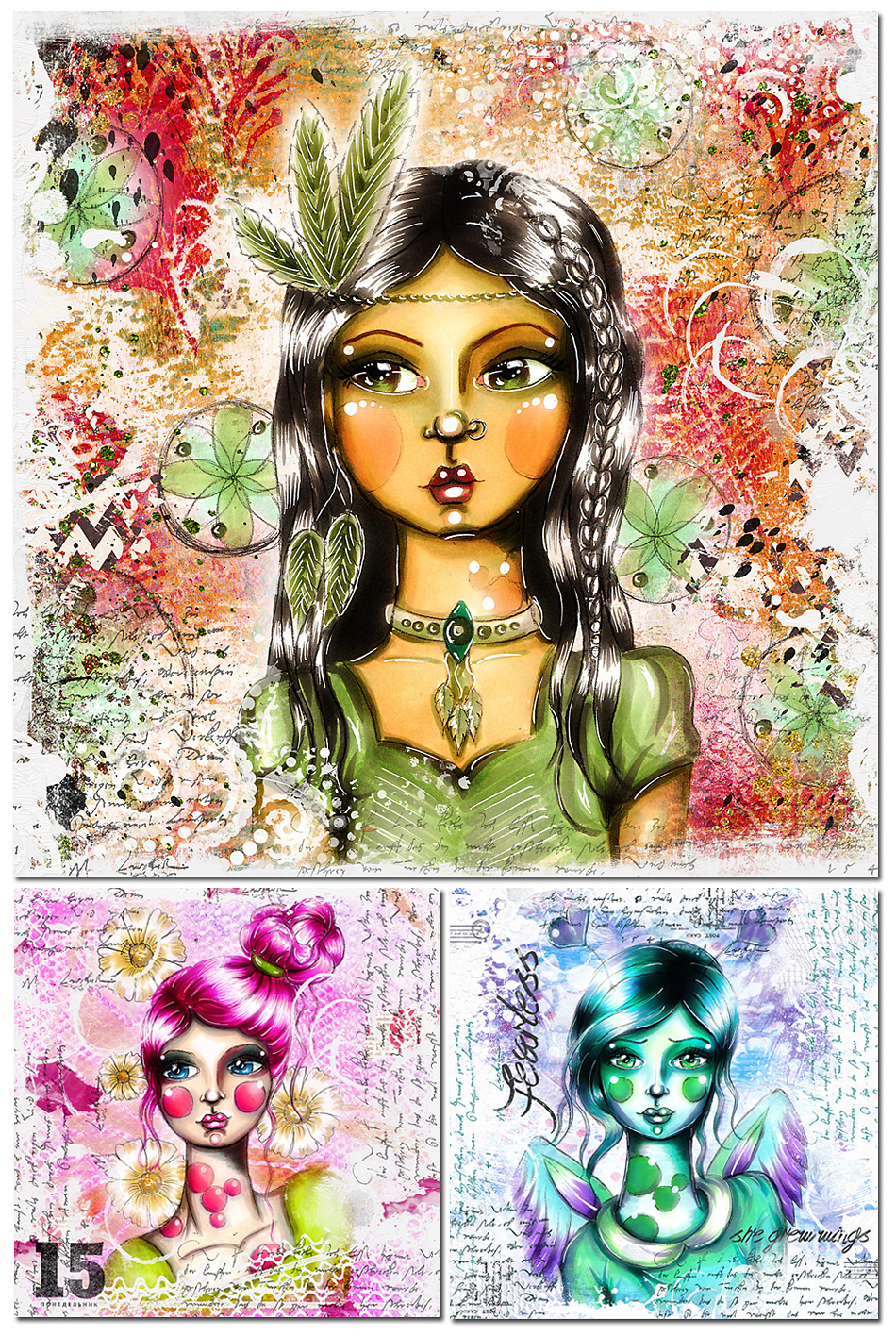 7. What piece of advice would you give to new art journallers? …and to experienced / seasoned art journallers?
An Advice I give over & over again to my Online Class Students and I can't stress about this enough is: "Enjoy the Process and embrace imperfection!" – it's been heard & said many times – but it's so true and can't be said often enough. Some people – especially those who are just starting out – tend to be overwhelmed, they want to make everything "perfect" right from the beginning – they compare their work to the work of others (who maybe are more experienced – so it's like comparing pears to apples) – they stress so much about perfection and making everything "right" that they forget to enjoy the process of creating, of artjournaling …!
I think there is no such thing as "right" or "wrong" in art and there is no such thing as "perfection" in art. And that's the best about it … as long as you enjoy what you do, as long as you spend some quality time having fun with paint, ink, pens & co. – it IS perfect – because in the end that's what it's all about. Accept that not everybody will like your work (does really EVERYBODY like the work of Warhol or Kandinsky?!?) – and that that's not what's important – it's important that you like it and enjoy the process of creating it. And your style will change & develop over time – as stupid as it sounds and nobody want's to hear it but: Practice makes Perfect! (even though I would rather say "Practice helps you improve and come closer to what you want your art to look like!") If you look at somebody's work – a person who's art you really truly admire – you might think "I'll never ever get there!" … but that person once has been EXACTLY where you are right now. Now go figure and imagine the possibilities – imagine where YOU could be in 3 or 5 years if you just keep on playing, practicing and enjoying what you do … :)
Another Advice – I guess that applies to everybody who is creating something – no matter if newbie or seasoned artist – would be: "don't think – just do!" – don't think what other people might think about your work, about what you do or say or write or share! It's YOU – your life – your art – your path that you have chosen for you! There will be people who love you & your work – there will be people who don't care and there might even be people who don't like you & your work at all. And that's okey! Don't ever try to please everybody – because no matter how hard you try – it's IMPOSSIBLE. Just do what feel right and good and you're exactly on the path you are meant to be on!
8. Is there anything about you / your art / your life that you think the readers would be fascinated to hear, or wouldn't know about you?
Some people that are following my creative Journey for the past 2-3 years only know me as a "Mixed Media Girl" – and they always seem to be surprised to see me also do "normal" Papercrafts from time to time (like Scrapbooking, Cardmaking, Stamping etc.) – then they're surprised when I tell them that I've been doing that for many many Years – I was WAY into Scrapbooking & Papercrafts starting 2001 – I even published a german Scrapbook Magazine (Scrap Art Zine) with over 20 Issues (published quarterly from 2007 till 2012) – so it's not that "new" when I'm doing other Papercrafts – it's just that I don't do it on a regular base and if, then I don't share my "normal Papercrafts" very often ;) So yeah … I'm not only Paints, Markers & Inks but also Photos, Scissors & Paper ;)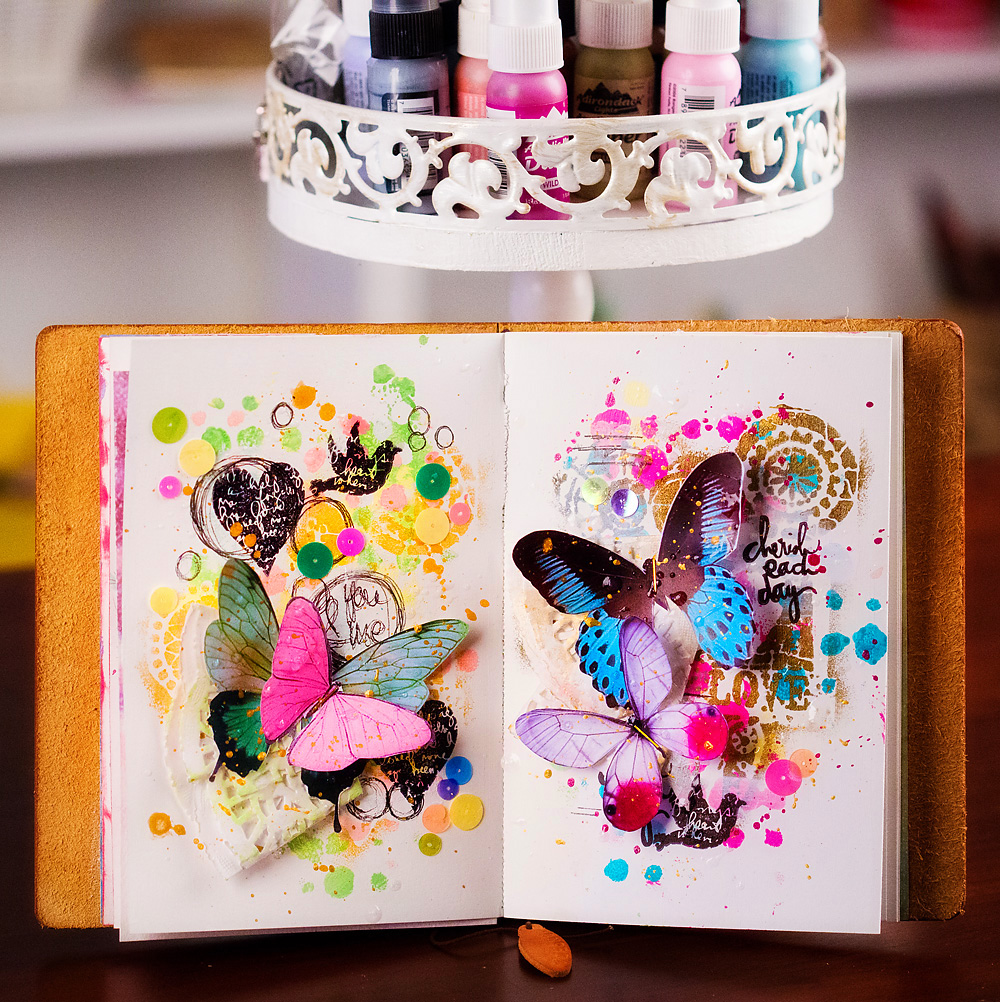 Thank you for chatting and sharing with me Andrea! If you'd like to find out more about Andrea please follow the links below :) See you next time! Love Gracie x
Blog: http://andrea-gomoll.de/
Instagram: http://instagram.com/cre8tivecre8tions & https://instagram.com/themintgreenpolkadot/
YouTube: https://www.youtube.com/user/AndreaGomoll
My Online Classes: http://andrea-gomoll.de/classes/