Hi Everyone! Welcome to the third interview in a series we are running on the blog called: Tea & Cake with Gracie :) My awesome friend and colleague Gracie Howle is interviewing inspiring artists and posting the interviews (including some free offers not published elsewhere before) here on the blog every 2 months or so. I love to create art and bring amazing artists & people together in my classes, in person and on social media. As part of this drive, I really wanted to help bring more exposure to some of the amazing artists out there too! Today Gracie's interviewing the lovely Rachael Rice. Be sure to check out Rachael's free video tutorial and also her free digital product 'ROCK YOUR ETSY' (a guide about how to use Instagram to sell handmade goods – which is part of a course Rachael runs with Kelly Rae Roberts called 'Flying Lessons') as part of this interview! xox Tam
 If you love Artist Interviews make sure you read the previous ones here:
Read about Andrea Gomoll here.
Read about Angela Kennedy (Pennystamper) here.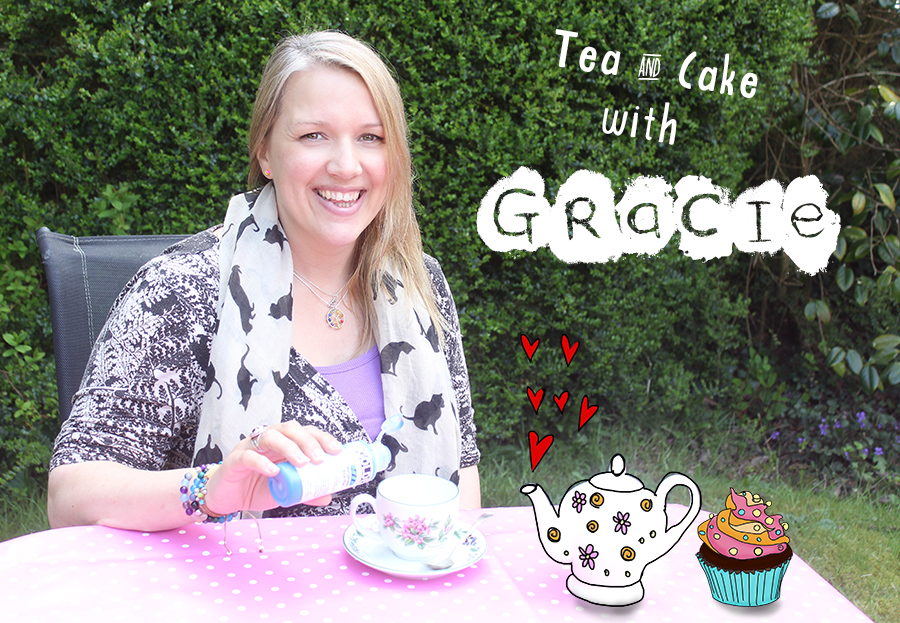 Hello! Gracie here from Willowing Arts! :) Have your cosy blanket, cuppa tea and muffins at the ready! ;) This is 'Tea and Cake with Gracie', where I ask an inspiring artist about what makes them tick, and probe them about their art, life and loves. Today, I am sharing with you an interview with the gorgeous Rachael Rice. Be sure to check out her free offerings below! Thanks for being here :) Enjoy!
1. Welcome Rachael! Tell us a bit about yourself and what you do.
Once upon a time I was a public school art teacher for 15+ years. I did a lot of community-based arts with all kinds of folks, mostly working with folks experiencing poverty, in inner cities, rural areas, and doing public mural projects. I also did a lot of work with non-profit startups. Meanwhile I was always making, painting, creating, and started an Etsy store. So when I moved to the US West Coast in 2011, I merged all those skills and am now teaching online and on land (Soul Camp West and Into The Dreamtime this fall), creating and selling work, and I have a few select clients for whom I do some creative business consulting mostly around effective use of social media. I also write and speak a lot about creativity and being an actively engaged artist.
 Rachael's created this free video tutorial, especially for Willowing Arts readers, which shows how she creates her Stamped Feathers.
(Click the 'play button' to watch this video)
Rachael's also offering a free digital product called 'ROCK YOUR ETSY'. 'ROCK YOUR ETSY' is a guide about how to use Instagram to sell your handmade goods and is part of a course called 'Flying Lessons', which Rachael runs with Kelly Rae Roberts.
(to download this PDF right-click on image and choose save target or link as. Or download from this link: RachaelRiceRockYourEtsy.pdf)
Learn more about Rachael by reading the following interview:
2. Where do you art? Do you have a set time that you 'art', or is it whenever you feel inspired?
I have a studio in the Southeast industrial district in Portland, Oregon where I make a big mess a lot. I have a fairly rigorous creative discipline. Kind of like that quote by Somerset Maugham: "I only write when inspiration strikes. Fortunately it strikes every morning at nine o'clock sharp." Haha! I basically spend as much time there as possible, and I tend to say no to a lot of social and work stuff so I can keep that momentum. My routine is getting up around 7 or 8, have a little coffee (mostly decaf), hike up the extinct volcano I live near, have a smoothie, sit in meditation for 10 minutes (I really hate this part), take care of office/computer/social media/email stuff, and then head into the studio for the late afternoon/evening. I have some portable supplies that I take with me like watercolors and sketch books and markers so I'm never without something to scribble on.
3. You call yourself an 'Artist + Provocateur'. I'm intrigued to know why you call yourself a 'provocateur', a quick google search brings up this definition of the word: 'a person who provokes trouble, causes dissension, or the like; agitator'. I'd love to know in what way you see yourself and your work that way? Tell us more! :)
I'm at a place in my life where my activist roots are really intersecting with my creative impulses. So I've been using my online presence to draw attention to some areas where the mostly white, middle class world of art retreats and online instruction consistently fails to reach, or even approach with concern. So I've been really looking at how my own issues of privilege, cultural appropriation, and isolation from people outside my own demographic impact the change that we all need to be working toward. Particularly around climate change, civil rights, and new economic models as well as healing modalities. Mostly I just have an inborn extra sensitive crap detector and it goes off periodically on my blog.
4. You mention that the dreamcatcher-type pieces you create are an homage and tribute to the peoples who taught you the craft growing up in Oklahoma and that you even donate a portion of your sales to Indigenous Rights groups. It sounds like this experience as a child, of being taught this ancient craft, really affected and resonated with you and even now influences a craft you use in your art. Can you tell us some more about why you think this childhood experience influenced you and your art so much?
For most of the first decade of my life, I was in Oklahoma and there was a sense that the indigenous culture wasn't some long lost ancient forgotten tribe but was very much alive and visible. Lots of street names were in Cherokee. All little kids learned to make moccasins, dreamcatchers, beaded necklaces…we studied totem poles and shields and The Trail of Tears. Of course there was a lot of questionable and problematic dynamics around how the indigenous arts, crafts and traditions were taught in that time period of "multicultural education" which often took the "food and festivals" approach and didn't dig much deeper than that. But I was lucky enough to have been exposed early on to the atrocious history of genocide of the indigenous peoples and my parents had enough indigenous people as friends (like, close friends such as Tari Thundercloud, a Navajo artist my dad did peyote sweats with) as well as people of color who were very close to our family. My father became radicalized after seeing combat as a Viet Nam vet. My parents spoke with me very early on about racism — not just overt stuff but subtle stuff that we now are calling "white privilege" and "structural racism" — this had a tremendous impact on me and the work I do now. But it wasn't until I started teaching the dreamcatcher craft to my own students that I reawakened my interest in them. And the truth is, I've always been a crafter and painter, but for whatever reason, the dreamcatchers are what ended up becoming the most popular of all the media in which I work. So if we get together to weave a dreamcatcher, in a workshop or something, these are the kinds of conversations we're going to have.
5. I love your feather-inspired works. Many of your pieces feature feathers, can you tell us more about what feather-symbolism and feathers mean to you and why they often occur in your work?
Ah thank you! Well if you look at the Oklahoma Stage flag, it has seven eagle feathers on it. My father studied as an ornithologist before he got his PhD in plant physiology, so the amount of bird books around my house growing up was a little crazy. Birds all start out as male and then differentiate, unlike human embryos which all start out as female. Which is really interesting considering that the males tend to have much brighter and fancier plumage. Also they can see UV light, so some of the feather colors we see are very different from what they see. Some feathers make noise, some are silent like those of owls. A fully formed feather isn't even alive, but it can last for centuries. They represent transformation and ascension. I enjoy them because they are both durable and diaphanous, both of this world and of another.
6. You work a lot with charities, groups and people who are in need of care and attention; you say 'my work has always been with the forgotten, the overlooked and the under-funded.' Can you tell us more about why it's important to you to work with/ for [marginalised] people?
I would say I have tried to create more space for "non-dominant voices." My teaching is grounded in critical pedagogy and educating for democracy and constructivist theory — these are still radical approaches to instruction even though Paulo Freire has been dead for almost 20 years. I mean we need to consider exactly who we're teaching, what their unique and common set of life circumstances are. If I'm only teaching art to people (or learning about art from people) who are just like me, I'm not really doing the kind of edge-walking that truly creates the kind of world we all need: one in which everyone feels like they belong and have a voice.
So I avoid words like "help" and "empower" because it sets me up as some kind of savior in which I'm lifting someone up to "my level." And that's just gross. So while I think it's really important to understand how I operate from a place of privilege where I inherently benefit from it at the expense of others, because the system is set up that way – and we white folks collude with it because it's obviously in our best interests economically to do so, I'm more interested in a) dismantling those systems and b) creating new ones rather than making sure "marginalised people" get all the same opportunities to be consumers. I hope that makes sense.
But to answer your question, I think it's important because I'm very concerned about the future of human and more-than-human life vis-a-vis the Holocene extinction and the Anthropocene. The people who are being most affected by climate change are people of color, indigenous people, people whose lands have been colonized and continue to be by oil pipelines, copper mines, tar sands, fracking, and the toxic lie that is "nuclear energy." So if I really want to be about love, and about unity, and about healing and personal growth, then it can't just be for me and middle class western white people. I have to support the people who are resisting the forces that threaten the water and the plants and the animals. With a sense of both deep grief and abiding joy, not because I feel like I have to do this work, but because I get to.
I do it because I want to use whatever time I have to do what I can to make life better for others, especially those whose day-to-day existence isn't as comfortable as mine.
I do it because I don't really believe in happiness. Happiness is fleeting, like the weather. But joy is like the sun, it's shining all the time, behind the clouds. I do it for the joy that comes from a sense of service and connection to something greater than myself. Oh, and for my ego. My ego loves this stuff. LOL!
7. What inspires you to create? What's your driving force?
Kanye West. No, seriously. I know people think he's a narcissist or whatever — but I think he represents so much of what I think great art is about: being unapologetically 100% driven to execute your unique vision, being totally clear on your mission and purpose, pissing people off who try to get in your way, making people uncomfortable, being really inappropriate — I find him, at least as a cultural phenomenon if not as a human being, very inspiring. Haha!
I was two when I started drawing compulsively. Shapes in the condensation in the windows. I was three when I decided I would be an artist. I think we are born with a kind of acorn in each of us that can't help but become an oak. We mostly just have to get out of our own way. What drives me is the feeling I want to have. Sometimes I think it's oblivion and not bliss. But it's non-verbal, it's that dreamtime space of color, shape, form, pattern, texture, rhythm, contrast.
It doesn't even feel like it comes from me. I think it comes from Source: whatever it is that made something instead whatever the opposite of something is (it's not nothing, because nothing is something!).
It's fundamentally psychedelic. It's where I came from, and it's where I'm going.
8. What piece of advice would you give to aspiring artists?
Put in 10,000 hours. Resist conformity and convention. You don't have to get married and have kids to be happy. Yeah, I said it. You don't even have to have a "job" — get online. Get fired. Get weird. Get a mentor. Get some friends who don't look like you. Get connected to your bioregion. Look up your ancestry. Where did you come from? Who are your tribal, "way-back people" as Dr. Clarissa Pinkola Estes says? Read non-fiction, like actual books. Say no a lot. Give up all your excuses. Learn to love yourself. Be relentlessly, ruthlessly committed to creating.
9. Is there anything about you / your art / your life that you think the readers would be fascinated to hear, or wouldn't know about you?
I collect white nightgowns. I think sunscreen is generally a bad idea. Sometimes I lean on trees until I feel like my heart can absorb whatever stability they can offer, or until I feel like they can absorb whatever grief my heart must endure.
Thank you for chatting and sharing with us Rachael!
If you'd like to find out more about Rachael please follow the links below :)
See you for Tea and Cake next time! Love Gracie x
Website: http://rachaelrice.com/
Instagram: https://instagram.com/rachaelrice/
Shops: http://society6.com/rachaelrice and http://cosmicamerican.etsy.com
Online Holistic Creative Circle [affiliate link]: http://bit.ly/rricespectrum
Flying Lessons with Kelly Rae Roberts (The FREE Rock Your Etsy Instagram guide is part of this course) [affiliate link]: http://bit.ly/rriceflyinglessons
In person retreats in 2015: East Coast with Alena Hennessy: http://animyst.com/into-the-dreamtime/ and West Coast with Soul Camp (use code RACHAELSOUL for 20% off tickets): http://soul.camp/west