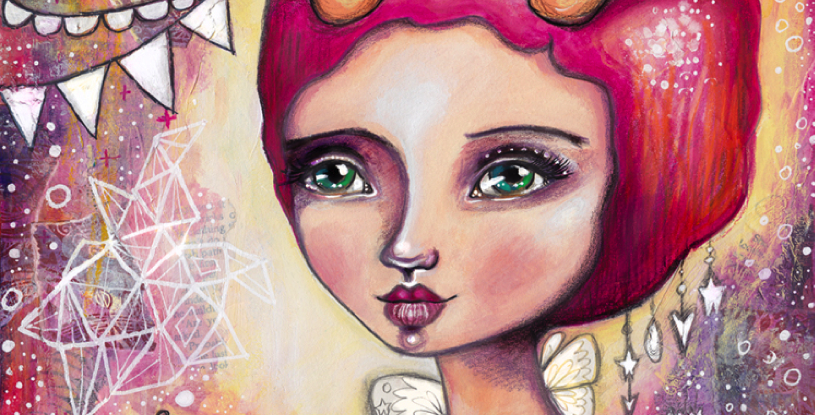 Hello there creative amigos!   
Happy new yeaaaaaaar!! :D Ha ha, I know it's the end of the month already, but because my life/ work situation becomes the craziest busy over Christmas and January my new year has really only just started, BRING ON THE FIREWORKS! ;) LOL. I'm sooo late to the party, oh well nevermind!
In any case: I wish you a beautiful, wonderful, spectacular 2016! And if you're already feeling the January Blues, may I give you a big squeezy hug and let you know that that is pretty common and usual at this time of year. We all get so excited and about all our 'good intentions' and then pretty much 'ruin them' in the first week and we feel all deflated and sad. It's actually pretty common, you're not alone dearest. Keep your chin up, mourn a little and start again. You can do this thing. I believe in you, you have great hair and a killer smile and your soul is LIGHTER THAN LIGHT. If you need an extra pick-me-up, THIS SONG usually helps me a great deal when I've fallen and need to get up again, also her is an ELEPHANT IN A TEACUP to cheer your good self up;
Now then, on our end the year has started with a HUGE creative bang (as always) with Life Book 2016 having taken off like rocket. It's been an amazing 1st month, people are making seriously so much awesome art, here are the first 9 projects of the year so far:
"Late"-comers arrive every day, they see beautiful art their friend is making or they hear from a friend how much they're enjoying Life Book and they jump on the Life Book Unicorn straight away with open arms! :)
You will get access to all previous content posted, you can download all content and you'll be able to jump into the current week (you don't have to start from the beginning if you don't want to). Work at your own pace, jump in and out, connect with fellow artists in the Facebook Group; it's all good. :)
I know all this sounds like a 'sales pitch' but really, I mean all this from the bottom of my heart and soul, just read all the positive feedback/ testimonials HERE from previous students about how much Life Book has made a difference to their lives.
Really hope to see you there, join the 3400+ people who've already joined. Don't miss out. :) 

And here is a new youtube video I made for ya all's ;) Hope you enjoy it! :)

***
"Fawn Whispers"

Buy a print of this painting HERE.
Save
Save
Save