Hi Everyone! Welcome to a series we run on the blog called: Tea & Cake with Gracie :) Where my awesome friend and colleague Gracie Howle interviews inspiring artists and posts the interviews (including some free offers not published elsewhere before) here on the blog every 2 months or so. I love to create art and bring amazing artists & people together in my classes, in person and on social media. As part of this drive, I really want to help bring more exposure to some of the amazing artists out there too! Today Gracie's interviewing the lovely Jenny Grant. Be sure to check out Jenny's free tote bag giveaway and free inspirational video. Tam xoxo

If you love Artist Interviews make sure you read the previous ones here:
Read about France Papillon here
Read about Jenny Wentworth here
Read about Kristin Dudish here
Read about Angela Kennedy (Pennystamper) here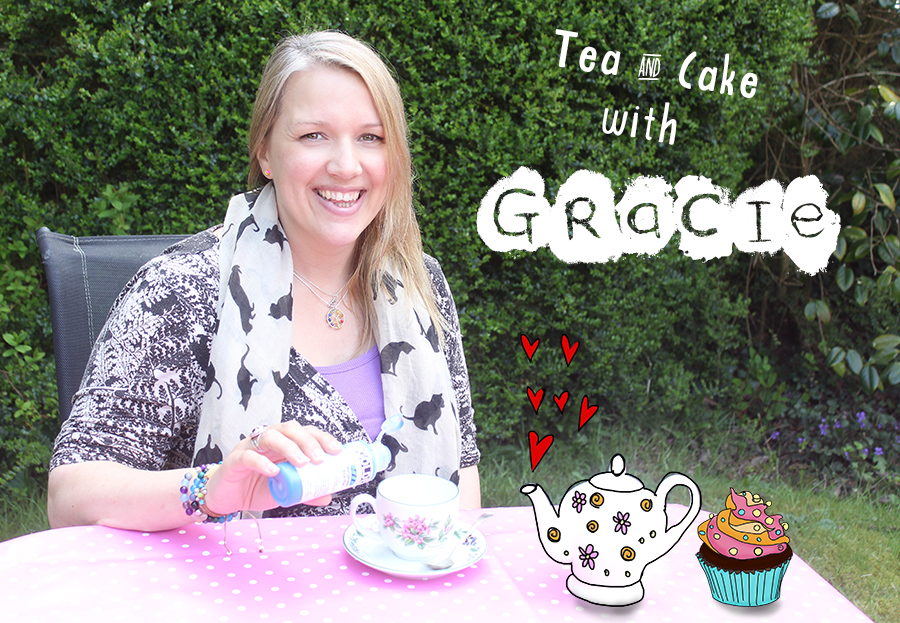 Hello! Gracie here from Willowing Arts :) Have you got your cup of tea or coffee and cosy spot ready? Great! ;)  Put your feet up and relax, this is 'Tea and Cake with Gracie', where I ask an inspiring artist about what makes them tick, and probe them about their art, life and loves. Today, I'm interviewing the lovely Jenny Grant. Make sure you also check out Jenny's free offerings below! :)
1. Hi Jenny and welcome! Tell us a bit about yourself and what you do.
I am Swedish living in Stockholm with my 3 children and my Kiwi husband (he is from New Zealand). My kids are 4, 10 and 12 years old. I am a Mixed Media artist and my art is hanging in private homes around the world.
Yoga is a big part of my life and I do yoga at least once a day. The mental and physical strength I am gaining in my practice is tremendous. I believe that we all have the power and knowledge within ourselves to live our lives in a harmonious way and that we can find the peace, so many are looking for, within. If we listen to our inner wizard we can achieve so much more than if we let the outside totally steer our lives. I love to inspire others to be brave, to let go, to listen and follow their inner voice.
In contrast to my Yoga practice I am also a big fan of high speed :) I love down hill mountain biking and down hill skiing. Two sports that we do, the whole family, together.
Jenny is giving away one of her gorgeous Tote Bags to one lucky reader! For a chance to win one of Jenny's tote bags, enter the giveaway by leaving a comment in the box below (near the bottom of this page). The winner will be chosen at random on Friday 22nd April and announced right here on this page :)

…and the randomly drawn winner is:
Stephanie
who said:
Yayyyyy! Congratulations Stephanie and thank you to all who entered the draw! :)
Jenny's also created this free inspirational (not previously published before) video for us, to help get those creative juices flowing! :)

Free Inspirational Video:
(Click the 'play button' to watch this video)
Learn more about Jenny by reading the following interview:
2. Where do you art?
I have my art studio in my garage at home. There I have enough space for all my stuff and all the mess I make when I find my flow. It is very convenient having it in my home being a mother of young children. I can pop into the studio whenever I get some spare time. I love my studio, not because it is fancy or beautiful in any way, it is very rough and quite dark but I love it because it is my space and I can find my flow in there whenever I have time or the urge to paint. I share the space with my kids and they love to use all my stuff and spend time in the studio. It is amazing what they create when the get the space and time to just be. There is so much to learn from kids when you let them be creative without any boundaries! I love my studio and I love to art with my kids!!
3. Do you have a set time / routine that you 'art', or is it whenever you can fit it in / you feel inspired?
I have two days a week set off for my art business. Unfortunately the administrative work and net-working on-line takes a lot of time and I quite often feel that I do not spend enough time in the studio. But because I have my studio at home I can find time in evenings and whenever I feel inspired I pop in and paint.
4. I find your paintings beautifully 'dream-like'. It seems like we, as the viewer, are 'glimpsing' at a surreal / 'otherworldly' space. Can you tell us a bit about how that style came about and what that means for you?
I create my art through an intuitive process where the imagery emerges while painting. When I find my flow, my intuition guides me through the process. For many years I had a mental block and did not paint at all. My inner critique and my expectations on the result were so strong that I did not paint at all for many years. One day I just decided to paint anyway with the only goal to have fun during the process. When I lost the interest to add more paint to the canvas I put it aside and I never looked at it again. This continued for a couple of years and was a very important period to find ways around the block and to find my flow again. Debris of the block is still around and I stumble upon it quite often, but I have now found ways to push through and ways to not let it stop me. Nowadays I do not think of the end-result and I just paint straight from my heart and not my brain. It is all about finding my flow and not let my analytic brain steer the process. When I find that flow my style is at its best!
5. On your website you say "I create based on a deep intuitive process. When I find my flow my intuition creates with passion. It might sound like a cliché but it is magical. When it happens it fills me with energy!". Can you talk to us a bit more about this and about your process?
When I start a blank canvas I very seldom have a picture in my mind. I start with adding paper collage; I write words and poetry that pop into my mind, onto the canvas. These layers and words inspire me through the process. I add each layer based on my feeling at that moment. I am big advocate of Jackson Brown's saying: "Don't wait for inspiration – it will find you".
I let my feelings and the layers guide me through the process. I might see something in the paint or I get an urge to paint something special. The images might take a major part in the final painting or it may not. I continue the next layer and focus on what I like. This process is hard to describe but when I find my flow I just paint and when I step back after a session in flow I'm often surprised by what I have created. The feeling and energy I get when the painting is taking shape is magical. It fills me and can energize me for several days.
I work in many layers that ad a great depth to my art. When I get stuck, I just keep going, I grab a colour and I work a lot with my own stencils and stamps to push through the obstacle and bad feelings. I work hard to concur my inner critique. My imagery and colours grow through the process.
I hang my work-in-progress around the house. I can then see and feel it when I do ordinary house work. When I get inspired or see something I grab the painting and add paint to it, in the middle of something else… a bit annoying for my family but it keeps mum happy… and it is worth all the half finished paintings hanging on the walls as long as mum is happy :)

I work with mixed media – acrylic paint, watercolour, ink, colour pencils, fabrics, paper, photos… anything that comes my way. With layers on layers my work becomes very rich with every layer adding depth and texture. People usually find my art very peaceful even though it is quite busy and colourful.
6. Out of everything you've ever painted/created what is your favourite painting/creation and why?
This is a very hard question. I usually have very strong feelings for most of my paintings especially through the process but also when I have finished them. To say that I have a favourite painting would not really be true but I have a couple of pieces that has a very special meaning for me for different reasons. One painting that is very special for me is one of the first paintings where I truly just let my intuition lead me through the process and the imagery emerged "by it self". In the paint I saw pictures and images and I added it in one after the other. The different images then took on special meaning for me. Nowadays I seldom talk about the stories the paintings tell me but let every one see what they see. If they see something and the painting talks to them that is great, if not I do not worry about that. Everyone sees different things, feels different feelings and has their own translation to what it means for them. This particular painting that I talked about above I call "Inner Wizard". This painting really taught me several lessons, not just about my art but about how to live my life. To be more relaxed and to let things happen the way they do. Not to force things through. This is very hard for me being an Engineer by profession I have been taught all my life that there are rules to follow and ways to explain everything. Nothing is true before it can be proven… but this painting in particular, taught me to be brave, to let go and just listen to my heart and soul, to my Inner Wizard.
7. Who or what inspires you to create?
I get very inspired by other artist. I love following artists on-line, both how their art develops but also how they develop as humans. I love the energy in galleries and museums but the best is working together with other creative people to be creative together and collaborate in the creative process. The energy around creative people is what inspires me the most at the moment!


8. What is the best bit of art advice anyone has ever given you?
Let go and just do it!! This is the most important advice to find my own flow. As soon as I get stuck for one reason or another I just have to let go and just continue. I think this is not only a good advice in my art process but also a good advice of how to live my life. Let go of the past and just do what I need to do to go forward!
9. Is there anything about you / your art / your life that you think the readers would be fascinated to hear, or wouldn't know about you?
I do not know if they will be fascinated but possibly surprised. I have a Master of Science in Physics. I have been working 20 years with Business Development within High Tech Devices and Medical Electronics. I still work part time with Business Development as a consultant through my own company. My education within physics and especially quantum physics is an area that I would like to explore more. Not from the point of view that I did when I studied physics 25 years ago but from a spiritual angle of consciousness and quantum physics. I am sure there will be an opportunity for me in the future in this area and I am staying open to be ready when it appears and the time is right to continue this path.
Thank you for chatting with us Jenny! If you'd like to find out more about Jenny please follow the links below. See you for Tea and Cake next time! Love Gracie x
Web: www.flowbyjenny.com
Facebook: www.facebook.com/jennygrantart
Instagram: www.instagram.com/flowbyjenny
Etsy: www.etsy.com/shop/JennyGrantArt
Pinterest: www.pinterest.com/flowbyjenny
Do you want to learn from Jenny? She teaches on Life Book 2016 this year! You can still sign up and join the 3600+ who have already joined! Hope to see you there!
Save