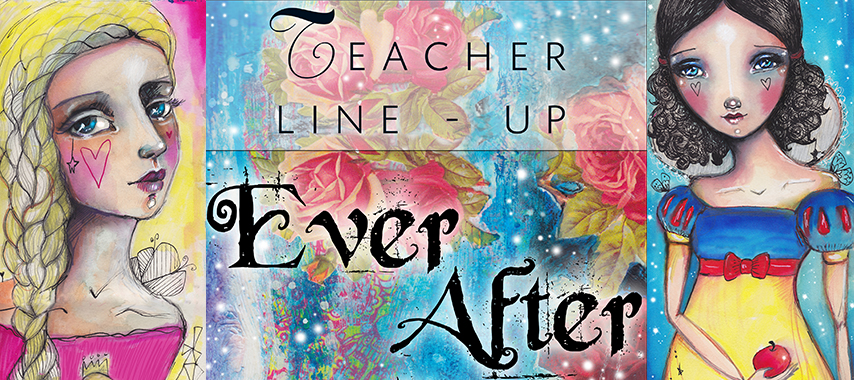 Hello fabulous ladies and jellyspoons, creative amigos and amigas, you groovy art gang you! I'm back from Australia after an amazing trip adjusting to the chaos that is JETLAG, zomg, I pass out randomly in the middle of the day, then sleep for 13 hours and feel exhausted the next day, what, pray tell, is that all about eh? ;) Steadily working/ sleeping through it, haha. :) In the mean time, we're preparing for the MEGA MOVE  TO THE NEW HOUSE WITH THE HOBBIT DOOR. We move next week, I'm both excited and anxious. I've moved 5 times in the last 5 years and know the stress house moves can cause, but I'm trying to ride the wave as best I can!
In other big exciting news, I wanted to reveal the teacher line up for my new up and coming collaborative course: Ever After! :))))) If you haven't read about it yet, here is a little bit of info (more in depth information will be available soon!).
So, Ever After is a new collaborative course I'm hosting which is rather magical because it has a 'Fairytale Theme' AND a 2nd module which focuses completely on style development. I've been running courses for so many years now and really wanted to finally offer an in depth course where students could focus on developing their own style!! (The question: "how do you develop your own style" is the top nr 1 most frequently asked question in my inbox!). It will run over 4 months, starting July 1st.
If you're not ready for style development yet then you can just take Module 1 on its own which simply is an awesome mixed media art class with a fairytale theme taught by some of your most favourite artists and fabulous teachers in our beautiful mixed media community! Each teacher has chosen a fairytale and will let their fairytale (or myth) inspire their lesson). I'm excited to let you know who will be involved today! We will let the fairy tales inspire our paintings and our story telling. The messages and symbolism of these tales and myths can help us develop our own voice, to be truer to ourselves and creative story telling abilities, I'm so excited to share the beautiful lessons with you! :)
Additionally we'll look at how we can start telling new and different stories based on the original fairy tales (eg: how about Snow White saves the prince instead?) Or how about Alice on a motorcycle? How about twisting and changing the fairy tales so that your wish comes true? The options are endless and  super super fun!! :)
The style development module is going to be so full of information, hints and tips, special assignments, a big juicy workbook, informative videos, demonstrations on how to derive inspiration and then take ideas to develop your style, self discovery (style development is all about getting to know yourself and telling the story of YOU, you know) and so much more. I'm super excited about both modules! :)
If you want to be one of the first people to be notified of the early bird details + all the nitty gritty informazione, be sure to sign up to the Ever After Newsletter:
And now without further ado, here are your awesome group of teachers!
(click on their individual images to visit their websites)
And as a BONUS contributor to MODULE 2 ONLY:

I'm very excited about this fabulous group of people who all have varied yet related styles which lend themselves well to the fairy tale themes of the lesson and also the style development segment of the course. :) Are you getting as excited as meeeeee?! :)
If you want to read their biographies and see some more of their gorgeous art, click on this teacher profile document:
The blog hop with lots of give-aways starts on May 2nd, and reg opens mid May! :) Get your 'Ever After Alerts' by signing up to the Ever After Newsletter: