Hi Guys! Welcome to a series we run on the blog called: Tea & Cake with Gracie :) Where my awesome friend and colleague Gracie Howle interviews inspiring artists and posts the interviews (including some free offers not published elsewhere before) here on the blog every 2 months or so. I love to create art and bring amazing artists & people together in my classes, in person and on social media. As part of this drive, I really want to help bring more exposure to some of the amazing artists out there too! Today Gracie's interviewing the lovely Karine Bossé. Be sure to check out Karine's GIVEAWAY and free video tutorial below! Tam xoxo

If you love Artist Interviews make sure you read the previous ones here:
Read about Jenny Grant here / Read about France Papillon here  / Read about Jenny Wentworth here / Read about Kristin Dudish here
Read about Rachael Rice here / Read about Angela Kennedy (Pennystamper) here/ Read about Andrea Gomoll here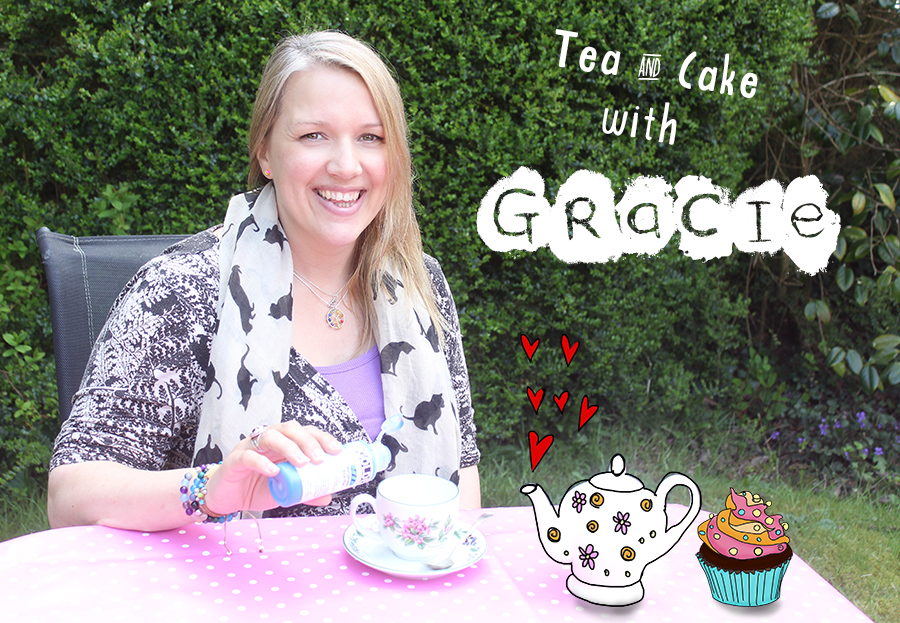 Hello! Gracie here from Willowing Arts -how are you doing? I hope you are well and groovy and your days are filled with big fluffy rainbow cake filled clouds <3 I've been off on maternity leave, but now, I'm BACK! Yayyyyy! I've been looking around for artists to interview and Karine was a MUST, I love her Art and loved interviewing her. (If there's anyone you'd like me to interview be sure to comment below and let me know). I hope you've got yourself a cup of tea/coffee/soup/soothing self love hot beverage and big slice of cake ready ;) …enjoy my interview with the lovely Karine Bossé :) p.s. make sure you also check out Karine's GIVEAWAY and video below! :)
1. Hi Karine and welcome! Tell us a bit about yourself and what you do.
I'm a graphic designer by day and an artist every other minute. I grew up drawing, painting and making dolls with whatever I could put my hands on. I was born and raised in a small place called Rivière-Bleue at the frontier of Maine and New Brunswick, so you would think I spoke English but it's a Francophone Region. I learnt English when I moved to Montreal in my early 20s after graduating from graphic design school.
Art was present as a hobby during my 20s but more in phases, I could go a long time without creating anything. I came back to it in my 30s, when I participated in a few local art exhibits and did a solo show that went well, but I only created sporadically for the next 5 years. That's when, without going into the details, my life change dramatically and I needed to find myself again. I had a void to fill and I remembered that art had always been the one thing that brought me peace. So I began to draw again, soon the paintbrushes were out, I acquired a sewing machine, started making custom plush toys that evolved into art dolls after I took an online class with Danita Art. That's when I fell in love with online classes and discovered an incredible community. I started to learn more about art journals, I always loved mixing media and trying to mix things together. If I can sew, draw and paint all together I'm pretty happy. I found Tam online (I can't remember how), and I found her energy and attitude stimulating so I signed up for Life Book in 2015. Well was I up for a ride! I meet so many people through that class and got invited by Kara Bullock to join as a guess teacher for Let's Face It. It was something I wanted to do for a while now so I did not think too much and just jumped in. I've been creating something almost every day for the past 5 years and never felt more alive. I reconnected myself with the one thing that made me happy as a kid and let it shine through every thing I do.
Karine is giving away this Little Watercolour Girl on wood panel (that she made in her video tutorial below) to one lucky reader! Enter the giveaway by leaving a comment in the box below (near the bottom of this page). The winner will be chosen at random on Tuesday 5th July and announced right here on this page :) 
…and the randomly drawn winner is:
Karen Veal
who said:

CONGRATULATIONS Karen!
Karine's also created this free (not previously published before) video for us! :)

Free Video Tutorial:
(Click the 'play button' to watch this video)
Learn more about Karine by reading the following interview: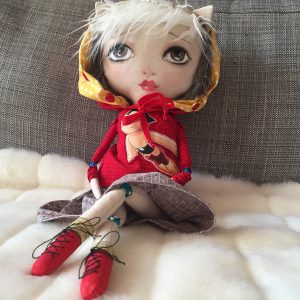 2. You say 'One medium is never enough for me, it is through mixed media that I can truly reach the richness that brings my art to life.'. If you HAD to choose, which is your favourite and why?

Can it be two? :) I love my colour pencils and my watercolour! It used to be acrylic and oil pastel. I go in phases… I can honestly say that I can never limit myself to only one but if I HAD to choose I would go with acrylic because it is more versatile. Although I can carry a set of pencils anywhere, it is more difficult with paint…. see I cannot pick lol!
3. If you were to pass on advice to you as a younger artist, what would it be?
Practice, practice, practice, put yourself out of your comfort zone, try as many things as you can, you are going to suck at it first (we all do) but keep going on, learn, adapt and change your mind as many times as you need to… and practice some more! A trainer once told me: you get the result of the effort you put in. It's ok if you don't have all the time in the world but believe me as little as 15 minutes will make a difference.

4. When you get stuck creatively, what keeps you going?
It does not happen much these days as I'm surrounded by creative people and that is very stimulating but, when I do have dry spell, you can usually find me in the kitchen, trying new recipes, creating but in a different way. Being physically active helps as well. I have a lot in the community garden that brings my zen on really fast! And it's ok too if I just feel like watching Netflix for hours in my yoga pants while eating ice cream (it's so rare for me to do that, that it's actually a treat). Keeping busy elsewhere, keeps things going and then new ideas just pop into my mind.

5. What are you working on at the moment?
I've got 2 main projects at the moment, my class for Ever After (thank you Tam for asking me it is a tremendous honour) and I'm working on putting together a class on my canvas journal for hopefully this fall. I'm working full time as a graphic designer but my summer schedule is a bit more flexible and should allow enough time for that. I also miss making my dolls, I have so many projects for them, but there are only so many hours in a day and I have to keep focus!
Thank you for chatting with us Karine! To find out more about Karine follow the links below. Thanks for being here with me, see you for Tea and Cake next time! Love Gracie x
Web: www.kabostudio.com
Facebook: www.facebook.com/karine.bosse
Instagram: www.instagram.com/kabostudio
Etsy: www.etsy.com/shop/Kabostudio
Pinterest: www.pinterest.com/kabostudio
Karine is teaching here: Let's Face It and here: Ever After

Karine has a class on her canvas journal in the making, sign up to her newsletter to find out more about that here: www.kabostudio.com/blog

Karine is part of The Artist Gallery Nouveau and, as a member of the Fine Palette Artist Collective, participates in a monthly online auction (next one is 9th-10th July).

Do you want to learn from Karine? She's teaching on Ever After with us this year!
Ever After starts on 1st July and Early Bird Prices are still running until 30th June. You can sign up to Ever After by clicking here: www.willowing.org/ever-after :)