Hi Guys! Welcome to a series we run on the blog called: Tea & Cake with Gracie :) My awesome friend and colleague Gracie Howle interviews inspiring artists and posts the interviews (including some free offers not published elsewhere before) here on the blog every 2 months or so. I love to create art and bring amazing artists & people together in my classes, in person and on social media. As part of this drive, I want to help bring more exposure to some of the amazing artists out there! Today Gracie's interviewing the lovely Lynn Whipple. Be sure to check out Lynn's GIVEAWAY and free video tutorial and print below! Tam xoxo

If you love Artist Interviews make sure you read the previous Tea and Cake with Gracie ones! Click on artist's name to go to their interview: Karine Bossé / Jenny Grant / France Papillon / Jenny Wentworth / Kristin Dudish / Rachael Rice / Angela Kennedy (Pennystamper) / Andrea Gomoll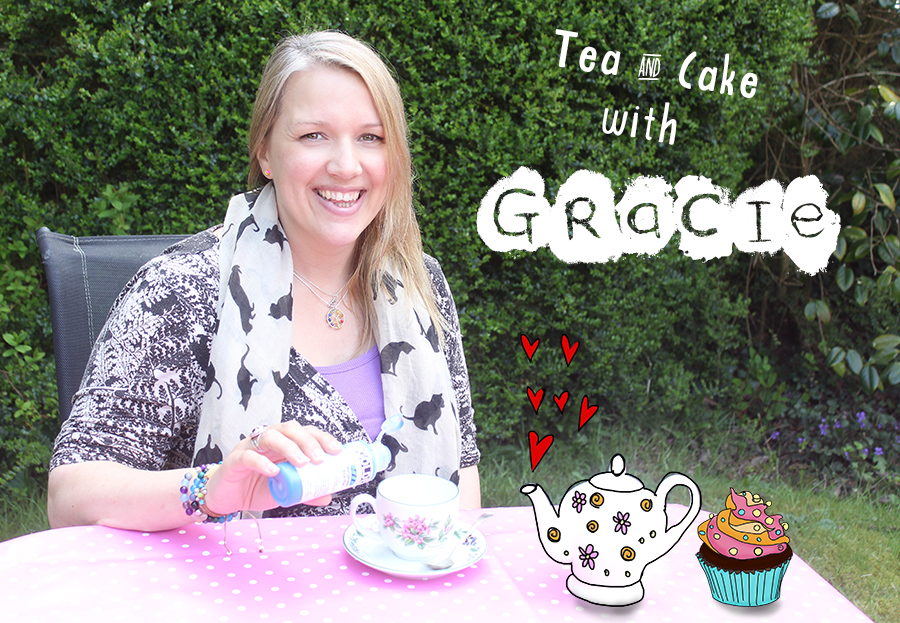 Hello! Gracie here from Willowing Arts waving hello from sunny Brighton town! How are you? I hope you are well and you enjoy my interview with Lynn Whipple today :) Remember to check out her GIVEAWAY and free art tutorial and print below too!

1. Hi Lynn and welcome! Tell us a bit about yourself and what you do.
I am an artist, online creativity teacher, and workshop leader from Winter Park, Florida. I love to work in tons of different mediums, from drawing, collage, painting, mixed media, playing with found objects in assemblage, writing ….. I guess I just like to make stuff :) My main focus lately is painting and drawing really large, loose and free flowers. My Big Bold Bloom series celebrates my way of making play the most important thing in my creative practice. I build layers and layers with spattered paint, drips, drawing, large loose brushstrokes and color. I share my studio building with 20 other artists including my husband, his brother, his mom and my mom. It's great to be in a family of artists, we inspire each other and we understand the mess!! I am grateful each day that I get to make things and "move my hands" and I hope I can encourage others do the same.
Lynn is giving away one space on her 5 week class: 'Big Bold Bloom Wild Painting'!
One lucky reader will win a space on this awesome class. You can find out more about the class here: 'Big Bold Bloom Wild Painting'.
Enter the giveaway by leaving a comment in the box below (near the bottom of this page). The winner will be chosen at random on Tuesday 30th August and announced right here on this page :)


*GIVEAWAY WINNER ANNOUNCED:
Thank you to everyone for your kind words and for joining in with the giveaway! The randomly drawn winner is:
Wendy ten Hove
who said:
Congratulations Wendy! :)

Lynn's also created a free (not previously published before) video and accompanying PDF for us. PLUS she's giving away the FREE downloadable print below, Thank you Lynn! :)

Free Video Tutorial 'Rice Paper Flowers':
(Click the 'play button' to watch this video)
Free 'Rice Paper Flowers' PDF tutorial:
(to download this PDF click on image or download from this link: RicePaperFlowersLynnWhipple.PDF)
Free Downloadable Print:
Please print out Lynn's print below for personal use only (cannot be used commercially), to hang around the house. Please also keep the website url in place when printing out the print and, if reposting on other social media site, we'd appreciate a reference link to Lynn's site: lynnwhipple.com Thanks for understanding!
(to download the high res version pls right-click on image and choose save target or link as. Or download from this link: LynnWhippleDownloadablePrint)
Learn more about Lynn by reading the following interview:
2. Where do you art?

Art happens everywhere!! From the dining room table, to outdoors under a fringed umbrella, to on the dock and art mostly happens at my studio, which is a shared space with 20 other artists, including my hubby, in a big warehouse in Winter Park, Florida. www.mcraeartstudios.com I have a big, messy light filled space with loads of paintings and drawings in the works, tons of flowers, books and a great collection of odd bits of inspiration pinned up all over the walls.
3. Many of your pieces feature flowers / blooms, can you tell us a bit about why that is?
Flowers are so beautiful, such great forms, color, design! I have been a flower person as long as I can remember… I love to draw them, paint them, surround my self with them, grow them, give them as gifts :) When I first started painting Blooms, I worked in oils and the paintings started small and grew to be quite big… 46×46 inches… I realized I wanted to be looser and more in the moment, so I switched to using acrylic paint and spinning the canvas, spattering and dripping color to create great layers of "juice"and excitement! Drawing on top of the paint gives the paintings more life and more yumminess for our eyes!

4. You collaborate and work quite closely with Carla Sonheim, how did that come about and what's it like?
Carla is so incredible! She is a great artist, so full of curiosity, always learning and trying new things. She creates from the heart and the mind. We first met in the Seattle area when I was teaching a workshop, and I was instantly attracted to her, her way of seeing things, her way of working, her style, the sophistication to her drawing. She was quiet and peaceful, making the most beautiful things. As the years passed she went on to write several drawing and art books and teach and I was thrilled when she asked if I would be interested in teaching online with her company Sonheim Presents. Collaborating with Carla and her talented husband and filmmaker Steve, has been a true treat. I admire them both very much! We work well together because we all love art, artful things, fun, playful ideas and have a great time together!

5. You mention Andy Goldsworthy as one of your favourite artists. Can you tell us a bit more about why and how he inspires you? What and who else inspires you to get creative?
Andy!!! I wish I was his assistant!!! His work is done out in nature and he celebrates the beauty of the natural world in a way that is breathtaking! Most of his work will slowly or quickly..go back to the earth, melt, or get washed away. When I look at his work I see and feel the undeniable poetic joy of being in the artistic moment. My husband and I love to play and make art out in nature together, Andy Goldsworthy inspires us every time!
Thank you for joining us for Tea and Cake Lynn! To find out more about Lynn follow the links below. See you for Tea and Cake next time! Love Gracie x
Web: lynnwhipple.com
Online classes: carlasonheim.com/big-bold-bloom-wild-painting
Blog: lynnwhipple.wordpress.com
Instagram: instagram.com/lynnwhipple
Facebook: facebook.com/Lynn-Whipple-Art-346136962142796
Lynn is also traveling to visit Steve and Carla Sonheim to film her brand new 10 lesson class! This new class will be a followup to Big Bold Blooms! With more painting, more blooms, and new techniques! Available in August, class starts at the end of September. Keep an eye on Lynn's blog for more news here: lynnwhipple.wordpress.com