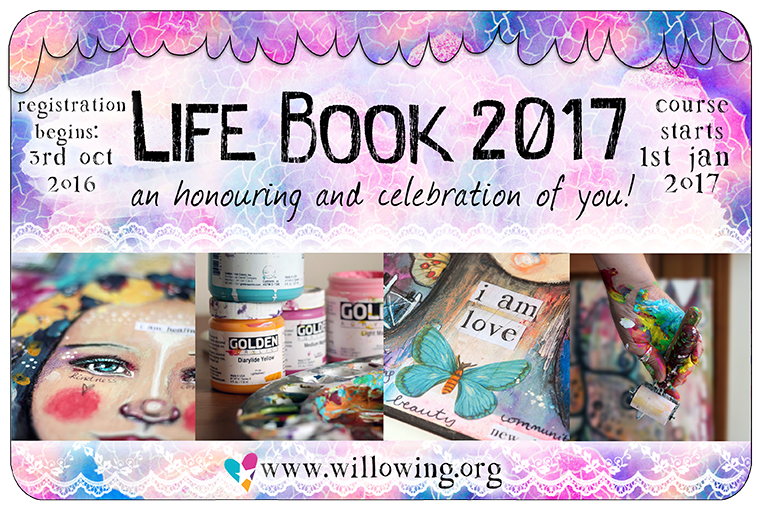 Hey you guys, what an amazing response we've had to the launch of Life Book 2017!!
Thank you all so much for your enthusiasm and excitement! 
♦♦♦♦♦
Now then, it's time to announce the winners and recipients of the scholarships! 
I LOVE give aways!! 
It's been amazing to read everyone's stories, messages and wishes and hopes! 
WOW
It's so moving to read that so many of you who are currently on Life Book are enjoying it SO much and how some of you who were on previous years but couldn't join last year, missed it so much that you definitely want to join 2017! :) You guys shared so much of yourself and your stories and the love you have for your art and creative practice! Just wow!
We have also received a huge response to the scholarship opportunities!
We have read all your heartfelt, moving, beautiful messages and have been blown away by the love out there, it was very difficult to make our choices, but we managed in the end to choose winners and recipients of the scholarships! 
Thank You! :)
So, without further ado, here are the winners of the give-aways & scholarships:
---
For the Give-Away
of Current Life Book Students who filled in the Customer Survey for 2016

---
♦ Sally Schultz ♦
♦ Julie Whitechurch ♦
♦ Donna Jones ♦
♦ Marianne Doss ♦
♦ Toni Corrente-Evans ♦
---
For the Give-Away of the Blog Hop Post:
---
Tam's winners: 
♦ Margot Bigelow ♦
♦ Lori Treleaven ♦
♦ Abbe Fosbinder ♦
♦ Kitty Baroque ♦
♦ Mary Dean Carter ♦

Vicky Papaioannou's winner
♦ Amarilis Thompson ♦

Susana Tavares's winner
 TBC
France Papillon's winner
♦ Jean Marmo♦ 
Shelley Klammer's winner
♦ Alla Petra ♦

Amber Kuileimailani Bonnici's winner
♦ Liz Fish for her mom ♦
  Donna Mulholland's winner
♦ Debra Jo ♦

Mandy van Goeije's winner
♦ Rachel Evans White ♦

Jennifer Mercede's winner
TBC
Misty Mawn's winner
♦ Colette Trad ♦

  Gwenn Seemel's winner
♦ Kristen Varian ♦
  Melissa Dinwiddie's winner
♦ LaChelle Unger ♦

Leilani Joy's winner
♦ Mira Smith ♦
  Lindsay Weirich's winner
♦ Lura Brown ♦

Julie Fei-Fan Balzer's winner
TBC
Effy Wild's winner
♦ Eileen Bergen ♦
Wendy Brightbill's winner
♦ Emilie LeJon ♦
Jamie Dougherty's winner
TBC

Andrea Gomoll's winner
♦ Cynthia Arber Ford ♦

Whitney Freya's winner
♦ Ildy Karsay ♦

Annie Hamman's winner
♦ Sheila June ♦

Connie Solera's winner
♦ Patti J Klein ♦

Jodi Ohl's winner
♦ Caroline Duncan♦

Tracy Verdugo's winner 
♦ Kylie (kyfox13) ♦
---
The 10 scholarships go to:
---
 ♦ Joy Holland ♦
♦ Mom of Nicaela Miller ♦
♦ Betsy Harper ♦
♦ Savannah Hickman ♦
♦Maria Johnson for friend Shelley Bendall ♦
♦ Samantha A. ♦
♦Sara Jadik – friend of Cheryl Demas ♦
♦ Sandra Lyons for her daughter ♦
♦ Shay Lewis for his mother Jackie Lewis ♦
♦ Ada Margarita Rodrìguez Hernandez ♦
---
All winners/ recipients will be emailed in due course! :)
---
We had almost 125 applications for the scholarships, it is so so hard to choose and not just give everyone a space. We really want to work with people to try and make it happen so that everyone can come on Life Book, so do enquire about the payment plans if you didn't win a spot, we are really happy to help make it work for you!
If there is anyone out there who feels called to sponsor a person to receive a scholarship for Life Book 2017 (we had many people approach us for this last year), please contact us on willowing.arts [AT] gmail.com so that we can continue to help those less fortunate financially to come on the course.
If you won a space and you feel called to pass your free space on to a scholarship applicant we are super happy to do that also! :) Again just contact us and let us know! :)
Much love and thank you to all who entered.
Big hugs
Tam & Maddie & Gracie
---
And now, for anyone who didn't win, here is a little giftie for you anyway seeing that I can't let you leave without getting *something*, pah what kind of host would I be? ;)) 
So here is FREE digital print of The Golden Goose Girl, it's high res so you can print it out and hang it round your house or work place! 
(Please only use for personal use – simply right-click and choose 'save target as' for the high res version) Big hugs you guys!