Hi Guys! Welcome to a series we run on the blog called: Tea & Cake with Gracie :) My awesome friend and colleague Gracie Howle interviews inspiring artists and posts the interviews (including some free offers not published elsewhere before) here on the blog every 2 months or so. I love to create art and bring amazing artists & people together in my classes, in person and on social media. As part of this drive, I want to help bring more exposure to some of the amazing artists out there! Today Gracie's interviewing the lovely Susana Tavares. Be sure to check out Susana's GIVEAWAY, free video tutorial and Etsy shop discount below! Tam xoxo
If you love Artist Interviews make sure you read the previous Tea and Cake with Gracie ones! Click on artist's name to go to their interview: Lynn Whipple / Karine Bossé / Jenny Grant / France Papillon / Jenny Wentworth / Kristin Dudish / Rachael Rice / Angela Kennedy (Pennystamper) / Andrea Gomoll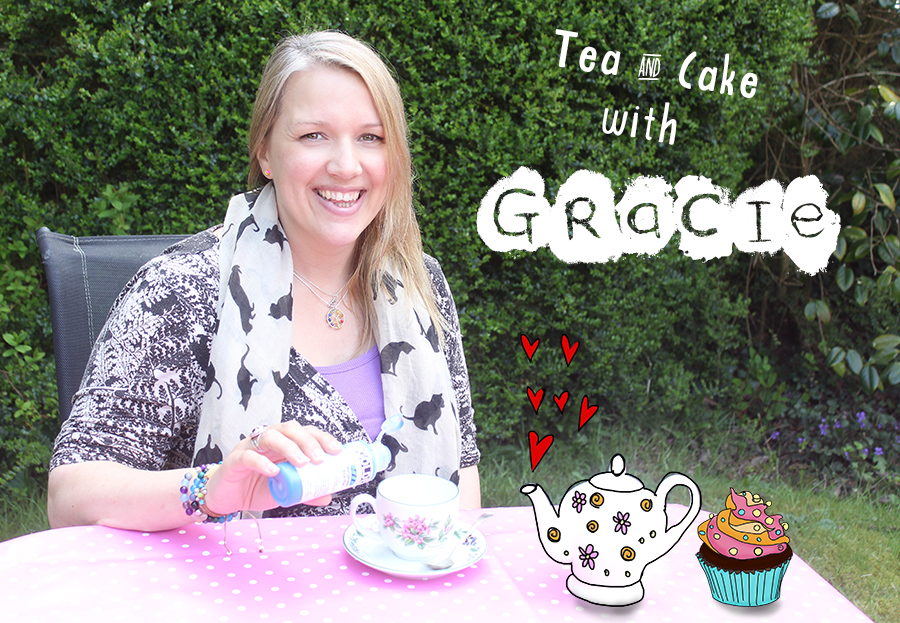 Hello! Gracie here :) How are you? It's busy over here at Willowing Arts at the moment as Life Book 2017 has just opened for registration (check the bottom of this page for more details on Life Book 2017 and how to get a 20% discount! xx). I LOVE this time of year. Here in the UK, it feels cosy indoors and crisp outside as we wave goodbye to Summer and say hello to Autumn :) It's the perfect time to settle down, grab a cuppa (and some cake!) and have a read about an inspiring artist! ;) I hope you enjoy my interview with Susana Tavares today :) Be sure to check out Susana's GIVEAWAY, free art tutorial and (for a limited time) Susana is also offering all readers a 25% discount in her Etsy Shop! :)
1. Hi Susana and welcome! Tell us a bit about yourself and what you do.

Hi! I am Susana Tavares and I am a mixed media artist from Portugal, now living in Brussels with my love, 3 kids and 2 dogs.
In this moment of my life I am really interested in watercolor, fluid mediums and crystals. I sell my art around the world through my Etsy shop and also teach online art classes.
---
Susana is giving away a spot on one of her art classes!
One lucky reader will win a space on one of Susana's art classes and that lucky reader can choose which class they want too! Awesome right!
YOU can enter this giveaway by leaving a comment in the box below (near the bottom of this page). The winner will be chosen at random on 1st November and announced right here on this page :)
Check out Susana's classes here: susanatavaresart.com/art-classes
*GIVEAWAY WINNER ANNOUNCED:
Thank you to everyone for your lovely comments and for joining  the giveaway! The randomly drawn winner is:
Emma Elliott
Congratulations Emma! :)
---
Susana's created a lovely inspirational (not previously published before) video for you – 'Deer Soul' here:
(Click the 'play button' to watch this video)
Check out Susana's offer: a 25% discount off everything in her Etsy shop!
PLEASE NOTE:
Coupon code expires on Thursday 20th October 2016
---
Learn more about Susana by reading the following interview:
2. You recently made a big move from Portugal to Brussels, wow! Can you tell us a bit about your new art space in Brussels and how you will make it welcoming for you and your art?
Yes big changes are happening in my life. My husband is working in Brussels and I can work everywhere. For our family it was really important to stay all together, so we moved.
My new art space is in my new home, that I am in love with. We have chosen the house thinking of my studio. So now I have a wonderful space full of natural light, with a view to the garden, with a big wood table and plenty of organizing spaces. Really happy and grateful for my new studio.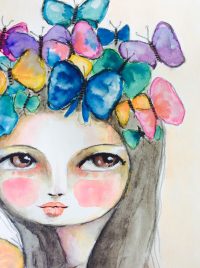 3. During your move how have you kept your creative juices flowing, or have you had a break from art during the move?
Being pretty honest I really had to take a break and totally focus on the move, since I was in Lisbon with the kids while my husband was in Brussels, for five months. It was a lot to handle. That's why I am really happy, this move is done and I can start this new beginning, all together again as a family.
Now I feel again inspired to create from a relaxed state of mind and that feels really good.
4. I love your art! Many of your pieces include cute whimsy girls, can you tell us a little about why that is?
Thank you dear Gracie :) yes, cute little girls are a recurrent subject on my art because I really love to create them, they make me smile. The idea of making art, for me, is to go to a happy place, full of magic where through color, movement, textures and shapes you express your world, your inner world. When I create, my inner child is often invited to play and we spend a really great time together.
Connecting with your inner child, brings you a natural well being, a more playful approach to life and helps you to relax and not take life so seriously.
5. A couple of weeks ago you made these gorgeous handmade clips (I spotted them on Instagram here: Susana's Clips), can you tell us a little bit about how they came about and what prompted you to create them?
We were born with the freedom to choose, you have that power to choose what you want, where you want to go and what you want to create in your life. You are a really powerful being!
When you create in a intentional way, you have first to choose clearly. That's why I use "the making of art" often,  in a way of practicing my intentions and what I want to create.
I choose harmony – what can feel better than a sense of harmony and peace inside of you.
I choose joy – don't you want to be filled with joy, shining your light wherever you go and feeling flow and ease? Yes!
I choose clarity- knowing exactly what to do, aligned with who you are. Perfection!
I choose creativity- what is more delicious than to feel creative and express it, let it out and have fun with it. When you express your creativity you are expressing a sacred part of you. You are co-creating with source, you are at your best.

Susana thank you for joining us for Tea and Cake! :)
To find out more about Susana follow the links below.
See you for Tea and Cake next time! Love Gracie x
Web: susanatavaresart.com
Online classes: susanatavaresart.com/art-classes
Etsy Shop: susanatavares.etsy.com
Instagram: instagram.com/susanatavaresart
Facebook: facebook.com/Susana-Tavares-Art-336445669820/
Do you want to learn from Susana? She's teaching on Life Book 2017 with us! 
Life Book 2017 has opened for registration and starts on 1st January 2017. You can sign up to Life Book 2017 by clicking here: www.willowing.org/life-book-2017 :)
…AND if you want to sign up to Life Book 2017 with a 20% discount use FIREWORKS 2017 in the checkout.
Just use coupon code:
FIREWORKS2017 
upon check out to redeem your 20% discount!
PS. You can only use this code before LB2017 starts, so if you want to use it, sign up before 1st Jan 2017! x