Hi Guys! Welcome to a series we run on the blog called: Tea & Cake with Gracie :) My awesome friend and colleague Gracie Howle interviews inspiring artists and posts the interviews (including some free offers not published elsewhere before) here on the blog every 2 months or so. I love to create art and bring amazing artists & people together in my classes, in person and on social media. As part of this drive, I want to help bring more exposure to some of the amazing artists out there! Today Gracie's interviewing the lovely Tascha Parkinson. Make sure you check out Tascha's GIVEAWAY and free video tutorial below! Tam xoxo
If you love Artist Interviews make sure you read the previous Tea and Cake with Gracie ones! Click on artist's name to go to their interview: Susana Tavares / Lynn Whipple / Karine Bossé / Jenny Grant / France Papillon / Jenny Wentworth / Kristin Dudish / Rachael Rice / Angela Kennedy (Pennystamper) / Andrea Gomoll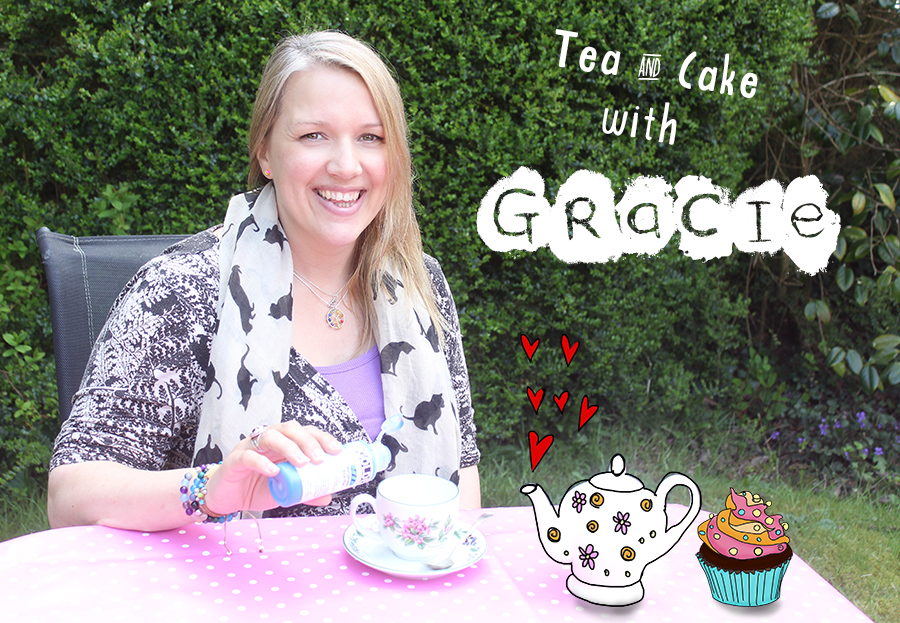 Hello! Gracie here :) How are you? Are you busy prepping for the holiday season? Or ready to hibernate? However and where ever you are, how about you take a little time with me now to relax. Grab a cosy blanket and hot cuppa and read about this month's inspiring artist the lovely Tascha Parkinson! Be sure to check out Tascha's GIVEAWAY and free video art tutorial below too :)
1. Welcome Tascha! Tell us a bit about yourself and what you do.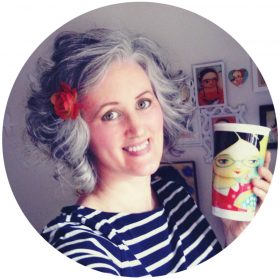 Hello! My name is Tascha Parkinson. I'm a Canadian artist and illustrator living in downtown Toronto. I have been selling my art online since 2001. The dawn of self representing artist. I am inspired by my cat Lily and my love for all animals. I have been an animal rights activist since 2010. Animals are always a main focus in my paintings. My favorite media is acrylic paint on canvas. I like to experiment with mixed media and sculpture, but I always go back to painting. Thank you for joining me today!
---
Tascha is giving away one spot on her Modigliani Art Class!
One lucky reader will win a space on Tascha's Modigliani Art Class! Wooo hoooo!! Here's a little bit about the class from Tascha:
'Modigliani's style is so recognizable. It is loved the world over. I have painted many ladies in this style and I want to share my techniques with you. In this class we will try a few different medias all influenced by the lovely ladies of Modigliani. The video classes total 100 minutes of instruction to be watched at your leisure throughout the course.'
You can check out Tascha's Modigliani Art Class here: Modigliani Art Class
*GIVEAWAY NOW CLOSED * GIVEAWAY WINNER ANNOUNCED:
Thank you to everyone for your lovely comments and for joining  the giveaway! The randomly drawn winner is:
Sylvia van Oorschot
Congratulations Sylvia! :)
---
Tascha's also created for us a NEW (not previously published before) art video:
'Flying Angel':
(Click the 'play button' to watch this video or click on the review link here: Review Link)
---
Learn more about Tascha by reading the following interview: 
2. You have alot of 'Frida characters' in your work. Can you tell us a bit about why that is?
I love Frida Kahlo! She was an artist in a time that the art scene was dominated by men. She is a true feminist. I love her strength. She is a role model for me as a woman and an artist. My paintings are celebrating Frida with joy and vibrant color.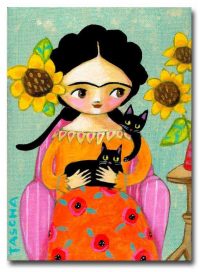 3. You mention Modigliani as your favourite artist, you even run a 'Modigliani class', can you tell us more about how and why he inspires you and your work?
I am in total admiration of Modigliani. He was one of my very first influences when I began to paint. I love the outlines he uses around the figures. He draws with his paint. I learned a lot from studying his work. He has a way of simplifying the figure that I found helpful in learning how to paint.
4. Your Art is very recognisable as yours, how do you think your personal style has evolved over time and what do you think helped do that?
I think that my color palette is a big part of what makes my art very recognizable. I have some favorite colors that seem to pop up in a lot of my paintings. Turquoise, red, pink, orange, lime green, beige. Those colors always make my eyes dance and make me feel good. There is a child like quality to my paintings that comes deep from my soul. I think that always shows through in each painting. I have painted thousands of paintings in my career. Yes, thousands! LOL! In that time you learn to paint like it is second nature. I am a firm believer in practicing your craft. Just keep painting every day. You will find your niche and fine tune your style over time.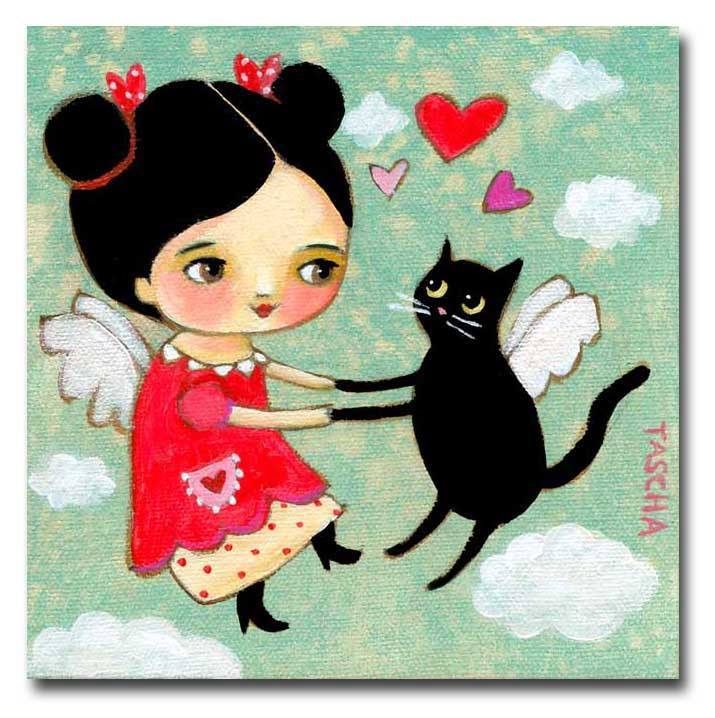 5. Do you work on one piece at a time, or do you work on many pieces at once, and why?
I always work on one piece at a time. I lose myself in my art and am very focused when I paint. I dive in like it's a pool and once I'm focusing on that one painting I don't want to be distracted with anything else. I continue to paint that one painting until I am satisfied with the final result. There have been a few times where it doesn't work out the way I had hoped. I will try to fix it, if after a couple of attempts it isn't going well, I ditch that painting and start fresh on a new one.
Make sure you find more about Tascha by following the links below! :)
Etsy shop: www.etsy.com/ca/shop/tascha
Learning with Tascha on-line school: www.learningwithtascha.com
Instagram: www.instagram.com/artbytascha
Facebook: www.facebook.com/taschatheartist