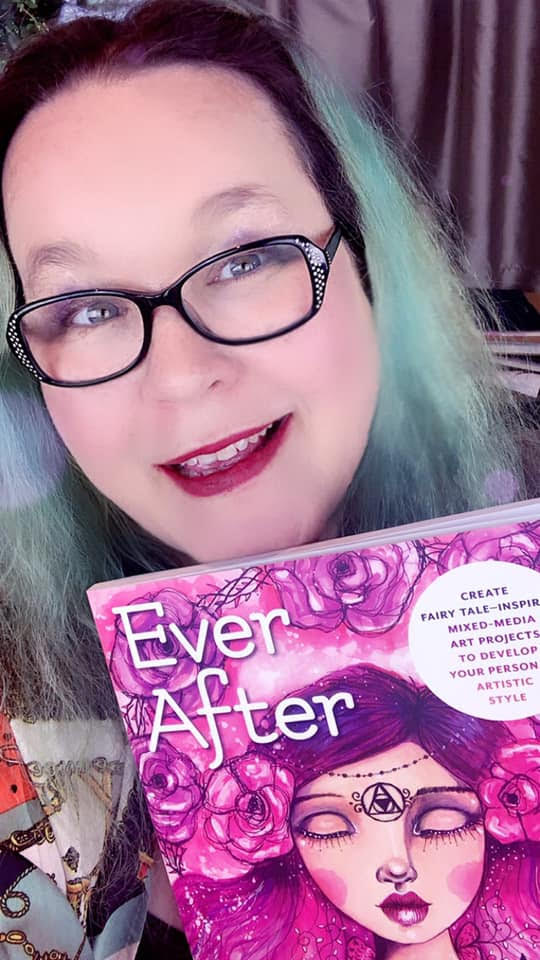 Ladies and Jellyspoons, Mermaids and Unicorns, here's a message to let you know that the big 'Tam's 2nd Book' blog hop has now commenced, huzzah! :D 15 wonderful current and previous Ever After (& Life Book) teachers are taking part in this blog hop which involves give aways of copies of my brand spanking new book! Yay! I hope you will come and hop along and win a copy. I would deeply appreciate you sharing this blog hop post with your friends, many thanks! <3 Read on to find out what this book is all about and how you can win a copy!!
---
New to me and to Ever After? What is 'all the fuss' about Ever After and The Book? :) Lemme tell you all about it!
I am Tam and Ever After is an online course I've run for 4 years now with 2 of my favourite themes/ topics: fairy-tales and style development! We ran Ever After for the first time in 2016 and we had so much fun! It was a raving success with over 1500 people joining! Wow! I couldn't wait to run this wonderful course again! I created Ever After to help many of the thousands of students who've been on my other courses and my peers' courses to develop their own style (omg the holy grail! I get the 'how do I develop my style question' so often!). Once again I've poured my heart and soul into this course and once again I've invited a FABULOUS group of celebrated mixed media artists who all can't wait to share their lessons and insights with you! :) I'm super excited about this offer to the mixed media art community. This course is a fantastic offer to those who are interested in learning how to make beautiful mixed media paintings inspired by traditional fairy-tales and myths and it has a very attractive curriculum for those interested in the hows and whats of style development. We are still running the 2019 version which you can still join btw, but anyhoo, that's not what this blog post is about. :) 
Anyhoo, Quarry Publishing House who published my first book heard about Ever After, thought the project sounded awesome and asked me to write a book about it! I too think Ever After is pretty awesome, so I said HOLY MOLY YES OF COURSE! :)
The book has just been published (August 6th yay!) so I am running a give away and a blog hop with 15 other AWESOME teachers who have all taught on Ever After or Life Book before to celebrate this wonderful book, yay!! Each teacher can give away one copy for FREE!! Yayyyy!!!! (If you scroll down you can find their site urls, be sure to follow them on the blog hop so you can find out more about them and also so you can enter their give-aways!). To enter my give away, read on! 
---
Here is more information about the book!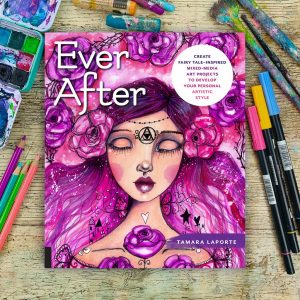 Ever After: Create Fairy Tale-Inspired Mixed-Media Art Projects to Develop Your Personal Artistic Style
Let the wisdom and enchantment of timeless fables and fiction help you achieve your creative goals! From celebrated mixed-media artist and author of "Create Your Life Book" Tamara Laporte, Ever After is a rich collection of step-by-step mixed-media art lessons inspired by fairy tales, folk tales, and classic fiction.
Based on one of Tamara's popular series of online classes, Ever After addresses the most frequently asked question she receives from her students: "How do I develop my own creative style?"
In addition to the beautiful art lessons created especially for this book by Tamara and eight other noted mixed-media artists, each chapter offers creative exercises that invite readers to explore stories, their symbolism, and a specific aspect of style development as they work toward and ultimately achieve their artistic goals.
· The Story of You. Explore the experiences, feelings, and ideas that stir your passion, and how to adapt and change motifs and other visual elements to make them your own.
· Inspiration: How to Find It, How to Use It. Examine how to stay open to inspiration, incorporate it into your art practice, and integrate it into your artwork.
· Comfort Zones & Productivity. Learn strategies for working through your fear and dedicating time to your artmaking.
· Dealing with Challenges & Deepening Your Voice. Find guidance for starting a mindfulness practice to help you deal with harsh feedback, and for allowing yourself the joy of continually evolving your story, your message, and your style.
Ever After will teach you to tell your own unique stories through artmaking so that your wish—to become the artist you've always wanted to be—is sure to come true!
Watch this video to learn more about the book:
Guest Teachers
Includes lessons and tips from these renowned mixed-media artists:
Kara Bullock
Lucy Chen
Danita Art
Andrea Gomoll
Annie Hamman
Mariëlle Stolp
Effy Wild
Micki Wilde
Fairy Tales, Fables & Fiction
Featured stories include:
Alice's Adventures in Wonderland
Bambi
Beauty & the Beast
Goldilocks & the Three Bears
Mulan
Peter Pan
Sleeping Beauty
The Little Mermaid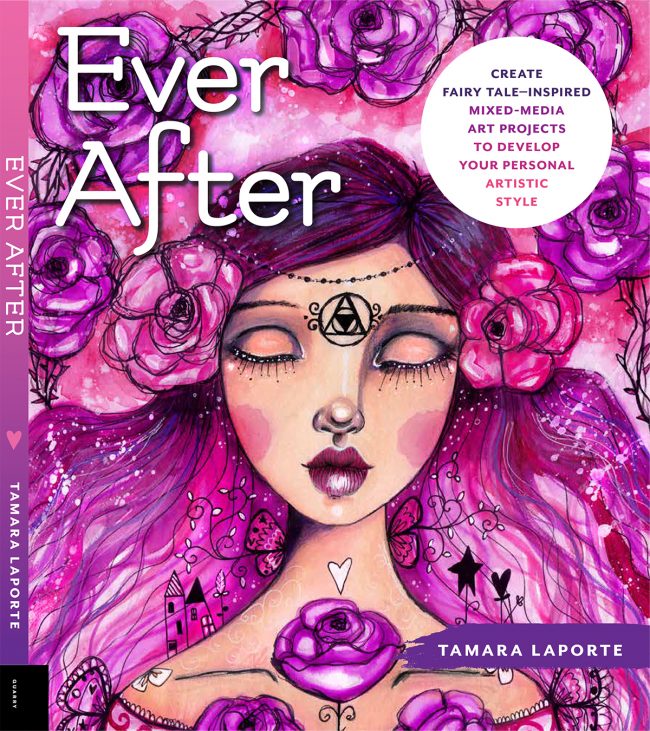 Pre-order a
or a non-signed copy in any of these places:
---
Blog Hop & Give Away Info
To celebrate the almost-launch-of-theEverAfterBook-going-on-sale I'm running a fun blog hop with other awesome artists and teachers who can all give away 1 copy of Ever After the Book! Want to win a copy of my book? Follow the blog hop along and make sure to follow the instructions on the artists' pages to get entered into the draws.
I'm kicking off the blog hop today with running my own give-away!!
I am giving away
3 copies of the Ever After – Book
PLUS
3 Notebooks
&
3 Pocket Mirrors
&
2 packs of 5 random Tam postcards
In order to enter the give-away, please do the following:
1. Share this blog post on your social media sites
2. Be sure to sign up to my newsletter
3. Leave a comment below letting us know why you would love to win a copy of the book!
---
To up your chances to win a copy of my Ever After the Book, be sure to follow the hop:
You are here: —>14th August 2019 -> Tamara Laporte  <—-You are here
15th August 2019 -> Andrea Gomoll
16th August 2019 -> Carla Sonheim
17th August 2019 -> Danita Art
18th August 2019 -> Effy Wild
19th August 2019 -> Kara Bullock
20th August 2019 -> Lucy Chen
21st August 2019 -> Marielle Stolp
22nd August 2019 -> Mick Wilde
23rd August 2019 -> Toni Burt
24th August 2019 -> Jane Davenport
25th August 2019 -> Marieke Blokland
26th August 2019 -> Cinnamon Cooney
27th August 2019 -> Pamela Vosseller
28th August 2019 -> Galia Alena
29th August 2019 -> Annie Hamman
---
Thank you
for celebrating with us you guys, hope you win a copy of the book AND to see you on Ever After 2019! :)