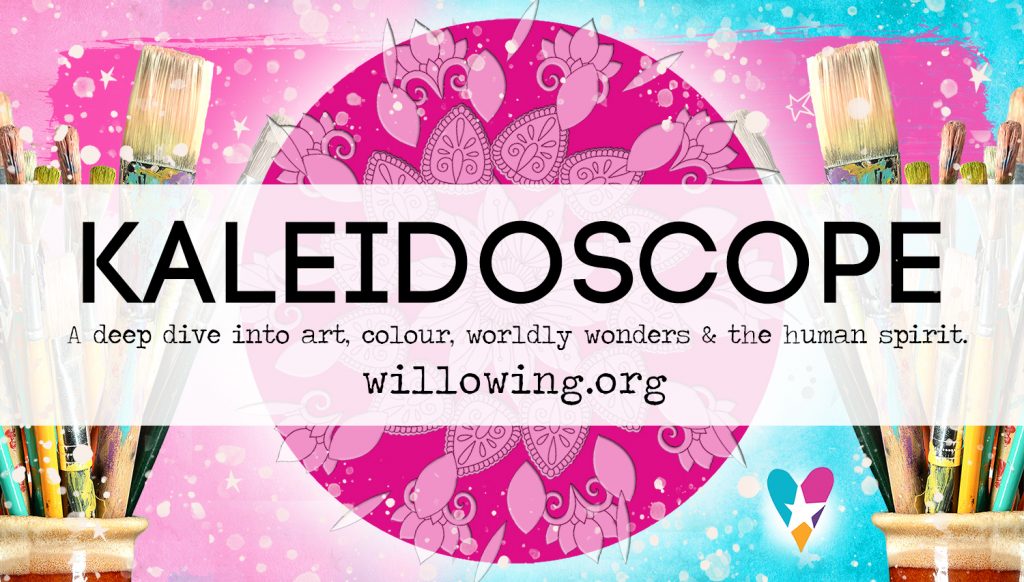 "Kaleidoscope" is a brand new mixed media art course with a focus on colour theory, worldly wonders & the human spirit hosted by Tamara Laporte from Willowing Arts. Tam is joined by 15 popular mixed media art teachers who will all share beautiful art lessons with you inspired by the world and its people AND, we will also dive deep into colour theory. The teachers will share their hints and tips on how they developed their understanding of colour and how YOU TOO can become a colour expert as an artist too resulting in you creating some amazing paintings!

JOIN Kaleidoscope 2021
Get all this and more when you join Kaleidoscope!
Learn colour theory like you've never done before!
Learn from 16 expert artists
Includes 20 taster sessions
Paint inspiring people and worldly wonders
Lifetime access to all class videos & PDFs
All content downloadable
Just £99 GBP (or $140 USD approx) for the whole course
Buy Now!

For questions about Kaleidoscope contact Tam and the Willowing Team on [email protected]

Let's celebrate the beauty of the world
and the human spirit through art & colour!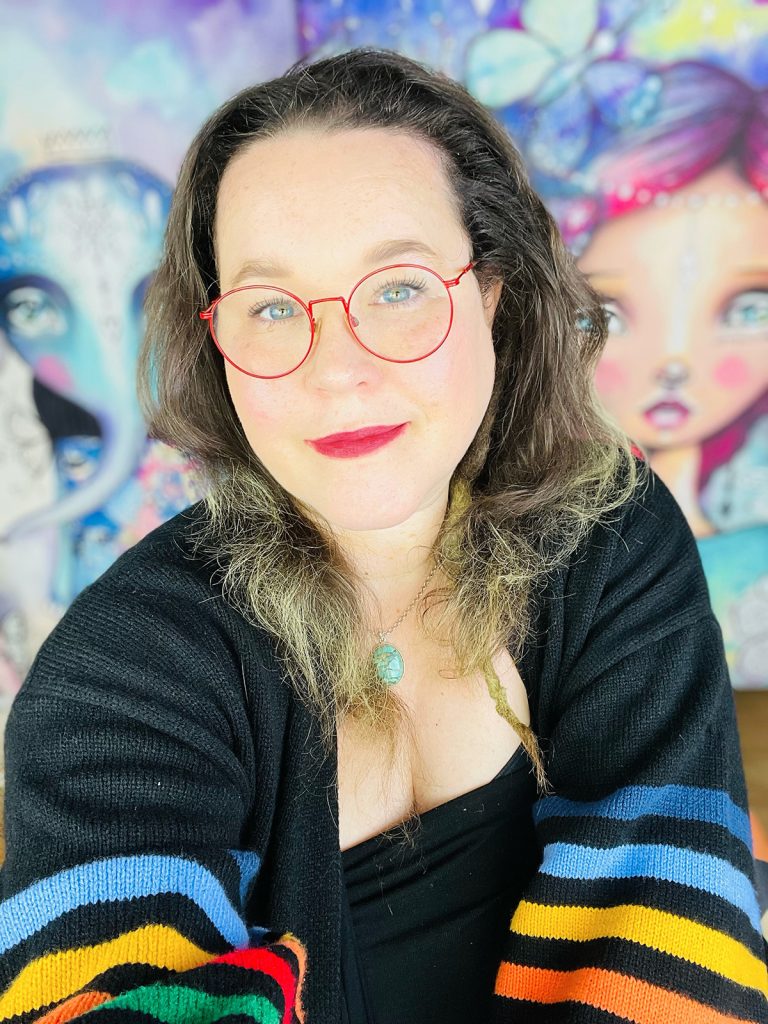 Hi there creative friend! My name is Tam. :) Thanks for stopping by and checking out the Kaleidoscope information. I'm so excited about this brand new course, we ran it for the first time last year and it was such a great success that we wanted to run it again, yay! Do you want to dive deeply into the world of colour, worldly wonders and the human spirit? Then this course might be for you! For this course we plan to cover the ins and outs of colour in all its glory. We'll make art, explore colour theory in depth, learn how to use colour efficiently while at the same time creating beautiful paintings and learning about the beauty of the world and the amazing humans that live in it.

I wanted this course to have a focus on the human spirit and the beauty of the world because there is a lot of difficult/ challenging stuff happening right now and our negativity bias can make it seem that everything is all bad. I'm not someone who denies shadow and painful feelings at all, but, I do know that (with the help of the media that tends to focus on disasters and sad stories) as humans we have a tendency to lean towards the negative (the negativity bias is a thing, read about it here) and it can make it feel like all 'the good and beautiful' pales in comparison. I think it's important that we compensate for this negativity bias and also look at how amazing the human spirit is, how beautiful this world and its animals is, the love, compassion, creativity, ingenuity, courage and heroism that fills up this world!
So, on this course: we will paint our little hearts and souls out, learn about colour in depth and paint inspiring people that have left lasting impacts on this world (from famous inspiring people like William Shakespeare, Georgia O'Keeffe and Leonard Cohen to your grandma who had a heart of gold or your inner higher self), and we'll also look at amazing worldly wonders and landmarks (like the Amazon Rainforest or the Grand Canyon) and paint those too! I've invited another great bunch of my wonderful art friends who are as excited as I am to get this started!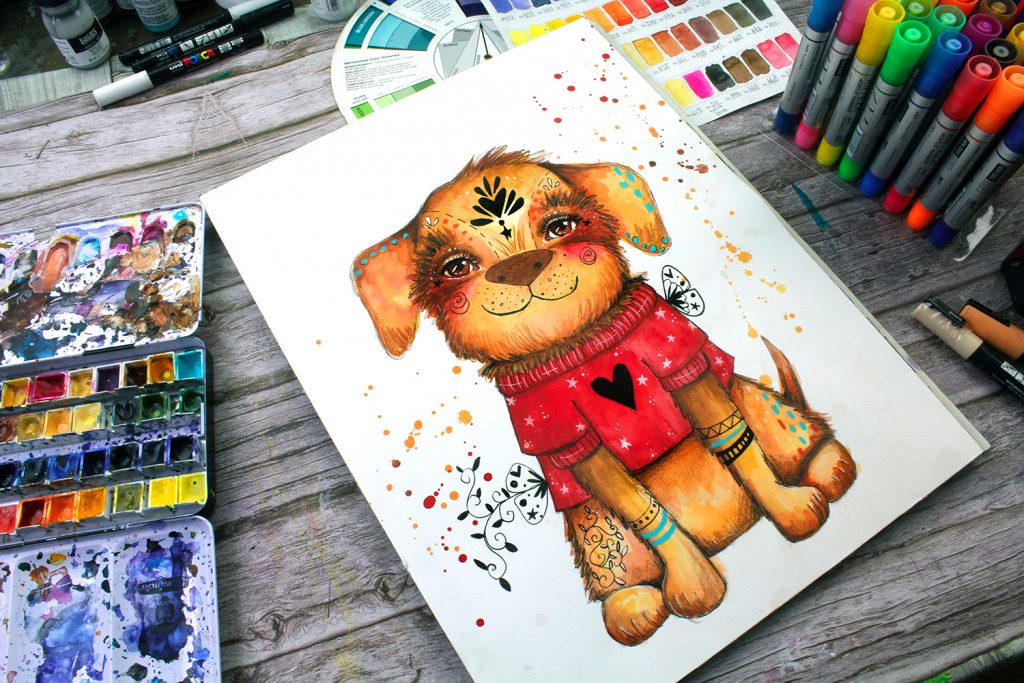 When you join Kaleidoscope, you also get life long (and downloadable) access to all the content from the free taster week! The taster week includes a lesson on how to make this super cute doggie! Isn't he SO sweet?

Kaleidoscope Class Details
This course will run for 4 months. Class starts on August 1st and ends at the end of November 2021. This course involves 16 incredible artists and teachers from the mixed media art community,.
Each teacher shares 1 in depth art lesson that has a focus on a fictional or non-fictional inspiring person or worldly wonder and a specific colour scheme. Each teacher also provides a bonus session in which they talk about colour theory, give you their insights/ hints & tips on how to use colour effectively and they also demonstrate how they work with the colours they find most challenging!
Each month, we will publish 3 or 4 main mixed media art lessons as well in depth colour theory lessons by your host, Tamara Laporte. These over-arching colour theory lessons will support the rest of the course.
Click here to download the full class schedule with class descriptions.
You'll be able to:
Download all class materials to your machine, keep them forever
Gain life long access, yay!
Learn many new mixed media techniques
Create beautiful paintings inspired by inspiring people and worldly wonders
Deepen your understanding of and learn more about colour & colour theory
Work from the comfort of your own home
Access to your own private class room
Access to a private (secret) Facebook Group
Connect with like-minded creative people
Make new creative connections
Become part of a buzzing/ thriving art community for 4 whole months!
For Kaleidoscope Repeaters:
All colour content will be repeated with perhaps some minor updates, but all main lessons with Tam and the guest teachers + their bonus sessions are ALL new. If you've done Kaleidoscope before and you want to join again you get a specific discount code to allow for the fact that you already have the colour theory content. You should've received an email about this by now, if you haven't please contact us on [email protected].

Just hit 'add to basket' below and we'll get you all set up to have a fantastic creative summer! :)
Join us on Kaleidoscope Now!
• Class Begins August 1st •

Packages
Choose a package below and the course will be added to your account immediately. You'll also receive a Facebook invite in the next couple of days or so. Any questions? Email us on [email protected] ! We are happy to chat and answer any queries.
---
Who are your teachers on Kaleidoscope?
We have a wonderfully inspiring and talented teacher line up for this first round of Kaleidoscope!
I'm so excited about all the fantastic contributors to this course! We have a range of truly incredible artists contributing their wisdom, light, beauty and artistic colourful talent to the course, people like Ida Andersen Lang, Andrea Gomoll, Christa Forrest, Effy Wild and Eulalia Mejia are only some of the amazing teachers contributing to Kaleidoscope 2021!
We've all prepared wonderful classes that we can't wait to share with you! :)
Find out more about your Kaleidoscope teachers by clicking here. 

Here is are some examples of work of the teachers who will be teaching on the course! (Please note, these are not class projects, but examples of the teachers' styles). I'm so inspired by these amazing works!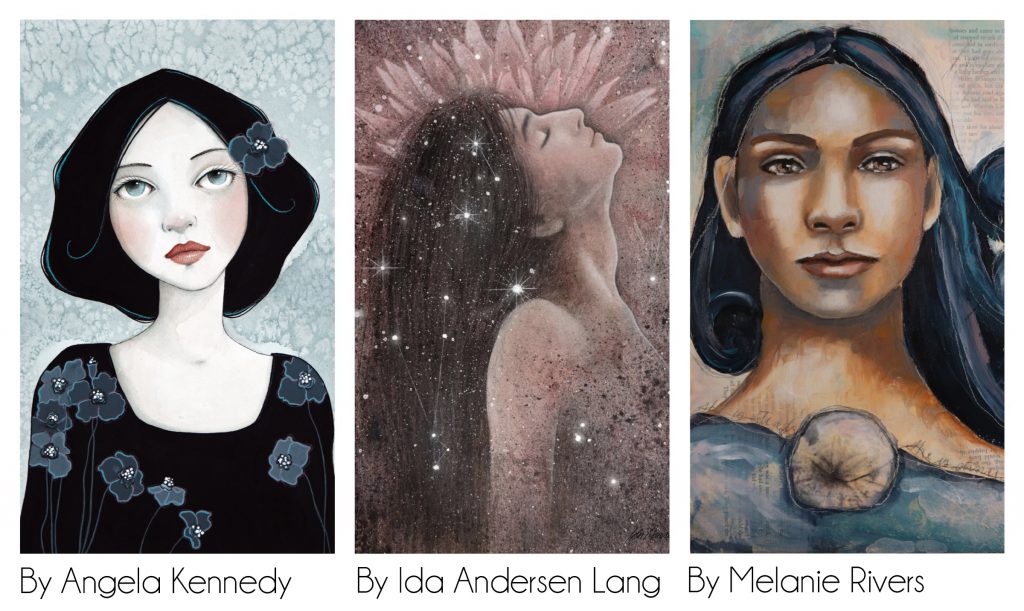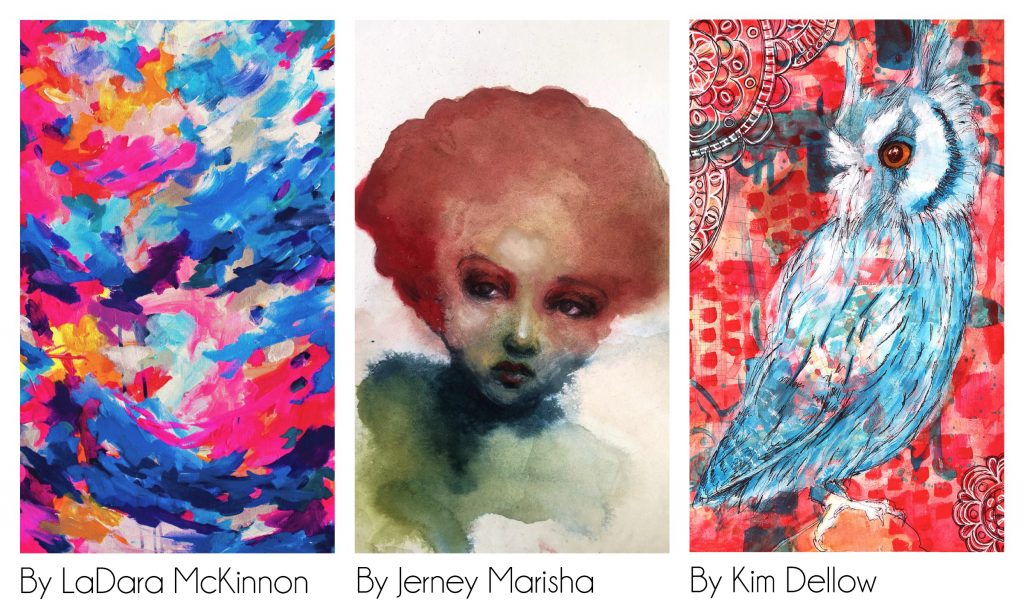 What You Will Need to Join this Course
You will need a high speed internet connection to be able to stream & download all the videos. If you have a slower connection you can stream the videos online and/ or learn through the PDFs, but the best option is to have a high speed internet connection.
It will be helpful to have a basic understanding of IT, like reading emails, navigating sites like Facebook etc. If you're having trouble with some IT related stuff some help can be given, but in depth IT guidance cannot be given.
If you are planning on downloading and keeping the videos you will need to make sure you have approx 80GBs of data space available (if you are low on space on your computer we recommend you buy a separate external hard drive to which you can download all the lessons). Unfortunately I am unable to offer the entire class on DVD/ CD.
Here is a tentative supply list. Pls note: you don't have to buy all the products on this list. Start with what you have and buy only if you really want to buy the products listed. Basic starter pack would be:
We encourage people as much as possible to 'make-do' with what they have available and buy some supplies here and there, but overall you can replace and substitute what the teachers use with what you already have. If you wanted to buy the bare essentials, I would buy: 
A pad of watercolour paper 140lbs (300gsm) 12 x 9″ or 16 x 12 hotpressed

A pencil to draw with 

Some neocolor II crayons, colours: 1. salmon 2. magenta 3. teal 4. orangish yellow

A set of watercolour paints
Student grade acrylics set

1 white posca pen/ 1 black posca pen (fine nibs) 

Some gel medium (impasto gel)

Some collage papers

Small pot of white gesso

Praise for other Willowing Arts Courses:

"Unbelievable, Life changing, jammed packed classes for any skill level. Wonderful teachers that explain and guide you to create in a loving environment. They even have a Facebook group just for you and your class mates to share and support one another. You will not be sorry, Tam is amazing and will have you relaxed and comfortable and all the teachers are as well. There is something in Life Book that is waiting for just you. "– Denise Sorro-Butler – Tennessee, USA


Honestly, it is the best course I have taken in my life (seriously). I have learned so much and it is helping to make my art evolve.  The teachers are wonderful.  If you would've shown me some of the pieces I did from this course a year ago,  I wouldn't have believed I could have created them. This is the most amazing course EVER!  I am so glad I stumbled across the mention on Facebook. – Susan Romita – New York, USA


I have grown so much and learned so much about how my different art materials work. I've struggled and been astounded at things I've created. I've been blown away by some of my fellow classmates' work, and I am determined not to compare my near-beginning to someone else's middle! I've learned how to fix things if I mess up and I'm more confident in my work. And I had fun! I think you undervalue the course – it is worth far more than we pay for it. But I understand you want to keep it affordable for a larger number of people. And Tam, I love love love the little dance you do at the beginning of your videos! It makes me so happy. – Life Book is an amazing mixed media journey with a great variety of teachers, where you have a lesson each week and you learn more than you ever thought possible. It's an amazing value for what you receive. You MUST do it! –  Kim DuPree
All class content is downloadable
Type of lesson: live during August, September, October and November 2021
Video + PDF content
Life Long Access
Packages
Choose a package below and the course will be added to your account immediately. You'll also receive a Facebook invite in the next couple of days or so. Any questions? Email us on [email protected] ! We are happy to chat and answer any queries.