Hello lovely people! Gracie here from Willowing – hello! :)
I'm super excited and proud to present our Artist Spotlight of the month (it's a new type of feature we are running on the blog!)
We are featuring the one and only Carla Sonheim with a bit of an interview and she's also giving away THREE spots on her BRAND NEW Year Long Course: 365 Activate Your Art Brain. How exciting is that!?!
Carla has been a wonderful contributor and teacher on Life Book and Ever After, and we here at Willowing are thrilled to be able to giveaway THREE spots on her FAB new course 365: Activate Your Art Brain (a Video Every Day), which is $198 US Dollar's worth of awesome online class yumminess! The course started on 1st January 2017 and runs for the year, but you can still join throughout the year.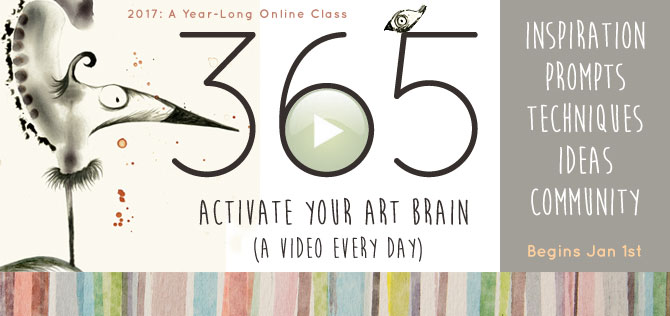 Here's what Carla says:
…(it's a) 'Choose Your Own Adventure class… you can try to do the prompts daily, you can pick and choose the ones that speak to you, or you can simply work the class on more of a "thinking level" in those times of the year when you get really busy!'

Giveaway Winners Announced – yayyy!
 Thank you to everyone for your lovely comments and for joining the giveaway! The Giveaway is now closed and the 3 (randomly drawn) winners are:
1. Violet Davenport

2. Jennifer Johnson Richey

3. Jennie

Congratulations guys! :)

Find out more about the lovely Carla Sonheim: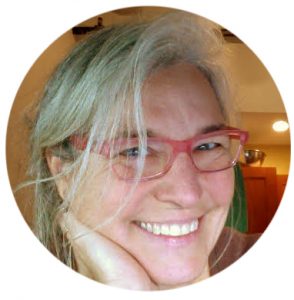 1. Tell us a bit about yourself Carla and what you do.
First and most important, I am a mother of two and grandmother of three! I also love to draw and paint, and for the past six years my husband, Steve, and I have been producing online art classes via "Carla Sonheim Presents."
In April 2010 I offered my first online class, a pdf worksheet-based class called "The Art of Silliness." I launched it hoping to get people interested in my book, "Drawing Lab for Mixed-Media Artists," which came out a few months later.
The online class format was a great fit and so year laterSteve joined in with his video and business expertise and eventually we began adding other artist-teachers, including Diane Culhane, Lynn Whipple, Cat Bennett, Karine Swenson, Fred Lisaius, and Dar Hosta James, with classes in drawing, painting and mixed-media.
Each year I do an intensive year-long art/creativiy class, which keeps me busy! This is my fifth year; the previous four years were "2013: Year of the Giraffe," "2014: Year of the Fairy Tale," "2015 "Year of the Spark" (co-taught with Lynn Whipple), and "2016: Y is for Yellow."
Our 2017 class is our most ambitious yet, and is really a collaboration with my husband and many other artists: "365: Activate Your Art Brain (A Video Every Day)."
We live/work in a studio in downtown Seattle.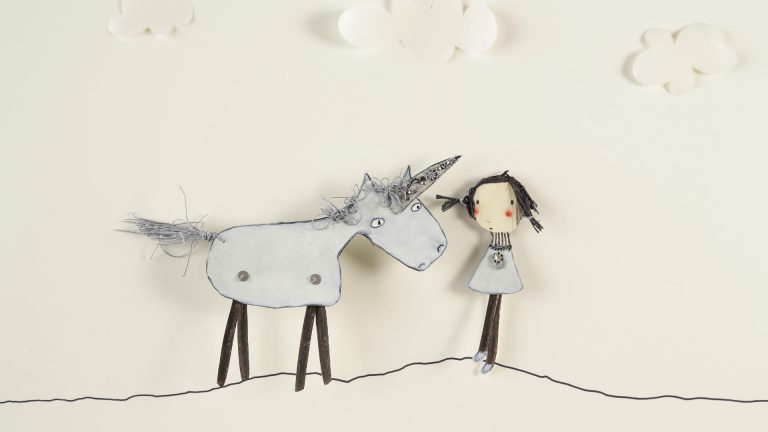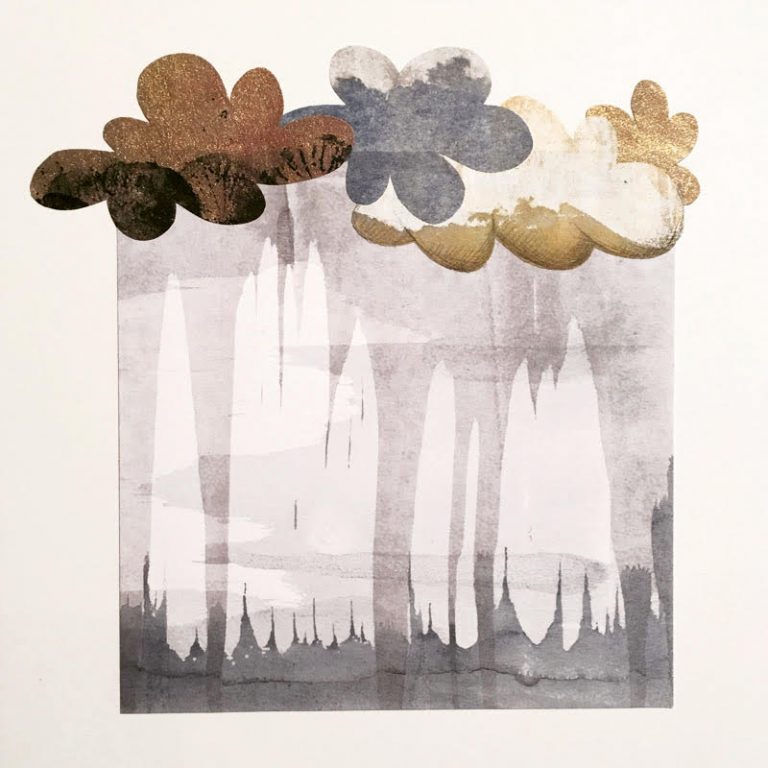 2. On your site you talk about how your classes take on a 'serious and silly' approach to help students move through the nervousness of drawing and creating (LOVE this – it sounds so FUN!!). You say:
'…when I began teaching adults…I found that many people felt nervous about drawing… "serious and silly" approach sums up what we do with our online classes…'
You've even written books with your 'serious and silly' theme woven in (The Art of Silliness and 52 Creative Exercises to Make Drawing Fun). Can you tell us a little about how you make your classes 'serious and silly' and maybe give us some examples?
I think I will answer this with a story: My youngest son, Wes, was very precocious when he was young and would get actually get indignant if I tried to read him books that sounded "simple." For example, he wanted me to read him the REAL Bible or the ACTUAL Grimm's Fairy Tale (not the children's book versions).
When he was six I started teaching art in his 1st grade classroom as a volunteer, and by this time Wes had trained me not to "dumb things down" just because he was a kid.
But of course, the assignments needed to be FUN, because keeping 20 kids interested can be hard without the fun-factor!
So I took real drawing exercises — blind contours, contour drawings, observational drawing exercises — and made them as fun as I could. I had the kids bring in toys and stuffed animals to draw, or I had them draw a detail of Michelangelo's Sistine Chapel with the paper taped under the desks. I found that the students were far more interested in drawing their own cars than they were a random group of fruit, for example… they were connected to their subjects on a much deeper level, which then produced better drawings!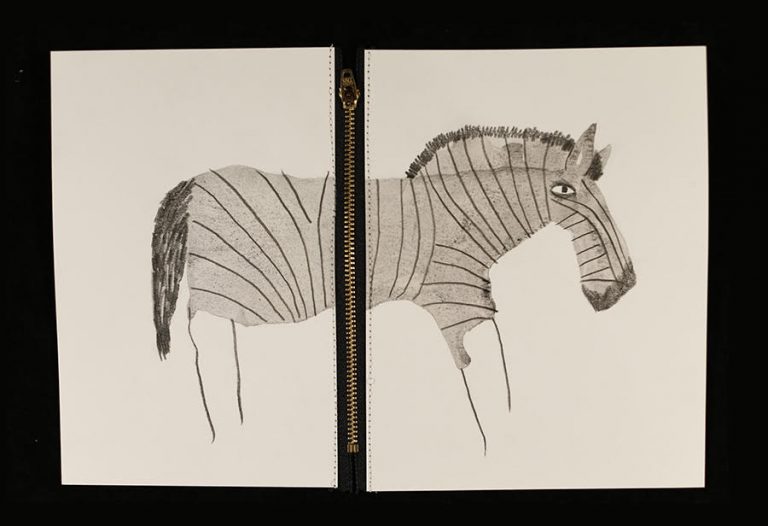 I started teaching adults a few years later and found out very quickly that there was a lot of pain and shame around drawing… so I tried presenting the material in the same way I had to my group of 1st graders. We drew silly things (like stuffed animals) in a serious way: blind contours, contours, charcoal with shading etc. In addition, we drew serious things in "silly ways: portraits of our neighbors with our non-dominant hands, for example. What we found was that even though the resultant drawings might not be technically perfect, they had much more CHARM because they had been born from a place of fun and silliness rather than from a place of "should,s"
By the end of a 3-hour or 6-hour class, people were surprising themselves with how "good" they actually were at drawing and never knew it! In addition, they embraced the wonkiness of other drawings as "better" than anything they thought they wanted to do in the beginning.
So that is how I try to keep all of my classes, whether it is drawing, watercolor, or mixed-media: we draw serious things in silly ways and silly things in serious ways. We keep it fun for ourselves, which keeps us engaged in the process, which results in a better and more fulfilling experience (and the drawings are better too!).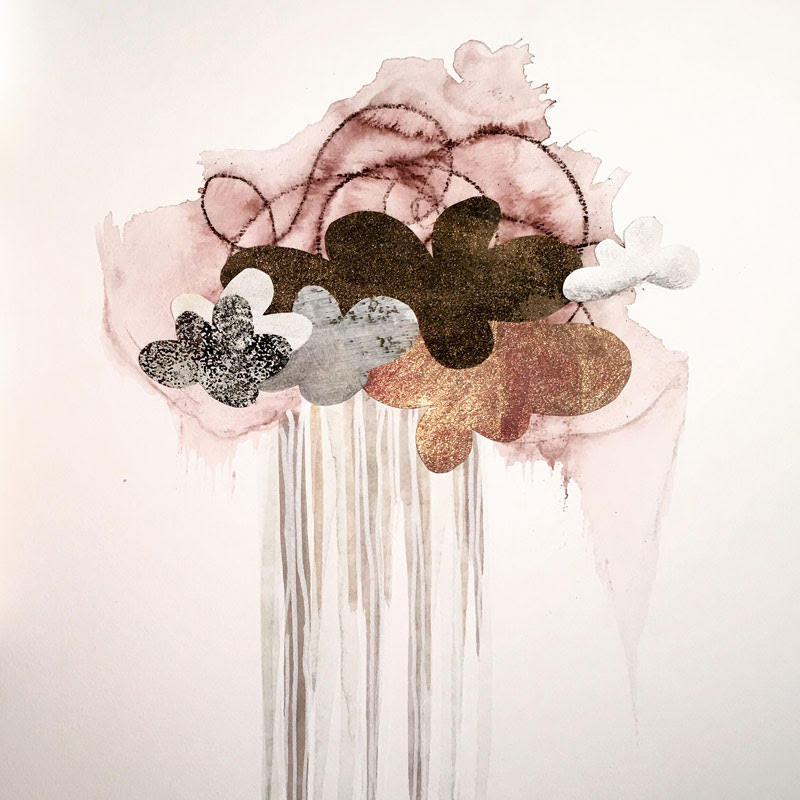 3. Carla I love your cloud experiments! (click here to see Carla's cloud experiments). Can you tell us a bit about how they came about?
Thank you, Gracie, that is nice of you to say! This series was what came out of me during my 2016 year-long class, "Y is for Yellow." I had planned to do a series of children's book" illustrations, but for some reason I kept coming back to the clouds and rain. :D
I had a pretty hard year emotionally for various reasons, and I do live in Seattle, Washington, so I think the clouds and rain were resultant of both of these things! I love that art is always a reflection of our lives, despite our own plans. ;)
They are made with watercolor (scraped down with a credit card), and collaged clouds.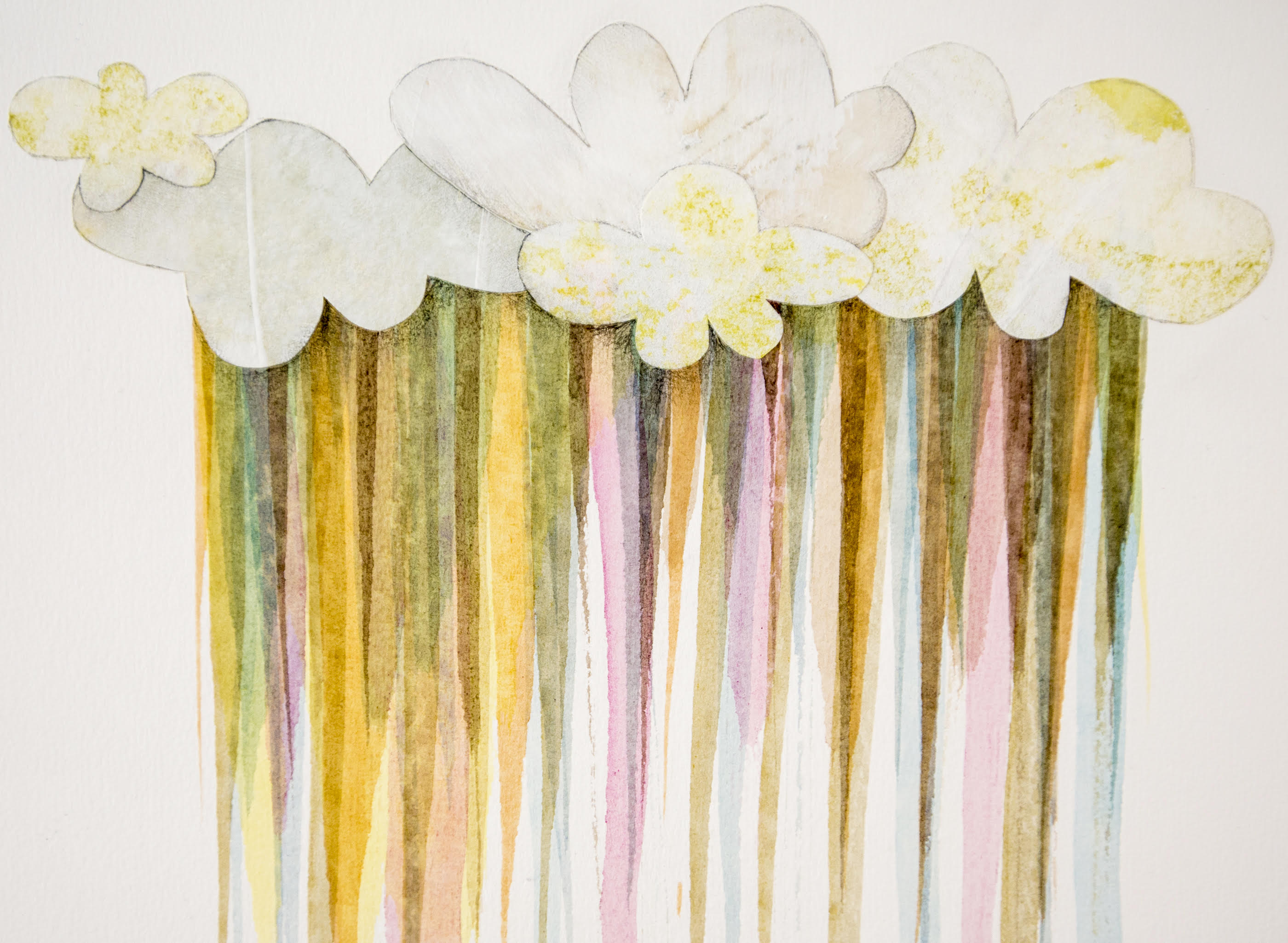 More about 365: Activate Your Art Brain (a Video Every Day):
Carla Sonheim Presents launches "2017: A Year-Long Online Class".
A video every day to activate your art brain 365 days a year.
Inspiration, Prompts, Techniques, Ideas, Community
Begins January 1, 2017!
Carla Sonheim Presents, a ground breaking Seattle-based online art business is launching their latest year-long class for 2017. Called "365 A Year-Long Class", the program promises to activate your art brain with a video every day that inspires, prompts, teaches techniques, introduces new ideas and builds an online community for artists of all ages and abilities. Class begins Sunday, January 1, 2017 and the cost is $198.00.
Watch the video here: http://carlasonheim.com/365-a-year-long-class/ to see Carla demonstrate techniques that will inspire you and your friends and bring a smile to your face. For only $198.00, class participants receive a video every day explaining that day's assignment. They also join a private Facebook group where class participants are welcome to post their work. Carla and her team monitor the private Facebook group and provide encouragement, humor and advice.
Led by Carla Sonheim, an artist in her own right, and her talented videographer and business manager husband, Steve, Carla Sonheim Presents offers a variety of online art classes throughout the year. This year-long class is their annual signature event that new and returning students await with great anticipation.
Carla and Steve launched this business in 2011 and have built an adoring and loyal following in the United States and abroad. Their classes offer exceptional videography that enables students to fully understand the technique or approach being taught. Each class includes a private Facebook group to build community, share work and gain encouragement. A sense of humor and joyful approach to making art approachable is a cornerstone of their beliefs.
For more information contact [email protected] or check out the class here: carlasonheim.com/365-a-year-long-class